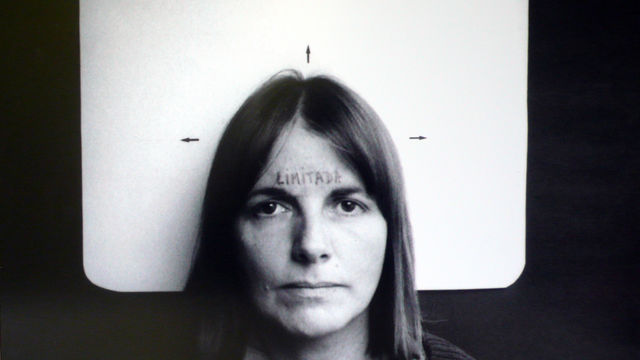 Mujeres radicales: arte latinoamericano, 1960-1985
–

This is a past exhibition
Parte de Pacific Standard Time: LA/LA, esta exposición revalorizará las contribuciones de las artistas latinoamericanas y las artistas latinas y chicanas al arte contemporáneo.
El Hammer Museum presenta Mujeres radicales: arte latinoamericano, 1960-1985,  una exposición innovadora que constituye la primera historia de las prácticas de arte experimental de mujeres artistas en Latinoamérica y Chicanas y Latinas nacidas en los Estados Unidos entre 1960 y 1985, un periodo clave en la historia de América Latina y en el desarrollo del arte contemporáneo.  Abordando un vacío de la historia del arte, Radical Women (Mujeres radicales) incluye quince países, representados en la exposición por 120 mujeres artistas y colectivos, con más de 280 obras en fotografía, video y otros medios experimentales. Entre las mujeres incluidas en la exposición, se encuentran figuras emblemáticas como Lygia Clark, Ana Mendieta y Marta Minujín junto a nombres menos reconocidos como la artista abstracta Zilia Sánchez nacida en Cuba, la escultora colombiana Feliza Bursztyn, y la video artista brasilera Leticia Parente.
 Comunicado de prensa y lista de artistas: El Hammer Museum presenta Radical Women: Latin American Art, 1960‐1985, (Mujeres radicales: arte latinoamericano, 1960-1985), 28 de septiembre de 2016
Cronograma de visitas guiadas de la exposición
Hammer Museum, Los Ángeles: del 15 de septiembre al 31 de diciembre de 2017
Brooklyn Museum, New York: del 13 de abril al 22 de julio de 2018
Pinacoteca de São Paulo, São Paulo: del 18 de agosto al 19 de noviembre 2018
visitas guiadas en español
Envíe correo electrónico a tours@hammer.ucla.edu para programar visitas guiadas en español. Próximamente estará disponible un cronograma completo de las visitas guiadas en español. Los educadores del Museo Hammer llevan a cabo tours de 45 minutos de obras seleccionadas de la exposición Mujeres Radicales: Arte Latinoamericano 1960-1985 en inglés y español cada Sábado a la 1 p.m. Los educadores del Hammer también conducen pláticas de 30 minutos sobre las relaciones y comparaciones entre dos obras de arte en inglés y español cada domingo a las 3:30 p.m.
Lista de artistas
ARGENTINA
María Luisa Bemberg (1922–1995)
Delia Cancela (1940)
Graciela Carnevale (1942)
Alicia D'Amico & Sara Facio (1933–2001 & 1932)
Diana Dowek (1942)
Graciela Gutiérrez Marx (1945)
Narcisa Hirsch (1928)
Ana Kamien & Marilú Marini (1935 & 1940)
Lea Lublin (1929–1999)
Liliana Maresca (1951–1994)
Marta Minujín (1941)
Marie Orensanz (1936)
Margarita Paksa (1933)
Liliana Porter (1941)
Dalila Puzzovio (1943)
Marcia Schvartz (1955)

BRASIL
Mara Álvares (1948)
Claudia Andujar (1931)
Martha Araújo (1943)
Vera Chaves Barcellos (1938)
Lygia Clark (1920-1988)
Analívia Cordeiro (1954)
Liliane Dardot (1946)
Lenora de Barros (1953)
Iole de Freitas (1945)
Anna Bella Geiger (1933)
Carmela Gross (1946)
Anna Maria Maiolino (1942)
Marcia X (1959–2005)
Ana Vitoria Mussi (1943)
Lygia Pape (1927–2004)
Letícia Parente (1930–1991)
Wanda Pimentel (1943)
Neide Sá (1940)
Regina Silveira (1939)
Teresinha Soares (1927)
Amelia Toledo (1926)
Celeida Tostes (1929–1995)
Regina Vater (1943)

CHILE
Gracia Barrios (1927)
Sybil Brintrup & Magali Meneses (1954 & 1950)
Roser Bru (1923)
Gloria Camiruaga (1941–2006)
Luz Donoso (1921–2008) 
Diamela Eltit (1949)

Paz Errázuriz (1944)
Virginia Errázuriz (1941)
Catalina Parra (1940)
Lotty Rosenfeld (1943)
Janet Toro (1963)
Eugenia Vargas (1949)
Cecilia Vicuña (1948)

COLOMBIA
Alicia Barney (1952)
Delfina Bernal (1940)
Feliza Bursztyn (1933–1982)
Maria Teresa Cano (1960)
Beatriz González (1938)
Sonia Gutiérrez (1947)
Karen Lamassonne (1954)
Sandra Llano Mejía (1951)
Clemencia Lucena (1945–1983)
María Evelia Marmolejo (1958)
Sara Modiano (1951–2010)
Rosa Navarro (1955)
Patricia Restrepo (1954)
Nirma Zárate (1936–1999)

COSTA RICA
Victoria Cabezas (1950)

CUBA
Antonia Eiriz (1929–1995)
Ana Mendieta (1948–1985)
Marta María Pérez (1959)
Zilia Sánchez (1928)

GUATEMALA
Margarita Azurdia (1931–1998)

MÉXICO
Yolanda Andrade (1950)
Maris Bustamante (1949)
Ximena Cuevas (1963)
Lourdes Grobet (1940)
Silvia Gruner (1959)
Kati Horna (1912–2000)
Graciela Iturbide (1942)
Ana Victoria Jiménez (1941)
Magali Lara (1956)
Mónica Mayer (1954)
Sarah Minter (1953–2016)

Marta Palau (1934)
Polvo de Gallina Negra (1983–1993)
Carla Rippey (1950)
Jesusa Rodríguez (1955)
Pola Weiss (1947–1990)

PANAMÁ
Sandra Eleta (1942)

PARAGUAY
Olga Blinder (1921–2008)
Margarita Morselli (1952)

PERÚ
Teresa Burga (1935)
Gloria Gómez Sánchez (1921–2007)
Johanna Hamann (1954)
Victoria Santa Cruz (1922-2014)

PUERTO RICO
Poli Marichal (1955)
Frieda Medín (1954)

ESTADOS UNIDOS
Celia Alvarez Muñoz (1937)
Judy Baca (1946)
Barbara Carrasco (1955)
Josely Carvalho (b. Brazil, 1942)
Isabel Castro (1954)
Yolanda López (1942)
María Martínez-Cañas (b. Cuba, 1960)
Sylvia Palacios Whitman (b. Chile, 1941)
Sophie Rivera (1938)
Sylvia Salazar Simpson (1939)
Patssi Valdez (1951)

URUGUAY
Nelbia Romero (1938–2015)
Teresa Trujillo (1937)

VENEZUELA
Mercedes Elena González (1952)
Marisol (1930)
Margot Romer (1938)
Antonieta Sosa (1940)
Tecla Tofano (1927)
Ani Villanueva (1954)
Yeni & Nan (1977–1986)
Radical Women: Latin American Art, 1960-1985 es organizada por el Hammer Museum, Los Ángeles como parte de Pacific Standard Time: LA/LA, una iniciativa del Getty en colaboración con instituciones artísticas a lo largo del Sur de California. La exposición es co-curada por las curadoras invitadas Cecilia Fajardo-Hill y Andrea Giunta junto a la previa ayudante curatorial Marcela Guerrero, en colaboración con Connie Butler, curadora en jefe, Hammer Museum. 
Radical Women: Latin American Art, 1960-1985 ha sido posible gracias al patrocinio principal de la Getty Foundation.  Han proporcionado importante financiación la Diane and Bruce Halle Foundation y Eugenio López Alonso.  
Han otorgado un generoso apoyo la Vera R. Campbell Foundation, Marcy Carsey, Betty y Brack Duker, Susan Bay Nimoy, y Visionary Women.
Han aportado apoyo adicional el Radical Women Leadership Committee y Friends of Radical Women.
RADICAL WOMEN LEADERSHIP COMMITTEE        
Susan Bay Nimoy, Chair
Betty Duker
Catherine Benkaim and Barbara Timmer
Estrellita and Daniel Brodsky
Richard Buckley and Tom Ford
Vera R. Campbell
Marcy Carsey
Beth Rudin DeWoody and Firooz Zahedi
Manuela Herzer
Nancy Lainer
Mihail Lari and Scott Murray "In Honor of Our Mothers, Jacklyn E. Murray and Yasmeen Lari"
Agnes and Edward Lee
Leslie and William McMorrow
Viveca Paulin-Ferrell and Will Ferrell
Brenda Potter
Mark Sandelson
Jennifer Simchowitz
Visionary Women
FRIENDS OF RADICAL WOMEN

Rosette Delug
Mauro Herlitzka
David Hoberman
Audrey Irmas
Deborah Irmas
ISLAA
Bettina Korek
Cindy Miscikowski
Dori Peterman Mostov and Charles Mostov
Proyectos LA
Kathleen and Chip Rosenbloom
Diane and Michael Silver
Susan Smalley and Kevin Wall
Sotheby's
Pamela J. Smith
Simone and Kerry Vickar
Pamela West

SUPPORTERS OF RADICAL WOMEN

Lili Bosse
Linda and Bob Gersh
Gloria Gerace
Heidi Hertel and Greg Hodes
Linda Janger
Philip Mercado and Todd Quinn
Angella and David Nazarian
Shelley Reid
Nancy and Miles Rubin
Chara Schreyer
Graham Steele