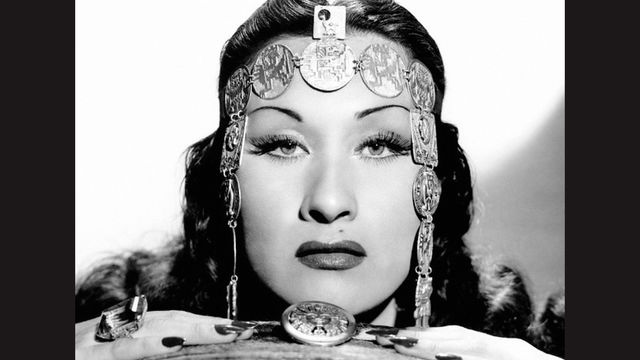 Voices of the Xtabay: A Tribute to Yma Sumac
A genre-bending lineup of Los Angeles Latinx vocalists and musicians reimagine the songs of legendary Peruvian singer and longtime L.A. resident Yma Sumac, whose vocal range was said to be well over five octaves. Inspired by the Hammer exhibition Radical Women, the evening features a band led by Alberto López of Jungle Fire backing performances by:
Empress Of
Nite Jewel
Maria Elena Altany
Ceci Bastida
Dorian Wood
Carmina Escobar
Francisca Valenzuela
Featuring emcee Carolina Miranda and DJ Francesca Harding. Cash bar. 
Major support is provided through grants from the Getty Foundation. Organized by Josh Kun, music critic, MacArthur fellow, American Book Award winner, and USC professor, and presented as part of Pacific Standard Time: LA/LA.
Voces de Xtabay: Un tributo a Yma Sumac
Sábado 7 de octubre de 7 a 7:30 p.m.
Una serie de fusión de géneros de vocalistas y músicos Latinx de Los Ángeles reimaginan las canciones de la legendaria cantante peruanoestadounidense Yma Sumac, de quien se decía que tenía un registro de más de cinco octavas. Inspirada por la exposición Radical Women del Hammer, la noche incluirá una banda liderada por Alberto López de Jungle Fire acompañando las interpretaciones de:
Empress Of
Nite Jewel
Maria Elena Altany
Ceci Bastida
Dorian Wood
Carmina Escobar
Francisca Valenzuela
La Getty Foundation proporciona un importante apoyo financiero. El evento es organizado por Josh Kun, crítico musical, becario MacArthur, ganador de un American Book Award, profesor de USC, y presentado dentro del marco de Pacific Standard Time: LA/LA.
Attending this program?
ALL HAMMER PROGRAMS ARE FREE
Location: Courtyard
Ticketing: This program not ticketed. Seating is first come, first served beginning at 6:30 p.m.
Member Benefit: Hammer members receive priority seating up until 7:15 p.m.
Parking: Event parking is available at 11020 Kinross Ave (UCLA Parking Lot 36) with a flat rate of $5 payable by credit card/cash at the Pay Station or pay by cell phone through the Park Mobile App. Enter Lot 36 from Kinross Avenue between Gayley and Veteran Avenues. The Hammer Museum is located one block east. 
Public Transportation: The 20/720 buses and Santa Monica and Culver City Bus Lines all stop within one block of the museum. You can also take the Metro Expo Line to Westwood/Rancho Park and transfer to the northbound 8 bus, which stops just outside the museum.
Bags: Items larger than 12" x 6" x 12" (including purses, bags, and backpacks) will not be permitted at the summer concerts. The museum also reserves the right to inspect or prohibit any items deemed to be a security risk.
Accessible Seating for Guests with Disabilities: The Hammer Museum strives to provide accessible seating to our patrons needing specific accommodations and to ensure that wheelchair-accessible locations are reserved for guests who require such an accommodation. Please inquire about wheelchair accessible seating locations upon arrival and a Hammer Ambassador will assist you.
All Hammer public programs are free and made possible by a major gift from an anonymous donor.
Generous support is also provided by Susan Bay Nimoy and Leonard Nimoy, Good Works Foundation and Laura Donnelley, an anonymous donor, The Samuel Goldwyn Foundation, and all Hammer members.
The Hammer's digital presentation of its public programs is made possible by the Billy and Audrey L. Wilder Foundation.
Programs featuring Los Angeles-based speakers, artists, and performers are made possible by the City of Los Angeles, Department of Cultural Affairs.
Radical Women: Latin American Art, 1960-1985 is organized by the Hammer Museum, Los Angeles, as part of Pacific Standard Time: LA/LA, an initiative of the Getty with arts institutions across Southern California. The exhibition is guest curated by Cecilia Fajardo-Hill, Andrea Giunta with Marcela Guerrero former curatorial fellow, in collaboration with Connie Butler, chief curator, Hammer Museum.
Radical Women: Latin American Art, 1960–1985 is made possible through lead grants from the Getty Foundation.
Major funding is provided by the Diane and Bruce Halle Foundation and Eugenio López Alonso. Generous support is provided by the Vera R. Campbell Foundation, Marcy Carsey, Betty and Brack Duker, Susan Bay Nimoy, and Visionary Women.
Additional support is provided by the Radical Women Leadership Committee and the Friends of Radical Women.

Media sponsorship is provided by Cultured magazine, KCET, and KCRW 89.9 FM.