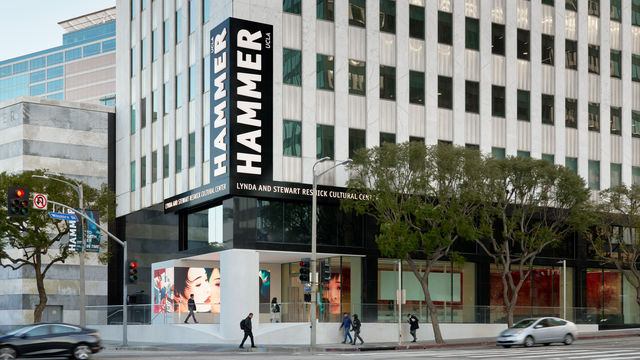 Museum Transformation
Over the past two decades the Hammer Museum has emerged as a driving force for artistic innovation in L.A.—taking risks and building programs that have made it one of the most vibrant and influential museums in America. After years of ambitious growth in every aspect of our institution, our comprehensive transformation plan aims to renovate, expand, and fully activate our facility. Our capital campaign underwrites the building project, expands our endowment, and supports the Hammer's acclaimed programs and exhibitions.
Building project
Originally built to showcase a private collection of historical paintings, the Hammer Museum has become much more. Building on architect Michael Maltzan's prior renovations to the Hammer, this multiyear construction project integrates 40,000 square feet of newly acquired space and completes the renovation of the existing facility. From the galleries to the office tower, the transformation enhances every facet of the museum. The Hammer's construction plan employs a phased multi-year approach that allows us to transform the building while remaining open to the public the entire time.
PROJECT GOALS
1. Adding Visibility: Dramatic new presence along a full block of Wilshire Boulevard
2. Expanding the Galleries: 60% more gallery space for artists and exhibitions
3. Showcasing the Collection: Premier facilities for L.A.'s 3rd largest collection
4. Building Community: 20,000 square feet of enhanced public spaces
5. Supporting the Mission: Two-story expansion of office and support space 
ABOUT THE ARCHITECT
Deeply rooted in Los Angeles, architect Michael Maltzan was commissioned by the Hammer Museum in 2000 to create a master plan for the building. Over the last eighteen years, he has been an invaluable partner and driving force in reshaping the museum through interventions including the Billy Wilder Theater, the Lab and café, and, most recently the iconic John V. Tunney Bridge.
Founded in 1995, Michael Maltzan Architecture is renowned for its educational spaces, private homes, civic projects, and art buildings, including L.A.'s Inner-City Arts campus, the renovation of MoMA QNS in New York, and the future Sixth Street Bridge in downtown Los Angeles. In September 2016, Maltzan was named the Gold Medal Presidential Honoree by the AIA Los Angeles.