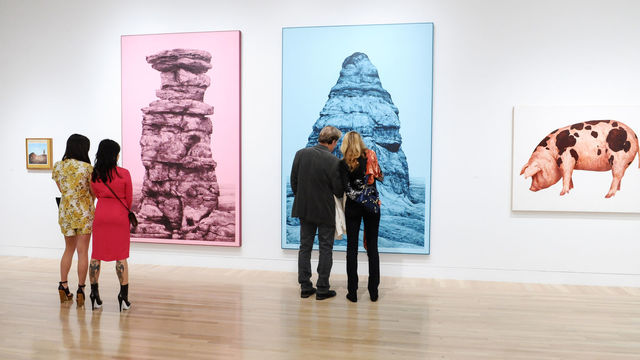 Hours & Directions
Admission
Admission to the Hammer is free, and advance reservations are not necessary.
Hours
Monday: Closed
Tuesday–Sunday: 11 AM–6 PM
See Lulu's hours and learn about lunch and dinner reservations.
The museum is always closed Mondays, July 4, Thanksgiving, Christmas, and New Year's Day.
Holiday closures:
The museum will be closed on Thursday, November 23 and Tuesday, January 2.
The museum will close at 4 PM on Sunday, December 24 and Sunday, December 31.
Museum hours are subject to change.
MEMBERS
When arriving at the museum, find the member line for immediate entry. For a streamlined visit, use your digital membership card. If you need a new digital card or would like an updated version, please contact the membership department at 310-443-7050 or membership@hammer.ucla.edu.
Directions
The Hammer is located at the corner of Westwood and Wilshire boulevards in Westwood Village, three blocks east of the 405 freeway's Wilshire exit.
Hammer Museum
10899 Wilshire Boulevard
Los Angeles, CA 90024
(310) 443-7000 
Parking
Convenient self-parking is available under the museum. Parking entrances are located on the east side of Westwood Boulevard (northbound) or on the west side of Glendon Boulevard (southbound), between Wilshire Boulevard and Lindbrook Drive. Rates are $8 for the first three hours with museum validation, and $3 for each additional 20 minutes, with a $22 daily maximum. There is a $8 flat rate after 5 p.m. on weekdays, and all day on weekends. 
New! Valet parking is available on Lindbrook Drive for $10. Valet is available for both museum and restaurant guests. 
Accessible parking is provided on levels P1 and P3. Get detailed directions for accessible parking.
In the event that the museum parking garage is full, use this map for additional parking options.
Bike racks are located on level P1 of the parking garage.
Drop-Offs
Visitors can be dropped off and picked up at the entrance on Lindbrook Avenue. Located on the north side of the Museum between Westwood Boulevard and Glendon Avenue, this entrance has an accessible ramp up to the courtyard level.
Visitors may also be dropped off in the parking garage underneath the museum, where there is an accessible ramp. Drivers spending less than 10 minutes in the parking garage will not be charged a parking fee.
Public Transportation
Metro provides bus and rail transportation to the Hammer until 2 a.m. on Fridays and Saturdays. For your best route, visit the Metro Trip Planner or call (323) GO-METRO or (323) 466-3876.
Or, take the Metro Expo Line to the Westwood/Rancho Park stop, and transfer to a bus up to the Hammer. 
Service Animals
Trained service animals are welcome in all spaces throughout the museum. We welcome other supervised and leashed domesticated animals only in the museum's courtyard. 
COVID-19 SAFETY GUIDELINES
To ensure safety for visitors and staff, the Hammer has implemented the following measures:
Visitors and staff are encouraged to stay home if they are feeling sick. Check the CDC website for coronavirus symptoms.
Masks are encouraged in galleries and other indoor spaces.
Elevators have a capacity of four guests.
Hand sanitizer stations are available throughout the building and at all gallery entries and exits.
An inherent risk of exposure to COVID-19 exists in any public space where people are present. We cannot guarantee you will not be exposed to COVID-19 during your visit. Those visiting the Hammer do so at their own risk of such exposure.
Free Admission at the Hammer Museum is courtesy of Marcy Carsey, the Erika J Glazer Family Foundation, and the Anthony & Jeanne Pritzker Family Foundation.