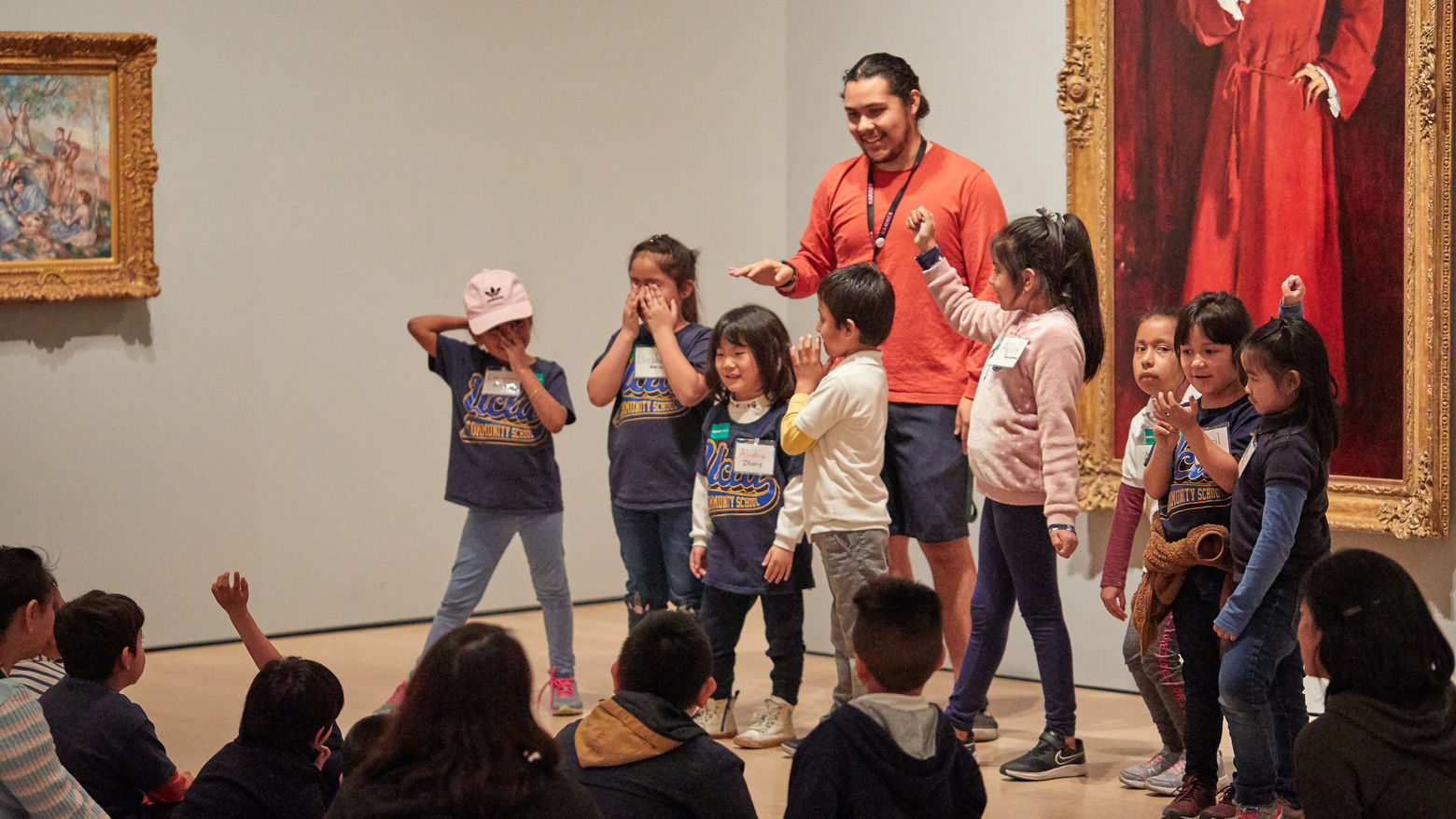 School Group Visits
Visit the Hammer Museum or the Franklin D. Murphy Sculpture Garden with your students.
Our guided visits emphasize critical thinking and inquiry-based conversation. They are led by student educators, UCLA students from diverse disciplines who bring unique perspectives to the artwork on view. Spanish-speaking educators may be available upon request.
Review our Frequently Asked Questions to learn more about K–12 tours. (PDF, 3 pp., 3.78MB)
Tour Options
Why Is It Art? (Grades K–12): This problematized but provocative question will be explored by examining art made today and hundreds of years ago. By focusing on concepts such as process, materials, and composition, students will begin to discover connections between seemingly disparate works, and leave with an expanded definition of what art can be. This tour may also include a hands-on art activity.
Art from Diverse Perspectives (Grades K–12): Trace one theme across different works of art, and discover the different forms that art can take. Tour topics may include identity, daily life, nature, community, technology, or artistic process, depending on the artworks on view. Students will practice their skills in comparing and contrasting and will have the opportunity to express their own perspective on the tour topic through hands-on activities.
Art in Social Context (Grades 4–12): Social justice plays a large role in the Hammer Museum's mission. We believe in the promise of art and ideas to illuminate our lives and build a more just world. This tour will prompt students to examine the socio-political implications of certain works of art, and inspire them to think critically about the world around them. Conversations may center on issues of difference, inequality, race, gender, class, or social justice, and will vary depending on the artworks on view.
Self-Guided Tour (Grades K–12): You are welcome to lead your students independently through the galleries at the Hammer Museum. For ideas for activities to complete prior to, during, or after your visit, visit our K-12 Teachers and Students page. 
Scheduling Your Visit
Learn about tour scheduling and book your tour at least three weeks in advance of your preferred visit date.
Note: these forms are best viewed from a computer, iPad, or iPhone. Android users may have issues with the form.
A member of the Academic Programs team will follow up with you once your request has been submitted. Tour requests are subject to availability.
Questions? Please call 310-443-7041 or email [email protected].
Grunwald Center for the Graphic Arts
School groups of 20 students or fewer can request to view works in The Grunwald Center for the Graphic Arts, which comprises more than 45,000 prints, drawings, photographs, and artists' books dating from the Renaissance to the present. The Grunwald Center Study Room is open to middle school students and older, by appointment only. For further information or to schedule a visit, please call 310-443-7078.