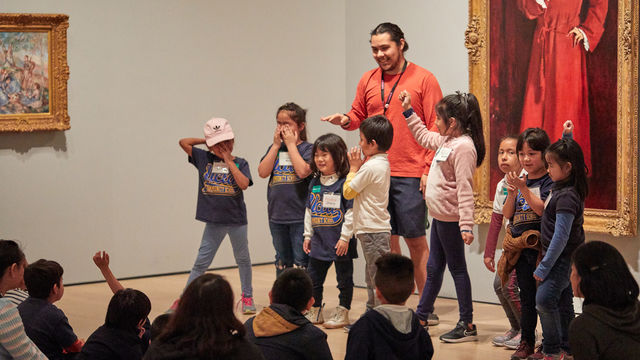 K-12 Tours
School Group Visits
Our online tours for K–12 students emphasize inquiry-based conversations, social awareness, and thematic connections between works of art. They are led by student educators, UCLA students from diverse disciplines who bring unique perspectives to the artwork on view. Spanish-speaking educators may be available upon request.
Tour Options
Art Break! (K–3, 30 min): Students are invited to take a break from the school routine by coming together to draw, dance, doodle, and look at art. This tour is offered online only. 
The World Around Us (K–12, 60 min): Students will delve into artists' interpretations of the natural or constructed world and be inspired to reflect on their own relationship to their environment.
Why Is It Art? (K–12, 60 min): Art at the Hammer pushes the boundaries of what art can be. Students will explore concepts such as process, materials, and composition in different works of art and leave with an expanded definition of art.
Exploring Social Constructs (4–12, 60 min): Students will examine the socio-political contexts of select works of art and think critically about our world. Conversations may center on issues of difference, inequality, race, gender, class, social justice, and activism.
Art in Conversation (4–12, 30 min): Discuss connections and comparisons between two works of art. You choose the theme, we select the art.
For ideas for activities to complete prior to or after your online tour, take a look at our Getting Started with Contemporary Art guide on our K–12 Teachers and Students page.
Scheduling Your Tour
Learn about tour scheduling and book your tour at least three weeks in advance of your preferred visit date.
Due to high demand for online tours at the Hammer, we are limiting reservations to one tour per group.
Note: these forms are best viewed from a computer, iPad, or iPhone. Android users may have issues with the form.
A member of the Academic Programs team will follow up with you once your request has been submitted. Tour requests are subject to availability.
Questions? Please call (424) 209-8630 or email tours@hammer.ucla.edu.
Grunwald Center for the Graphic Arts
School groups of 20 students or fewer can request to view works in The Grunwald Center for the Graphic Arts, which comprises more than 45,000 prints, drawings, photographs, and artists' books dating from the Renaissance to the present. The Grunwald Center Study Room is currently closed. For further information or to schedule a visit, please call (310) 443-7078.
Academic Programs at the Hammer Museum are supported by The Hearst Foundations and The Rosalinde and Arthur Gilbert Foundation.
Hammer Kids is made possible through the generosity of the Anthony and Jeanne Pritzker Family Foundation, with additional funding from The Winnick Family Foundation. Hammer Kids also receives support from friends of the Hammer Museum's Kids' Art Museum Project (K.A.M.P.), an annual family fundraiser.