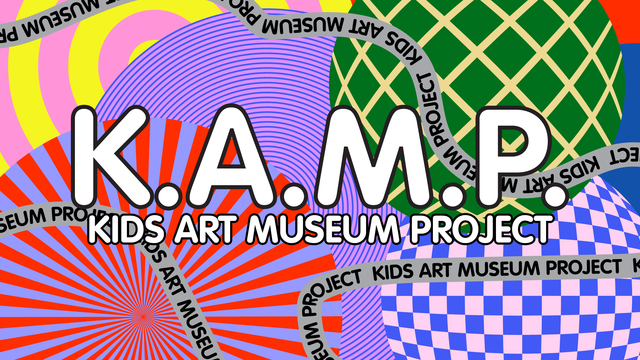 K.A.M.P. Family Fundraiser
On Sunday, May 15, 2022, the Hammer Museum brought back its annual family fundraiser K.A.M.P. (Kids' Art Museum Project), an event that provides unforgettable experiences for kids and their families with renowned Los Angeles artists. Painters, sculptors, architects, and creative types of all kinds led inventive hands-on workshops in the carefree atmosphere of the Hammer Museum courtyard. Children's stories were read by special guests, Kristen Stewart, Ana Ortiz, and Max Greenfield! 2022's year's participating K.A.M.P. artists were:
Alex Anderson
Alfonso Gonzalez Jr.
Greg Ito
Hayv Kahraman
Olivia Mole

Alex Nazari
noé olivas
Hilary Pecis
Lily Stockman
Marisa Takal
Proceeds from K.A.M.P. support Hammer Kids, which offers free programming to thousands of children and families throughout the year. 
Lunch Provided By:

Major Support Provided By:
Additional Support Provided By:
Thank you to our 2022 K.A.M.P. Committee:
Co-Chairs
Brooke Kanter
Sarah McHale

Best Friends Forever
Mary Kitchen & Jon Orszag

Best Friends
The Brotman Foundation of California
Ellen & Teddy Schwarzman

Super Friends
Sarah & Carlton DeWoody
Gagosian
Annie & Scott Lukowski
Sherry & Joel McKuin
Steven & Leah Yari
Alissa & Jordan Zachary

Friends
Sheryl & Tom Amster
Amy Andelson
Aurele Danoff Pelaia
Anat Ebgi
Andrea Feldman Falcione
    & Greg Falcione
Priscilla Fraser Chase
Talia & Tyler Friedman
Jennifer Hawks & Ramin Djawadi
Hauser & Wirth
Brooke & Adam Kanter
Sarah & Joel McHale
Maya McLaughlin Art Advisory
Morgan Schoonhoven
Emily & Jeremy Steckler
Maria & Danny Sussman
Esther Kim Varet & Joseph Varet
Claudia Vick & Peter Schendel
                                                      

     
Supporters
Wendy Dembo
Jane Glassman
Leta Grzan
Niki Vale
Lexi Wald
Lena Wald & Jon Fries