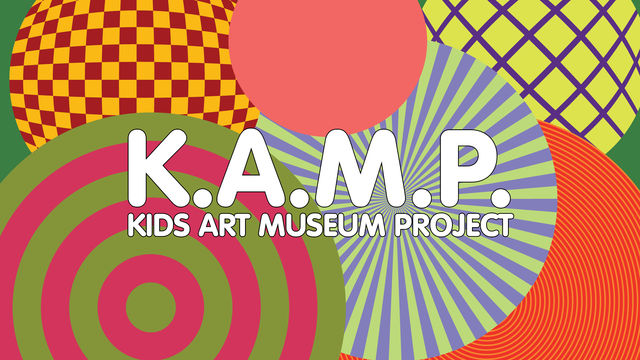 K.A.M.P. Family Fundraiser
Join us on Sunday, May 21, 2023 from 10 a.m. to 2 p.m., for our annual family fundraiser K.A.M.P. (Kids' Art Museum Project), an event that provides unforgettable experiences for kids and their families with renowned Los Angeles artists. Painters, sculptors, architects, and creative types of all kinds will lead inventive hands-on workshops in the carefree atmosphere of the Hammer Museum courtyard. Lunch provided by Annie Campbell.
Celebrity guests will read from their favorite children's books during Story Time.
Music by DJ Reprise and a special performance by Rookie5.
Participating Artists:
Eddie Aparicio

Zoe Blue M.

Awol Erizku

Amir H. Fallah

Sharif Farrag

Chase Hall

Elliott Hundley

Maria Maea

Jane Margarette

Jill Mulleady & Alina Perkins

Megan Reed

Austyn Weiner
Proceeds from K.A.M.P. support Hammer Kids, which offers free programming to thousands of children and families throughout the year. 
For more information about K.A.M.P., please contact us at kamp@hammer.ucla.edu.
$125 per person until Thursday, April 20
Discounted bundles also available through April 20
$150 per person beginning Friday, April 21
Major Support provided by:
Additional support provided by:
Thank you to our 2023 K.A.M.P. Committee:
CO-CHAIRS
Talia Friedman
Sherry McKuin

BEST FRIENDS FOREVER
Mary Kitchen & Jonathan Orszag

BEST FRIENDS
The Brotman Foundation of California
The Sydney D. Holland Foundation
Ellen & Teddy Schwarzman

SUPER FRIENDS
Babyletto
Kristen Boggs Jaeger
Gagosian
Charlotte & Gary Gilbert
Annie & Scott Lukowski
Sherry & Joel McKuin
Hilary Sherman

FRIENDS
Amy Andelson
Shannon & Lee Beale
Andrew Black & Adam Sires
Jayme & Adam Bolden
Stephanie & Jeremy Bronfman
Samuel Brown
Grace Cha & Ben Butler
Kelly Connors & Jackson Rogow
Aurele Danoff Pelaia
Sarah & Carlton DeWoody
Jessica & Daniel Flesh
Meghan & Jared Frandle
Priscilla Fraser Chase
Talia & Tyler Friedman

Yasmin & Phil Harvey
Hauser & Wirth
Hilary & Alan Hearty
Tamara Kagel
Brooke & Adam Kanter
Jessica & Aaron Leff
Sarah & Joel McHale
Moskowitz Bayse
Mary Oskao & Joe Kuo
Gina Olivia Won-Edensvard
Noora Raj Brown & Ryan Brown
David Regan & Edgar Cervantes
Morgan Schoonhoven
Beatrice Shen & Michael Peraza
Emily & Jeremy Steckler
Kristina Stonebreaker
Maria & Danny Sussman
Courtney Treut & John Derderian
Claudia Vick & Peter Schendel
Steven & Leah Yari
Alissa & Jordan Zachary
Negar & Josh Zad

 

SUPPORTERS
Wendy Dembo
Laura Fried
Jane Glassman
Leta Grzan
Niki Vale
Lexi Wald
Lena Wald & Jon Fries

FOUNDER
Brooke Kanter