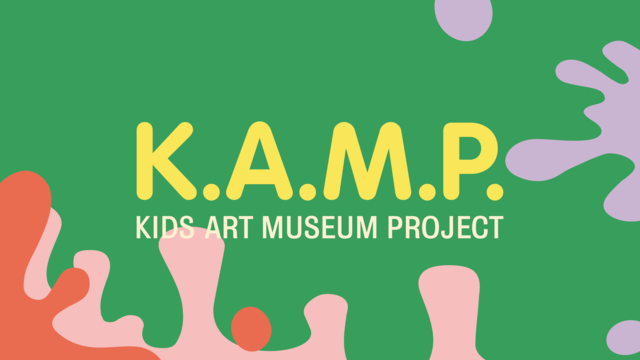 K.A.M.P. Family Fundraiser
K.A.M.P. at Home is back! For the past 11 years, K.A.M.P. (Kids Art Museum Project) has cultivated meaningful art encounters for children and their families with some of L.A.'s most celebrated artists.
Normally held in the Hammer's courtyard, K.A.M.P. has been reimagined during the pandemic as an at-home art-making experience. We are thrilled to share with the community three different art tutorials led by teaching artist John Wu (and his classroom!), architects Georgina Huljich & Marcelo Spina, and brothers and painters Delfin Finley & Kohshin Finley. 
Check out the Hammer Blog for more information about the projects, materials, and steps.
We'd like to thank CJ ENM for presenting this year's iteration of K.A.M.P. And of course we'd like to thank all of the parents on the Hammer K.A.M.P. Committee for their support in bringing the magic of K.A.M.P. to homes across the city. Please feel free to share these videos with friends, family, your children's schools, and other organizations you are involved with.
Last year, kids and families enjoyed artist-created, inventive, hands-on projects from Eamon Ore Giron, Hilary Pecis, Genevieve Gaignard, and Alexandra Grant. There are a limited number of K.A.M.P. 2020 art-making boxes still available for purchase via the Hammer Store.
Proceeds from K.A.M.P. provide essential support to Hammer Kids programs, which offer free programming to thousands of children and families throughout the year.
For more information about K.A.M.P. or K.A.M.P. boxes, please contact us at kamp@hammer.ucla.edu.
Thank you to our 2021 K.A.M.P. Committee:
CO-CHAIRS
Brooke Kanter
Sarah McHale

BEST FRIENDS FOREVER
Sydney D. Holland Foundation

BEST FRIENDS
The Brotman Foundation of California
Anonymous

SUPER FRIENDS
Kristen Boggs Jager
Annie & Scott Lukowski
Sherry & Joel McKuin

FRIENDS
Amy Andelson
Babyletto
Aurele Danoff Pelaia 
Anat Ebgi 
Andrea Feldman Falcione & Greg Falcione
Priscilla Fraser Chase
Jennifer Hawks 
Brooke & Adam Kanter
Alex & Jenny Eisenpresser Kwit 
Sarah & Joel McHale
Amy Poncher
Emily & Jeremy Steckler
Morgan Schoonhoven
Esther Kim Varet & Joseph Varet
Alissa & Jordan Zachary

 

SUPPORTERS
Wendy Dembo
Jane Glassman
Lexi Wald
Lena Wald & Jon Fries