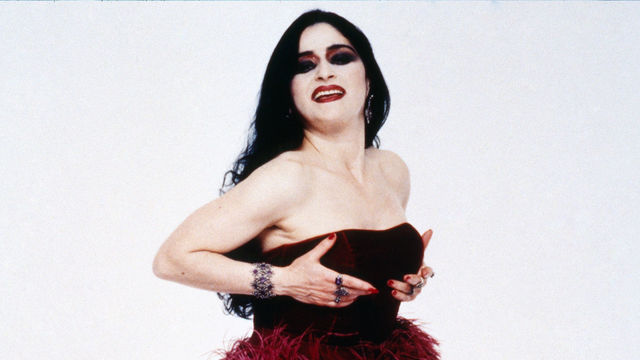 Conversations
Music & Performance
Astrid Hadad: (De)Constructing Mexicanidad
In this provocative performance-lecture, beloved Mexican artist Astrid Hadad explores the relationship between her work and Mexican culture and politics. Known for over-the-top costumes and fusing Mexican and Latin music into a genre she calls "Heavy Nopal," Hadad skewers Mexican hypocrisy, machismo, and corruption from a cheeky feminist perspective. For this program, Hadad recontextualizes popular Mexican symbols such as the virgin, the flag, the cactus, the heart, the mother, and the border.
Astrid Hadad: (De)construir la mexicanidad
Miércoles 29 de noviembre a las 7:30 p.m.
En este provocativo espectáculo mezcla de conferencia e interpretación, la querida artista mexicana Astrid Hadad explora la relación entre su trabajo y la cultura y la política mexicanas. Conocida por sus atuendos desbordantes y la fusión de música mexicana y latina en un género que ella denomina «Heavy Nopal», Hadad descuartiza la hipocresía, el machismo y la corrupción mexicanos desde una perspectiva feminista impertinente. Para este programa, Hadad recontextualiza símbolos populares mexicanos tales como la virgen, la bandera, el cactus, el corazón, la madre y la frontera.
All Hammer public programs are free and made possible by a major gift from an anonymous donor.
Generous support is also provided by Susan Bay Nimoy and Leonard Nimoy, Good Works Foundation and Laura Donnelley, an anonymous donor, The Samuel Goldwyn Foundation, and all Hammer members.
The Hammer's digital presentation of its public programs is made possible by the Billy and Audrey L. Wilder Foundation.
Radical Women: Latin American Art, 1960-1985 is organized by the Hammer Museum, Los Angeles, as part of Pacific Standard Time: LA/LA, an initiative of the Getty with arts institutions across Southern California. The exhibition is guest curated by Cecilia Fajardo-Hill, Andrea Giunta with Marcela Guerrero former curatorial fellow, in collaboration with Connie Butler, chief curator, Hammer Museum.
Radical Women: Latin American Art, 1960–1985 is made possible through lead grants from the Getty Foundation.
Major funding is provided by the Diane and Bruce Halle Foundation and Eugenio López Alonso. Generous support is provided by the Vera R. Campbell Foundation, Marcy Carsey, Betty and Brack Duker, Susan Bay Nimoy, and Visionary Women.
Additional support is provided by the Radical Women Leadership Committee and the Friends of Radical Women.

Media sponsorship is provided by Cultured magazine, KCET, and KCRW 89.9 FM.