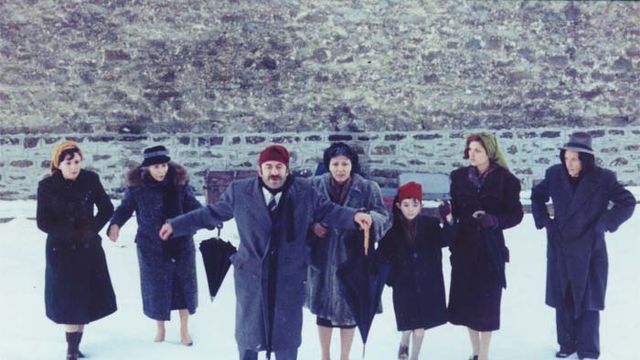 The Travelling Players
SUN DEC 18, 7 PM
Part of the series Landscapes of Time: The Films of Theo Angelopoulos. Free registration at cinema.ucla.edu.
Presented by the UCLA Film & Television Archive and the UCLA Stavros Niarchos Foundation Center for the Study of Hellenic Culture, with the collaboration of the UCLA Center for European and Russian Studies.
A powerful vision of postwar Greek history as experienced by a troupe of actors on perennial tour, The Travelling Players swept the awards at the 1975 Thessaloniki Film Festival and announced Theo Angelopoulos as a major international auteur. A multi-generational ensemble, the players drag themselves and their trunks from one train station and theater to the next, seemingly inured to the sweep of politics and war around them until they each, inevitably, become enmeshed with the tumult of their times. The myth of Atrides informs the personal dynamics among the players as they move through time with historical periods often shifting within a single, long tracking shot.
(1975, dir. Theo Angelopoulos, 35mm, color, Greek, German, and English with English subtitles, 230 min.)