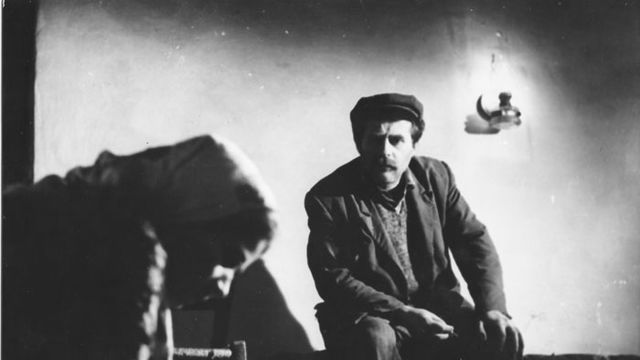 The Broadcast / Athens, Return to the Acropolis / Reconstruction
FRI DEC 2, 7:30 PM
Part of the series Landscapes of Time: The Films of Theo Angelopoulos. Free registration at cinema.ucla.edu.
Presented by the UCLA Film & Television Archive and the UCLA Stavros Niarchos Foundation Center for the Study of Hellenic Culture, with the collaboration of the UCLA Center for European and Russian Studies.
The Broadcast (Ekpompi)
In the manner of Jean Rouch's Chronique d'un été (1961), the producers of a pop music television show hit the streets to ask women what makes the ideal man. A sharp satire on consumerism and escapism after the military junta known as the Regime of the Colonels seized power the year before.
(1968, dir. Theo Angelopoulos, 35mm, black & white, 22 min.)
Athens, Return to the Acropolis (Athina, epistrofi stin Akropoli)
Commissioned as an episode for a television series on the cultural capitals of Europe, Theo Angelopoulos structured Athens, Return to the Acropolis as a personal journey through the city where he was born and raised. Incorporating references to his artistic inspirations—the poetry of George Seferis, the music of Manos Hadjidakis and the paintings of Tsarouchis—Angelopoulos searches for the places he lived as child amid modern developments that are changing the face of the city.
(1983, dir. Theo Angelopoulos, DCP, color, Greek and English with English subtitles, 55 min.)
Reconstruction (Anaparastassi)
After years working abroad in Germany, a husband returns to his small rural village only to be murdered by his wife and her lover. Police and media descend on the town to discover the truth of the crime, but in his first feature Theo Angelopoulos takes a wider view of the investigation. Based on an actual case, the film's story is only a pretext for Angelopoulos to explore the devastating impact of economic deprivation and changing emigration patterns on an entire region.
(1975, dir. Theo Angelopoulos, 35mm, black & white, Greek with English subtitles, 97 min.)