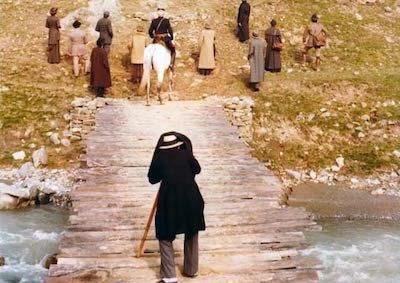 Alexander the Great
FRI NOV 4, 7:30 PM
Part of the series Landscapes of Time: The Films of Theo Angelopoulos. Free registration at cinema.ucla.edu.
Presented by the UCLA Film & Television Archive and the UCLA Stavros Niarchos Foundation Center for the Study of Hellenic Culture, with the collaboration of the UCLA Center for European and Russian Studies.
At the time of its release, Theo Angelopoulos insisted that Alexander the Great was his "most simple film" to date, owing to its linear structure beginning at New Year's Eve 1900 and proceeding from there. The film's straightforward chronology belies, however, the complex interplay of history, myth, and politics that Angelopoulos weaves into this newly urgent fable of a would-be liberator who devolves into despotism. A bandit leader, Megalexandros, sparks an international incident when he kidnaps a group of English tourists to force economic reforms, but when he and his men return to their village to hold up, they find the revolution may have already passed them by.
(1980, dir. Theo Angelopoulos, 35mm, color, 199 min.)