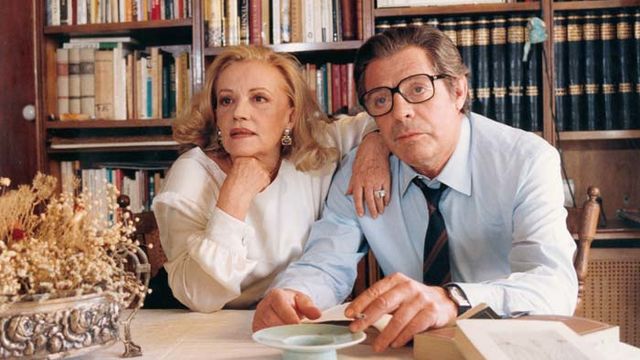 The Suspended Step of the Stork / The Beekeeper
SUN OCT 30, 7 PM
Part of the series Landscapes of Time: The Films of Theo Angelopoulos. Free registration at cinema.ucla.edu.
Presented by the UCLA Film & Television Archive and the UCLA Stavros Niarchos Foundation Center for the Study of Hellenic Culture, with the collaboration of the UCLA Center for European and Russian Studies.
The Suspended Step of the Stork
The plight of refugees in the Balkans and internationally dominated much of Theo Angelopoulos' attention in the 1990s, leading to two of his most acclaimed films, Ulysses' Gaze (1995) and Eternity and a Day (1998). The Suspended Step of the Stork, which inaugurates this "Trilogy of Borders," however, may be his sharpest assault on the moral and political failures of the West leading to the crisis. When a TV journalist believes he's found a missing Greek politician living in a refugee camp, a routine story becomes a potential blockbuster. A world-weary Marcello Mastroianni plays the mysterious refugee with Jeanne Moreau as the politician's embittered wife who may hold the key to his identity.
(1991, dir. Theo Angelopoulos, 35mm, color, 136 min.)
The Beekeeper
Every year, Spyros (Marcello Mastroianni) takes up the family tradition of transporting its colony of bees across the rugged northern Greek countryside. This season, however, he's joined by a young woman (Nadia Mourouzi) he picks up hitchhiking. Mastroianni delivers a quiet, reserved performance that confounded some critics who felt Theo Angelopoulos had miscast the international star. But Mastroianni's soulful silence, however, draws us deep into the existential crisis at the heart of the film about a generation that felt consumed by history and another in the process of forgetting it.
(1986, dir. Theo Angelopoulos, 35mm, color, 122 min.)