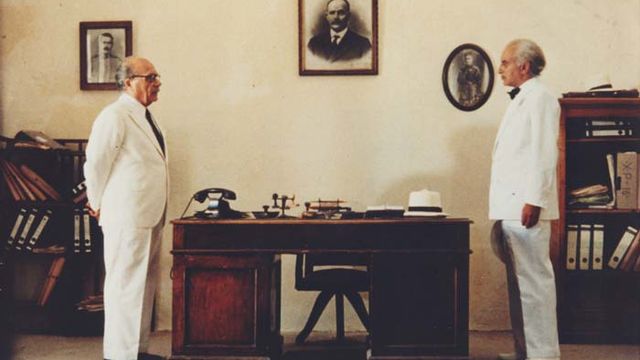 Days of '36
FRI OCT 21, 7:30 PM
Part of the series Landscapes of Time: The Films of Theo Angelopoulos. Free registration at cinema.ucla.edu.
Presented by the UCLA Film & Television Archive and the UCLA Stavros Niarchos Foundation Center for the Study of Hellenic Culture, with the collaboration of the UCLA Center for European and Russian Studies.
A political assassination kicks off Theo Angelopoulos' portrait of one Greek dictatorship made under the shadow of another. This opening act of violence triggers a series of more ambiguous but equally ominous machinations—a prison escape, a hostage crisis, foreign powers conspiring over cocktails—with Angelopoulos emphasizing the atmosphere and anxiety of political repression over specific historical events. Wide shots and 360 degree camera pans suggest a panoramic vision but actually underscore what's hidden from view. There is very little dialogue and even less explication but the cumulative effect is deeply unnerving.
(1972, dir. Theo Angelopoulos, 35mm, color, 105 min.)