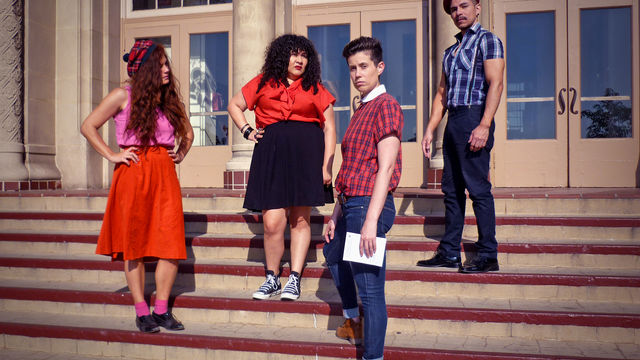 SORORITY: THE WOODS and THE INTERNET
SATURDAY & SUNDAY, DEC 3 & 4, 2016, 2:00PM–5:00PM
A queer performance salon created and directed by the theater artist
Gina Young
,
SORORITY
presents works in progress, theatrical situations, readings, and experimental improvisations. Elapsing over two days, each presentation highlights a different field of inquiry and includes artists from a variety of genres, including
Jasmine Nyende
,
Raquel Gutiérrez
,
Amanda-Faye Jimenez
, and
Kristina Wong
, among others. 
This program is part of the Hammer's Bureau of Feminism initiative.
This program is organized by January Parkos Arnall, curatorial associate, Public Engagement.
Lineup
DEC 3: THE WOODS
Hippies, witches, lumberjacks, womyn's music festivals, globalization and climate change... Are we out of the woods? Or are we not even close?
Genevieve Erin O'Brien/Sugar Rebels
Katie Liederman (featuring Chloe Liederman + Megan Auster-Rosen)
Erin Pike
Raquel Gutiérrez
Martin Matamoros
Jade Phoenix Martinez
Candy Pain
Linda Ravenswood
Amanda-Faye Jimenez
Marissa Schneiderman + Bailey Hikawa (featuring Lauren White)
+
DJ Noisy Nora
DEC 4: THE INTERNET
Pick-up artists, the comments section, it goes down in the DM, #notallmen and trolls, trolls, trolls... What's it like to be a woman on the internet? It's the wild f***ing west.
Kristina Wong
Kait Schuster
Sarah Gail Armstrong
Jade Phoenix Martinez
Romy Hoffman
Rich Yap
Karolyn Gehrig
Provvidenza Catalano
Jasmine Nyende
Amanda-Faye Jimenez
Candy Pain
+
DJ Beyondadoubt
Attending this program?
ALL HAMMER PROGRAMS ARE FREE
Location: Courtyard
Ticketing: This drop-in program is not ticketed.
Parking: Under the museum, $6 flat rate on the weekends. Cash only.
In Real Life is supported by Catherine Glynn Benkaim and Barbara Timmer.
Image: SORORITY, 2016. Mikki Yamashiro, Amanda-Fay Jimenez, Christine Treibel, and Martin Matamoros. Photo: Gina Young and Martin Matamoros.