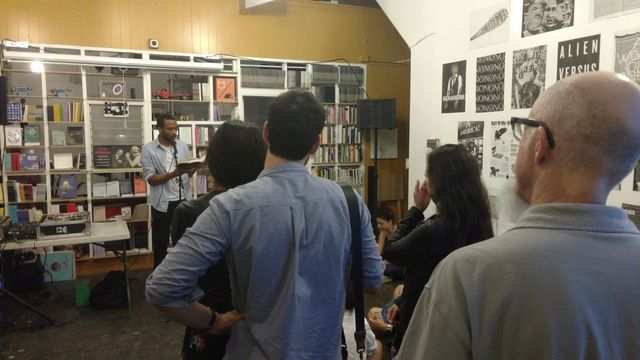 Poetic Research Bureau
to

This is a past program
The Poetic Research Bureau, a project space for language-centered art and inquiry anchored in Chinatown's Chung King Road gallery district, brings @SEA, its monthly "live magazine" of film, video, poetry, performance and rogue scholarship, to the Hammer Museum. Each @SEA program loosely constellates around a one-word theme, and this Sunday's keyword is "BORDERLESS"–offering a necessary critique and riposte to the current political climate of uncompromising nativism while bringing in artists and work marked by fluidity, interdisciplinarity, myriad border-crossings and uncontained curiosities.
@SEA is curated by Rebecca Baron, Andrew Maxwell and Daniel Tiffany, in concert with Joseph Mosconi, the PRB, and Anne Ellegood, senior curator at the Hammer.
Event Timeline
11:30 a.m.: Patty Chang & David Kelley, Flotsam Jetsam
Patty Chang (1972, San Leandro, CA) lives and works in Boston, MA.  Chang works primarily with performance and video.  She has had solo exhibitions at institutions such as the Museum of Modern Art, NY; the New Museum, NY, the Hammer Museum, Los Angeles; the Museet Moderna, Stockholm, Sweden; Museum of Contemporary Art, Chicago; Fri-Art Centre d'Art Contemporain Kunsthalle, Fribourg, Switzerland.  She is a 2014 recipient of the Guggenheim Fellowship.
David Kelley's work is a hybrid of experimental documentary and ethnographic practices that make use of imaginary, choreographic and performative strategies. His work has been shown in galleries throughout the world. Recently, he has had exhibitions at the Museum of Modern Art in New York, White Box in Portland Oregon, and Commonwealth and Council in Los Angeles. Other recent exhibitions include The Bank in Shanghai, New Art Center, the de Cordova Biennial in Boston, BAK in Utrecht, MAAP space in Brisbane Australia, and the Jim Thompson Art Center in Bangkok. A 2010 -11 resident at the Whitney Museum of American Art Independent Study Program, Kelley received a Master of Fine Art from University of California, Irvine. He is currently based in Boston, Massachusetts and is Associate Professor in the Roski School of Art and Design at USC.
Noon: Kate Dollenmayer
Kate Dollenmayer is a filmmaker and the Audiovisual Archivist at the Wende Museum in Culver City, which collects and preserves art, artifacts, archives, films, and personal histories from Cold War–era Eastern Europe and the Soviet Union relating to the period 1945–1991. Her illuminated lecture COLD WORM (time, auto-corrected) was performed at the Velaslavasy Panorama earlier this year.
12:30 p.m.: CS Giscombe
C. S. Giscombe's poetry books are Prairie Style, Giscome Road, Here, etc.; his book of linked essays (concerning Canada, race, and family) is Into and Out of Dislocation.    Ohio Railroads (a poem in essay form) was published in 2014 and Border Towns (essays on poetry, color, nature, television, etc.) will appear in 2016.  His recognitions include the 2010 Stephen Henderson Award, an American Book Award (for Prairie Style) and the Carl Sandburg Prize (for Giscome Road).  Projects underway include a prose book titled Railroad Sense (having to do with trains and other forms of public transportation) and a poetry book titled Negro Mountain.  C. S. Giscombe teaches at the University of California, Berkeley, where he is curator of the Mixed Blood readings, talks, and publication series.  He is a long-distance cyclist.
1 p.m.: Harmony Holiday, Improvising the Mingus School
Harmony Holiday is a poet, dancer, and archivist, mythscientist and the author of Negro League Baseball (Fence, 2011), Go Find Your Father / A Famous Blues (Ricochet, 2014), and Hollywood Forever (forthcoming from Fence, fall 2015). She was the winner of a 2013 Ruth Lilly Fellowship, and she curates the Afrosonics archive, a collection of rare and out-of print LPs and soundbites featuring poetry and poetics from throughout the African Diaspora, both analog at Columbia University's music library and digitally as a Tumblr. Her record label, Mythscience Records, devoted to making titles from the archive available to the public by way of reissues in both vinyl and digital formats, is forthcoming, starting with the reissue of Amiri Baraka's Black Spirits: New Voices in African American Literature LP.
1:30 p.m.: LA Fog
LA Fog is an experimental music group composed of woodwinds and strings. LA Fog is Kelly Coats, Kathleen Kim, Giles Miller and Jonathan Silberman. All four members of LA Fog compose music for the group to play, and the compositions include structures for improvisation along with traditional and non-traditional scores.
2:30 p.m.: Asher Hartman, Da Real Izzard Gizzard, performed by Paul Outlaw
Asher Hartman is an interdisciplinary artist whose work at the junction of performance and theater focuses on the understanding of the self in relation to Western histories and ideologies.
Paul Outlaw is a performing arts multi-hyphenate who has lived and worked in Los Angeles since the turn of the millennium. Recent collaborators include performance artist Mariel Carranza and the experimental hip-hop trio clipping. For more on Paul, please visit outlawplay.com
Christine Tavolacci  is a Los Angeles based flutist, composer and educator specializing in contemporary and experimental music. She is active as a soloist, improviser, curator and chamber musician, and is co-founder and co-director of Southland Ensemble, as well as a member of the Dog Star Orchestra, Gurrisonic, and the Vinny Golia Large Ensemble. Her playing has been released on Orenda Records,  Slub Music(Japan) and Tzadik.
3 p.m.: Ariana Reines
Ariana Reines is the author of MERCURY (2011), COEUR DE LION (2007), & THE COW (2006), all from Fence, the Obie-Winning play TELEPHONE (2009), & the translator of Preliminary Notes for a Theory of the Young-Girl by TIQQUN & The Little Black Book of Griselidis Real by Jean-Luc Hennig, from Semiotext(e).  Her performances include MORTAL KOMBAT (2014) at the Whitney, LORNA (2013) at the Martin E. Segal Theatre, & THE ORIGIN OF THE WORLD (2013) at Stuart Shave Modern Art in London.  An essay collection from Semiotext(e) & A SAND BOOK, new poems, will be out in 2018.  She astrologizes via lazyeyehaver.com & lives in Queens.
3:30 p.m.: Julian Talamantez Brolaski
Julian Talamantez Brolaski is the author of Of Mongrelitude (forthcoming, Wave Books April 2017), Advice for Lovers (City Lights 2012), gowanus atropolis (Ugly Duckling Presse 2011), and co-editor of NO GENDER: Reflections on the Life & Work of kari edwards (Litmus Press / Belladonna Books 2009). Julian is the lead singer and rhythm guitarist in the country band The Western Skyline (www.thewesternskyline.org). Currently in Queens, NY, Julian also sometimes lives in California.
4 p.m.: Peter Bo Rappmund, Tectonics
Peter Bo Rappmund is a Dallas-based interdisciplinary artist whose work investigates environments by way of experiments in the perception of time. He has shown at a variety of venues, including: MoMA; Centro Cultural São Paulo; Rencontres Internationales Paris/Berlin; National Maritime Museum, London; Musée d'ethnographie, Neuchâtel; California Academy of Sciences; and the New York, Vancouver, Hong Kong, Ann Arbor, CPH:DOX, Jeonju, Viennale, and Locarno International Film Festivals. PBR teaches at the University of Texas, Arlington.
Attending this program?
ALL HAMMER PROGRAMS ARE FREE
Location: TBD
Ticketing: This drop-in program is not ticketed.
Parking: Under the museum, $6 flat rate on the weekends. Cash only.
In Real Life is supported by Catherine Glynn Benkaim and Barbara Timmer.
Image: Poetic Research Bureau. Photo: Harold Abramowitz.