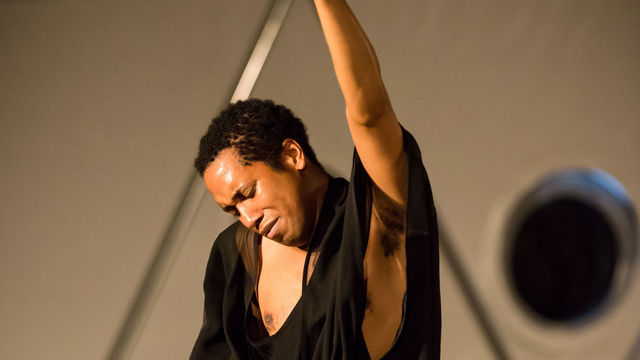 Trajal Harrell: Judson Church Is Ringing in Harlem (Made-to-Measure) / Twenty Looks or Paris Is Burning at the Judson Church
SATURDAY & SUNDAY, JAN 14 & 15, 2017, 3:00PM–4:00PM
Twenty Looks or Paris Is Burning at The Judson Church is a series of works that examine two very different kinds of dance, both with roots in 1960s New York: Postmodern dance from the Judson Church–period, with its formalism and minimalism, and voguing, a flamboyant and performative dance competition that appropriates fashion vocabulary. By developing a new critical position with respect to these two aesthetic traditions—and proposing a series of imaginary meetings between them—Trajal Harrell rewrites the minimalism and neutrality of postmodern dance with a new set of signs.
The iteration presented at the Hammer, Judson Church Is Ringing in Harlem (Made-to-Measure) / Twenty Looks or Paris Is Burning at the Judson Church, is the custom-made size in Harrell's series. In this "made-to-measure" iteration, the proposition is reversed from its usual geographic trajectory. Instead of a voguer coming downtown to Judson Church, the proposition goes: "What would have happened if one of the early postmoderns from Judson Church had gone uptown to perform in Harlem's voguing ballroom scene?" Rather than illustrating a historical fiction, Harrell creates a third possibility, something neither possible at the Balls nor at Judson Church, but only in the contemporary here and now.
This work for three dancers combines the contrasting styles of postmodern dance and voguing, repositioning the influence of jazz, funk, and rhythm and blues on improvisation in early postmodern dance. Likewise, aesthetic and social discourses are transformed when postmodern dance's pedestrian vocabulary of sitting and standing is reimagined in the context of a Judson Church gathering in Harlem. By using the inherent contrasts in these two aesthetics as well as the forms embedded in African American church services, Harrell generates a surprising and innovative experience in the continuum and spirit of early American dance. This series of works groundbreakingly marks the return of high drama and emotion in contemporary dance after the conceptual movement.
Estimated running time: 50 minutes
This downloadable publication in the style of Vogue magazine is distributed as the (XL) size of Trajal Harrell's Twenty Looks or Paris is Burning at the Judson Church series. It is shared here with the Hammer Museum audience to accompany Harrell's January 2017 performance of Judson Church is Ringing in Harlem, the (Made-to-Measure) size of the series.
This program is organized by Connie Butler, chief curator, with January Parkos Arnall, curatorial associate, Public Engagement.
Biographies
Trajal Harrell's work has been presented in many US and international venues, including the Kitchen, New York; New York Live Arts; TBA Festival, Portland; the Walker Art Center, Minneapolis; American Realness, New York; Philadelphia Fringe Festival; REDCAT, Los Angeles; Festival d'Automne, Paris; Holland Festival, Amsterdam; Festival d'Avignon, France; ImPulsTanz, Vienna; Tanz im August, Berlin; and Panorama Festival, Rio de Janeiro, among others. He has also shown performance work in visual-art contexts such as the Museum of Modern Art, New York; MoMA PS1, New York; Perfoma, New York; Fondation Cartier, Paris; the New Museum, New York; the Margulies Art Collection at the Warehouse, Miami; the Stedelijk Museum, Amsterdam; the Serralves Museum, Porto, Portugal; the Barbican Centre, London; the Centre Pompidou, Paris and Metz, France; the ICA Boston; and Art Basel Miami Beach.
Judson Church Is Ringing in Harlem (Made-to-Measure) / Twenty Looks or Paris Is Burning at The Judson Church has the distinction of being MoMA PS1's first dance commission. Harrell has been awarded the Guggenheim Fellowship, the Doris Duke Impact Award, and fellowships from the Foundation for Contemporary Art, Art Matters, and the Saison Foundation, among others.
Harrell recently completed a two-year Annenberg Residency at MoMA, during which he turned his attention to the work of the Japanese founder of butoh dance, Tatsumi Hijikata. By looking at butoh through voguing's theoretical lens of "realness," Harrell is creating works which combine a speculative view of history and the archive with contemporary dance practice and composition. Caen Amour, premiered in July 2016 at Festival Avignon, is the latest creation in this new artistic period of his work, following Used Abused and Hung Out to Dry, premiered and commissioned by MoMA in February 2013; The Ghost of Montpellier Meets the Samurai premiered in Montpellier Danse Festival in July 2015; The Return of La Argentina premiered in Paris' Centre National de la Danse in 2015 and was commissioned by MoMA; and most recently In the Mood for Frankie - premiered in May 2016 at MoMA.
In the summer of 2017, the first survey (1999-2016) of Harrell's work in a major visual art museum will be presented by the Barbican Centre in London.
Thibault Lac was born in France and studied at P.A.R.T.S. in Belgium. He has worked as a performer with Noé Soulier, Daniel Linehan, Eleanor Bauer, Jérôme Bel, Daniel Jeanneteau, and Mathilde Monnier, among others. Lac has taken part in several sizes of Trajal Harrell's project Twenty Looks or Paris Is Burning at the Judson Church—Junior, Plus, L, and M2M—as well as Harrell's piece for the Museum of Modern Art in New York titled Used, Abused and Hung Out to Dry (2013). Lac has again joined Harrell for the premieres of In the Mood for Frankie in May 2016 and for Caen Amour in the Festival d'Avignon, France in Summer 2016.
Ondrej Vidlar was born in the Czech Republic and currently resides in Belgium. A 2008 graduate from P.A.R.T.S. in Belgium, Vidlar has trained in Latin, modern, and contemporary dance and is active as a freelance dancer, teacher, performer, assistant of choreography, collaborator, body worker, and production manager on projects internationally.
Attending this program?
ALL HAMMER PROGRAMS ARE FREE
Location: Courtyard and Lab
Ticketing: This drop-in program is not ticketed.
Parking: Under the museum, $6 flat rate on the weekends. Cash only.
In Real Life is supported by Catherine Glynn Benkaim and Barbara Timmer.
Image: Trajal Harrell, Judson Church is Ringing in Harlem (Made-to-Measure) / Twenty Looks or Paris is Burning at the Judson Church, 2015. Photo: Ian Douglas.