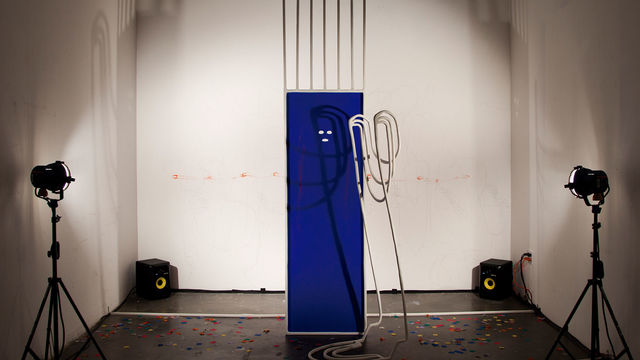 At night the states
SATURDAY & SUNDAY, JAN 21 & 22, 2017, 1:00PM–5:00PM
At night the states is a series of presentations and performances that explore the different kinship structures one inhabits and passes through on a daily basis, and how these sites shape and shift personal and political allegiances. Organized by guest curators Shoghig Halajian and Suzy Halajian.
Participants include Malin Arnell, Jennifer Doyle, Simone Forti, keyon gaskin, Raquel Gutierrez, taisha paggett with WXPT, Lee Relvas, and Erika Vogt with Noura Wedell.
Taking Alice Notley's poem, At night the states, as its starting point, the project looks at kinship as a set of varying practices that support basic life needs and demands, pointing to a fundamental dependency on collectivity. Notley's poem, a work of repetition that grieves and, in grieving, searches for new possibilities and arrangements, offers ground to build coalitions, to explore new friendships and alliances, and to imagine beyond the individual and the immediate. The project, in referencing Notley, references yesterday and searches for new ways of being-together through difference and entanglement.
Often kinship is tied to state-instituted rights, gendered hierarchies, race and class-based interests, and fictions of bloodline. How we act in response to birth, death, illness, family, communion, and creative production is bound within the limits of legibility in the social and political sphere. It remains laborious to push beyond the visible and beyond the acceptable, towards the informal and the not-yet-circumscribed. So the political task is to rework the social organization of friendship, intimacy, and dependency to produce non-state-centered forms of alliances, ever more urgently today.
In bringing together a group of artists whose practices explore and complicate the shape and movement of community, At night the states asks: How can we keep kinship specific and local to a given context? At the same time, how can we expand it to include communal ties that are irreducible to family and pre-ordained relationships? How can we search for unfamiliar and unexpected ways of collective sharing and being-together, considering the ways in which spaces of friendship, desire, and solidarity are both threatened and villainized today. The project asks these questions, with the intention of granting space for new inquiries to emerge within this institutional context, and conceivably beyond. 
Saturday Schedule
1 p.m.: Malin Arnell, Synchronicity Can Happen At Almost Any Time (Performance starts at the Women's March of Los Angeles at City Hall and continues at the Hammer Museum at 4 p.m.) [Courtyard]
1 p.m.: Lee Relvas, Take Your Money for Free [Annex, also Livestreamed]
1:45 p.m.: keyon gaskin, this is an interactive experience for you.you are a community.you are my material.this is your prison.leave when you want. [Annex]
2:45 p.m.: Jennifer Doyle, Paranoia, Sexual Harassment and the Division of Labor: a radical feminist view on the psychopathology of the workplace [Annex, also Livestreamed]
4 p.m.: Raquel Gutierrez, Jeanne's Son, Felix's Dad: On Making Butch Family [Annex, also Livestreamed]
Sunday Schedule
1 p.m. Malin Arnell, Synchronicity Can Happen At Almost Any Time (ongoing throughout day) [Courtyard]
1 p.m.: Noura Wedell in conversation with Erika Vogt and collaborators Madison Brookshire, Shannon Ebner, Mariah Garnett, Dylan Mira, Nora Slade, and Mark So about the Artist Theater Program [Annex, also Livestreamed]
2:15 p.m.: Simone Forti, News Animation [Annex]
2:45 p.m.: taisha paggett with WXPT and company [Annex]
4:30 p.m.: Simone Forti, News Animation [Annex]
Attending this program?
ALL HAMMER PROGRAMS ARE FREE
Location: Courtyard and Annex
Ticketing: This drop-in program is not ticketed.
Parking: Under the museum, $6 flat rate on the weekends. Cash only.
In Real Life is supported by Catherine Glynn Benkaim and Barbara Timmer.
Image: Lee Relvas, performance installation, 2015.