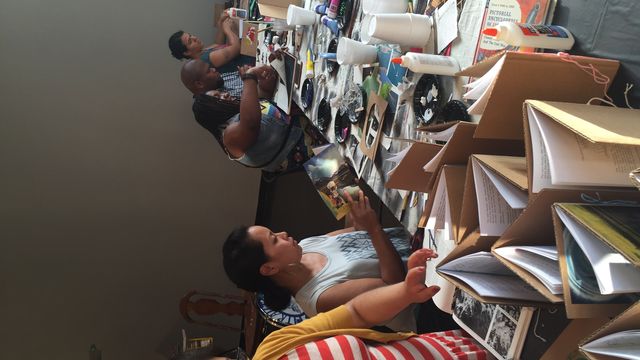 Lenguajes reciclados: Taller y lectura
SÁBADO, DICIEMBRE 17, 2016, 12:00PM–4:00PM
In Real Life is supported by Catherine Glynn Benkaim and Barbara Timmer.
Taller: noon–2 p.m.
Lectura: 3–4 p.m.
Antena y Libros Antena Books (Los Ángeles) presentan un evento intralingüístico que incluirá una lectura de poesía con enfoque en obra escrita en lenguajes que no sean el inglés con y sin traducciones, y un taller interactivo de libros cartoneros con Cartonera Santanera (Santa Ana), Kaya Press (Los Ángeles), Kodama Cartonera (Tijuana), y Tiny Splendor (Los Ángeles). La fabricación de libros cartoneros es un arte DIY (hazlo-tú-mismx) que invita a la participación comunitaria activa en el proceso de hacer y publicar libros usando materiales reciclados.
Con lecturas de:
Marco Antonio Huerta
Hilary Kaplan
Iuri Lara
Andrew Leong
Kenji Liu
Vickie Vértiz
El taller será en español e inglés; Antena Los Ángeles proporcionará la interpretación. 
TODOS LOS PROGRAMAS DEL HAMMER SON GRATIS
Lugar: Patio y Lab
Boletos: Este programa no requiere de reservaciones ni boletos
Estacionamiento: Debajo del museo, $6 tarifa fija para fines de semana. Pago en efectivo solamente.
Imagen: Taller organizado por Antena. Foto: Jen Hofer.
In Real Life: Recycled Languages is a Public Engagement project organized by January Parkos Arnall, Curatorial Associate, Public Engagement. The Hammer Museum's Public Engagement program is supported, in part, by the Los Angeles County Board of Supervisors through the Los Angeles County Arts Commission.