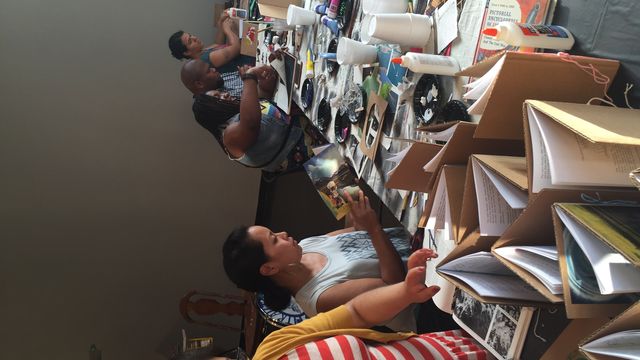 Recycled Languages: Workshop and Reading
to

This is a past program
Image: Workshop organized by Antena. Photo: Jen Hofer.
Workshop: noon–2 p.m.
Reading: 3–4 p.m. 
Antena and Libros Antena Books (Los Angeles) present a cross-language event that includes a poetry reading featuring work written in languages other than English with and without translations, and an interactive cartonera book workshop with Cartonera Santanera (Santa Ana), Kaya Press (Los Angeles), Kodama Cartonera (Tijuana), and Tiny Splendor (Los Angeles). Cartonera bookmaking is a DIY art that invites active community participation in the process of making and publishing books using recycled materials.
With readings from:
Marco Antonio Huerta
Hilary Kaplan
Iuri Lara
Andrew Leong
Kenji Liu
Vickie Vértiz
The workshop will be in Spanish and English; interpretation provided by Antena Los Ángeles. 
Attending this program?
ALL HAMMER PROGRAMS ARE FREE
Location: Courtyard and Lab
Ticketing: This drop-in program is not ticketed.
Parking: Under the museum, $6 flat rate on the weekends. Cash only.
In Real Life: Recycled Languages is a Public Engagement project organized by January Parkos Arnall, Curatorial Associate, Public Engagement. The Hammer Museum's Public Engagement program is supported, in part, by the Los Angeles County Board of Supervisors through the Los Angeles County Arts Commission.
In Real Life is supported by Catherine Glynn Benkaim and Barbara Timmer.