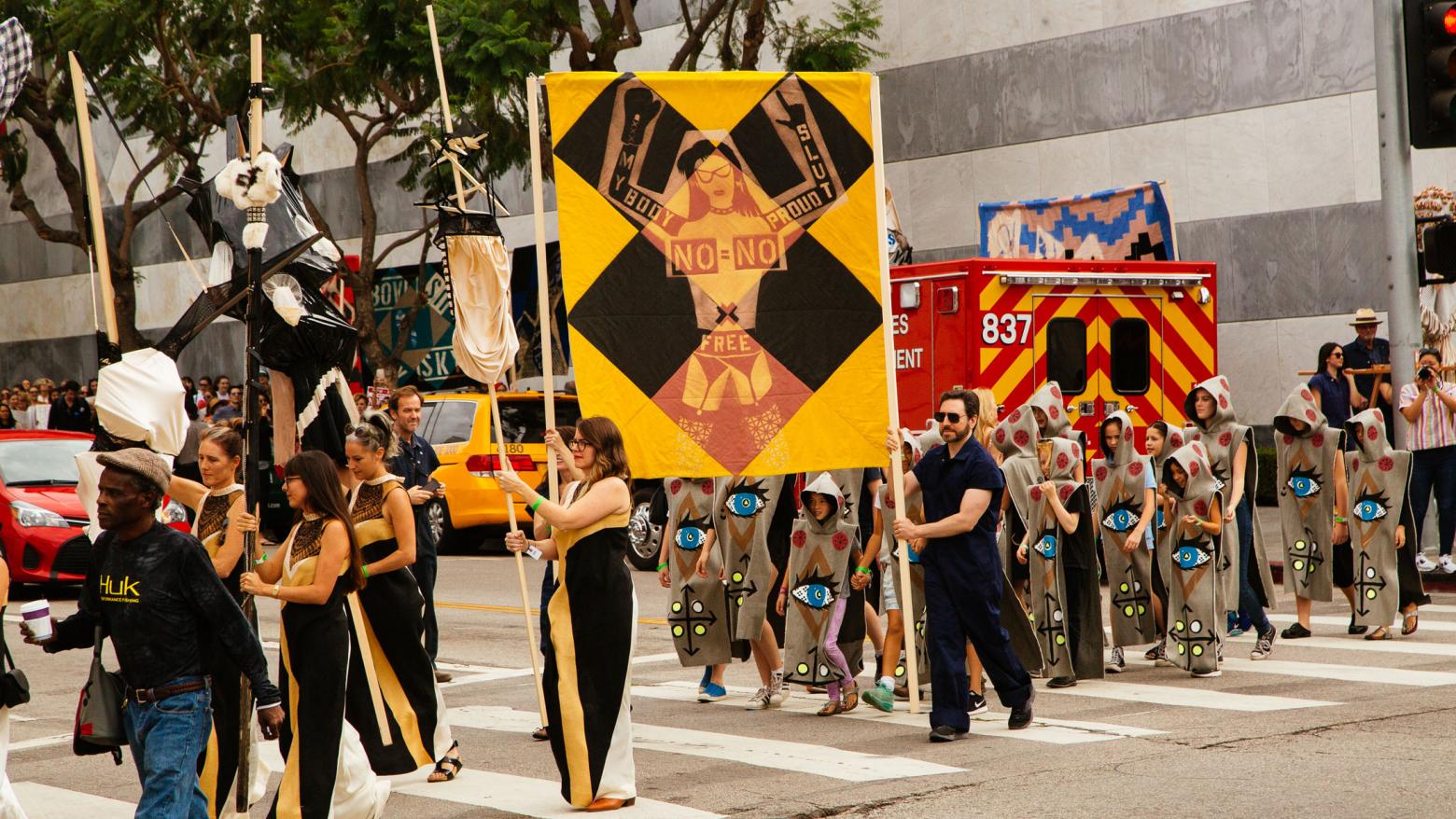 On In Real Life: A Conversation with January Parkos Arnall
Following the
third iteration of the Hammer's biennial exhibition Made in L.A.
 the museum announced the
temporary closure
of its third floor galleries for renovation. Though the new designs will allow for larger exhibitions in an expanded, technologically-advanced, environmentally-sustainable space come January 2017, the renovations unavoidably impacted the Hammer's usual course of large scale exhibitions this fall. In addition to the third floor galleries, the Hammer regularly utilizes its lobby, courtyard, and downstairs galleries, creatively employing the architectural framework of the museum in order to invoke the rigor and importance of the exhibitions on view. From my first visit here as an incoming UCLA student, the Hammer distinguished itself for this progressive spirit and vibrancy that practically pulsed from the walls. I especially recall sculptor
Oscar Tuazon
's steel pipe jutting through the Lobby Gallery and viewers curiously peeking in from Westwood Boulevard, or
Made in L.A. 2016
 artist
Kelly Akashi
's ethereal sculptures suspended seamlessly over the courtyard. These gallery spaces are similarly inhabited this fall by Hammer Projects
artists
Nicolas Party
,
Simone Leigh
, and
Marwa Arsanios
. Still, the inevitable question loomed: how do we plan a large-scale exhibition without the quintessential white walls of a museum gallery? In true Hammer fashion, our curators decided to do something different. 
In Real Life: 100 Days of Film and Performance runs through January 25 and seeks to highlight the multidimensionality of film and performative arts through an impressive array of free programs. The exhibition is broken down into three categories: IRL Studio, which allows artists to work, draft, compose, and create on the courtyard stage; IRL Film and Video, which screens four thematic programs in the Billy Wilder Theater; and IRL Performance, showcasing a range of dance, theater, music, and experimental works performed on the courtyard stage and throughout other ancillary spaces. So what, exactly, has been on view this fall at the Hammer?  In my past month here in the Communications department, I've stumbled across a set of easels arranged for a modernist drawing lesson, heard voices booming spoken word and poetry from the courtyard, and watched a leotard-clad dancer undulate among the bamboo leaves behind the stage. In other words, the possibilities for visitors are endless, exciting, and constantly changing, while the artists themselves defy expectations for what you may find within the museum walls. 
Photo: Instagram user @tinysleepy
I talked with January Parkos Arnall, curatorial associate, Public Engagement, to learn more about In Real Life: 100 Days of Film and Performance:
Mia Lewis: Did the closing of the third floor galleries initially seem like an inconvenience, or an opportunity to do something new for the curatorial team?
January Parkos Arnall: Over the last several years the curatorial team has incorporated performance to a greater degree in our exhibition schedule. We have organized Hammer Projects with Maria Hassabi and Kelly Nipper that focused on dance and the Made in L.A. biennials have consistently highlighted performance projects such as the inclusion of Jmy James Kidd/Pieter Studio, Emily Mast, KCHUNG, and Brennan Gerard & Ryan Kelly in 2014, and in 2016 Rafa Esparza, Wadada Leo Smith, Lauren Davis Fisher, and Adam Linder. In addition, we have done curatorial projects that explored performance through our Public Engagement department with the contemporary orchestra wildUp, the experimental opera company The Industry, and the Institute for Art and Olfaction. Most recently the Los Angeles Dance Project performed inside of the exhibition Leap Before You Look: Black Mountain College 1933-1957 adding incredible nuance to visitors' understanding of the subject matter. This is all to say that our current focus on performance is not simply an outcome of the temporary gallery closure! The closure did however give the curatorial team an opportunity to work together on a single project, something we have not done previously. In Real Life's programmatic diversity is in part due to the fact that there are eight curators working together and each exploring different facets of contemporary film and performance.
How do you think In Real Life imbues a sense of agency into the artists' working processes?
In Real Life is really a series of projects exploring different aspects of time-based art practice. The Film & Video program presents works already in existence and is more a curatorial endeavor while at the same time, Studio provides a platform for artists to explore unfinished works in a public space and provides very little curatorial direction on these pieces. The Performance program is the most diverse project, staging both newly commissioned pieces and existing works reformatted for the space.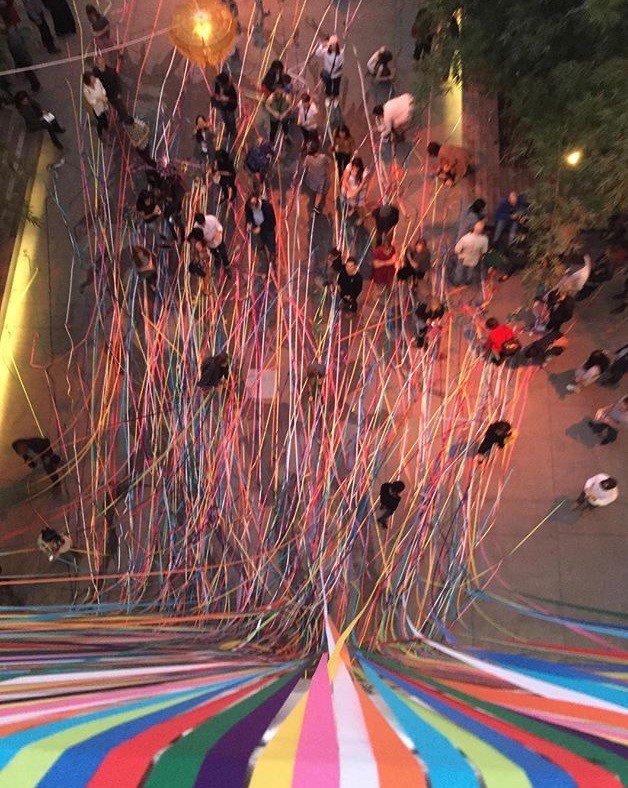 Photo: Instagram user @robertmedina
Are there any challenges you've learned from implementing this exhibition?
The Hammer is a small museum, and the In Real Life program is incredibly rigorous—necessitating that many departments previously unaccustomed to working together have needed to come together to support the project. Each week brings a new dynamic and a new set of challenges!
Museums typically acquire, store, or archive their collections and exhibitions. By celebrating the dynamic processes rather than the final product of these working artists, how do you think the Hammer is changing the way we look at both art and museums?
The Hammer is one of many museums exploring and supporting engagement-oriented and performance art practices. These practices necessitate a different way of understanding acquisitions and archiving—one that brings together registrars with curators, programmers, and artists in active conversation. The Hammer's mission, and role as both a museum and cultural center, means that we can also prioritize supporting the practices of artists as well as their output. This is an important aspect of our residency program, which invites artists to use an apartment in Westwood and spend time in Los Angeles without any requirements—no public lecture, no mandatory report or exhibition—it is simply a space to work. Similarly, while our exhibition program is generally scheduled several years into the future, our Public Engagement program is built to remain flexible enough to support art practices in real time and that respond to urgent social issues of the day. This is certainly visible with In Real Life, but it is a continuing priority for the museum going forward.