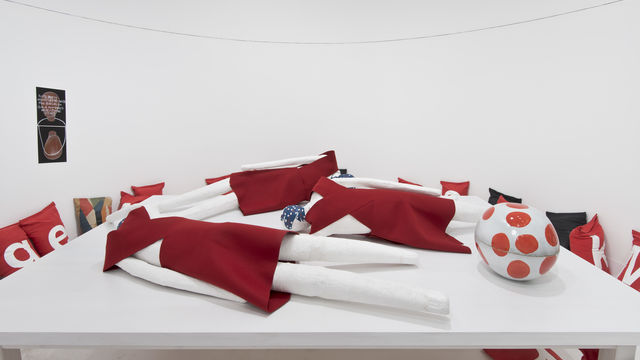 Kelly Nipper: Black Forest
–

This is a past exhibition
In Black Forest, the Los Angeles-based artist Kelly Nipper (b. 1971) has created an environment equally informed by mythology and reality, by history and the present, by movement and objects. The project is inspired in part by the Black Forest—a wooded mountain range in Germany that has spawned legends featuring clairvoyants, magicians, sorcerers, and witches but is perhaps best known for clock making and intricately decorative wood carving. The installation is a landscape of sorts, filled with a variety of objects arranged on tables, resting on the floor, and leaning against or pinned to the walls. It appears to be simultaneously a working studio, an archive, and a theatrical setting, but might best be understood as a Wunderkammer—literally a "wonder room," though the term is often translated from the German as a "cabinet of curiosities"—a cumulative and layered microcosm. Recognizing that the world is always in the process of changing, like the Wunderkammern created centuries ago, Black Forest captures a moment in time—in much the way a photograph does—and puts it forward for close examination. A sense of wonder and a surrealist desire to question established understandings of time, space, and the body inform Nipper's approach.
The different mediums and materials used to create the objects on view reflect Nipper's long-standing interest in craft movements. There are carved wooden weaving tools rendered in an absurdly large scale; ceramics in the form of a globe (abstractions of a vast space); textile blankets; plaster figures with long articulated necks and torsos adorned with felted costumes; appliquéd sandbags; and drawings of patterns that reflect a grammar of the body's motion. These patterns are drawn from the artist's ongoing exploration of the influential movement theories of Hungarian dancer and choreographer Rudolf Laban, who figured prominently in the development of modern dance in the first half of the twentieth century. As part of the exhibition, a series of performances will take place in the gallery. Featuring the dancer Marissa Ruazol, these performances are rooted in a system called Laban Movement Analysis. Laban's method provides a vocabulary and a conceptual framework for investigating and considering time, space, and motion as primary materials. It describes and analyzes the movement of the body through space and can be understood more broadly as illuminating modes of communication. For Nipper, these fundamental bodily movements are thus importantly linked to language and technology, suggesting the ways in which technological innovations—from timekeepers like the clock to photography–measure, shape, and indeed expand our sense of time and space.
Organized by Anne Ellegood, Hammer senior curator.
Kelly Nipper: Mouvements du Centre de Gravité
Mouvements du Centre de Gravité, 2013 Dancer: Marissa Ruazol Installation view, Hammer Museum, Los Angeles
Biography
Kelly Nipper was born 1971 in Edina, Minnesota. Her photographs, videos, installations and performances have been featured in solo exhibitions at Bard College, Annandale-on-Hudson, NY (2013); Kunsthaus Zürich, Switzerland (2013); The Museum of Modern Art, New York (2013); Tramway, Glasgow, Scotland (2012); and the Contemporary Arts Museum, Houston, TX (2007). Her work has also been included in group exhibitions at the Deutsches Hygiene-Museum, Dresden, Germany (2013); Centre Pompidou, Paris, France (2011); Whitechapel Art Gallery, London, UK (2011); Whitney Museum of American Art, New York, NY (2010); Migros Museum für Gegenwartskunst, Zurich, Switzerland (2010); Institute for Contemporary Art, Philadelphia, PA (2009); and Performa, New York, NY (2007). She received her MFA from California Institute of the Arts and BFA from Minneapolis College of Art and Design. Nipper is currently an artist-in-residence with A-I-R Laboratory at Centre for Contemporary Art Ujazdowski Castle, Warsaw, Poland.
Black Forest is co-commissioned by TRAMWAY, Glasgow, Kunsthaus Zurich, and the Hammer Museum, Los Angeles.
Black Forest received generous support from Stacy and John Rubeli.