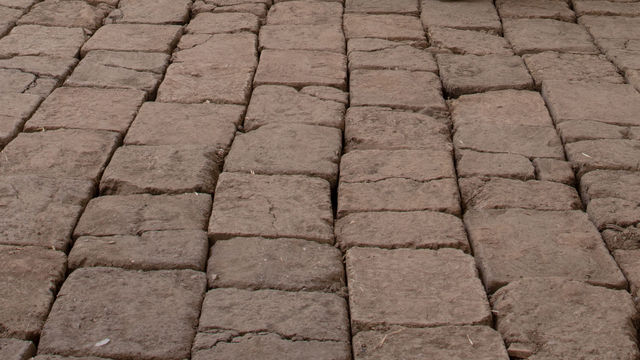 rafa esparza's recent installations have centered largely on the making of adobe bricks, produced in collaboration with the artist's father and others in the area of northeast Los Angeles surrounding the Los Angeles River. The brick-making technique employed by esparza is used throughout Mexico, and notably it was the method his father used to build his first house in Mexico before he immigrated to the United States. Adapting this material to the conditions of exhibition and display is part of a broader tendency that esparza engages throughout his practice. The artist's work in this arena considers the many forms of evolution within local and indigenous cultural production that have taken place alongside and adjacent to the narratives of Western art, including histories of sculptural installation and performance.
In the months leading up to the installation of tiled bricks at the museum, esparza invited a group of peers and collaborators to unearth a series of objects that had been deliberately buried throughout Elysian Park. In each instance, the choice of whether to lend an object to the museum as part of esparza's installation was left to the discretion of the individual. Figuring as a prelude to the exhibition, esparza's unofficial burial and excavation in these contexts alluded to ritual forms that establish a direct connection between one's physical body and the base materials of the earth. Forming a link between the museum and this once-contested space of Los Angeles—an area that was once home to a vibrant Mexican American community but ultimately became the site of Dodger Stadium—esparza's practice confronts the notions of foreignness and appropriation that are at the heart of museological culture. To this end, the texts related to his installation and associated performances are made available in both English and Spanish.
Las instalaciones recientes de rafa esparza se han enfocado principalmente en la producción de ladrillos de adobe, producidos en colaboración con el padre del artista y otros en el área al noroeste de Los Ángeles, alrededor del Río Los Ángeles. La técnica de producción de ladrillos utilizada por esparza se utiliza en todo México, y notablemente, es el método que utilizó su padre para construir su primera casa en México antes de emigrar a los Estados Unidos. Adaptar este material a condiciones de exposición y exhibición forma parte de una tendencia más amplia que esparza utiliza a través de su práctica. La obra del artista en esta área considera las distintas formas de evolución dentro de la producción cultural local e indígena que han ocurrido al lado de y junto con los relatos del arte Occidental, incluyendo historias de instalación escultórica y performance.
En los meses previos a la instalación de los ladrillos en el Museo, esparza invitó a un grupo de compañeros y colaboradores para desenterrar una serie de objetos que habían sido enterrados a propósito en el Parque Elysian. En cada caso, la elección de prestar un objeto al museo como parte de la instalación de esparza se dejó a la discreción de la persona. Figurando como un preludio a la exposición, el entierro y la excavación no oficiales de esparza en estos contextos aludían a formas rituales que establecen una conexión directa entre el cuerpo físico de uno y los materiales base de la tierra. Formando un enlace entre el museo y este espacio alguna vez disputado de Los Ángeles, un área que en un momento fue el hogar de una vibrante comunidad México-Americana pero que ultimadamente se convirtió en la sede del Estadio de los Dodgers, la práctica de esparza confronta a las ideas de extranjería y apropiación que están en el corazón de la cultura museológica. Para tales efectos, los textos relacionados con su instalación y performances relacionadas están disponibles en inglés y en español.