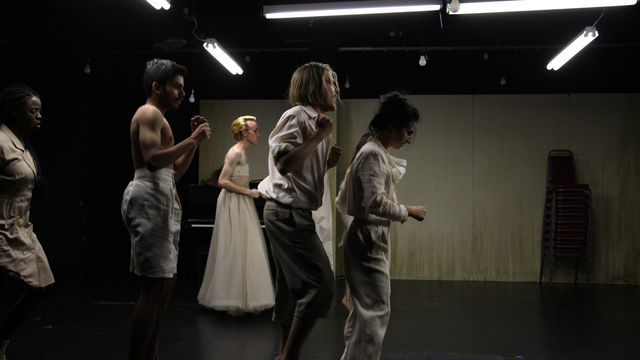 Stacy Dawson Stearns
TUESDAY-FRIDAY, JAN 3-6, 2017
In Real Life: Studio provides a glimpse into the working processes of artists. Throughout the fall a select group of artists utilizes spaces in the museum to convene and rehearse new material, including theater, dance, music, and performance. While some artists and collectives will simply discuss or workshop material, others will produce a new project from rehearsal to final performance. 
Biography
Stacy Dawson Stearns is a Bessie Award winning (2000) interdisciplinary performer and director, known for her original works as well as her collaborative work with Big Dance Theater, David Neumann, Hal Hartley, Ken Nintzel, and Blacklips Performance Cult. Over the past 23 years, she has performed in 9 countries and in numerous domestic festivals and venues including Jacob's Pillow, American Dance Festival, Spoleto USA, Walker Art Center, The Whitney, The Ontological-Hysteric Theater, Classic Stage Company, HERE, Town Hall, City Center, Lincoln Center, Dance Theater Workshop, PS 122, MassMoCA, Chicago Museum of Contemporary Art, The Performing Garage, Mother, and REDCAT. Grants/Residencies include: Three-legged Race in Minneapolis, MassMOCA, and CHIME (Choreographers in Mentorship and Exchange). Commercially, Stacy has choreographed for pop icons Debbie Harry, Ann Magnusen, and the House of Jackie. Film credits include: No Such Thing, Wigstock: the Movie!, and academy award-winner filmmaker Jonathan Demme's recent performance film of Big Dance Theater's Another Telepathic Thing.
Most recent performance work includes B.A.S.E.: a durational rule game with choreographer Laurel Jenkins (performed at the Getty in August 2016), and  the witch, a dance piece and film currently in progress in collaboration with Jennie Mary Tai Liu of Grand Lady Dance House.
Stacy is an instructor at California Institute of the Arts (movement, School of Theater), and has also taught at The George Washington University in D.C., Marymount Manhattan College, and New York University. Stacy's writings on performance have been published in Native Strategies, Itch Dance Journal, The 53rd State Press Occasional, and the book version of Another Telepathic Thing (pub. The 53rd State Press). An advocate of local body-based art, Stacy co-administrates and serves on the board of Showbox LA, and is a member of the Pieter Council. Beyond the studio, research interests include somatic presence in relation to technology and mutual authorship of physical performance.
Stacy works with a loose collective of body-based artists known as the PsychOutDaDaGoGoFamily, with whom she will be appearing throughout the coming year in the epic performance art serial, "Closet of Chaos", at We Live in Space in Jefferson Park. Upcoming: Open rehearsals of Stacy's newest work-in-process, Untitled 104, will be on view on the courtyard stage at the Hammer Museum January 3-6, 2017.
Attending this program?
ALL HAMMER PROGRAMS ARE FREE
Location: Courtyard
Ticketing: This drop-in program is not ticketed.
Parking: Under the museum. Rates are $6 for the first three hours with museum validation, and $3 for each additional 20 minutes, with a $20 daily maximum. Cash only. 
In Real Life: Studio is a Public Engagement project organized by January Parkos Arnall, curatorial associate, Public Engagement.
The Hammer Museum's Public Engagement program is supported, in part, by the Los Angeles County Board of Supervisors through the Los Angeles County Arts Commission.