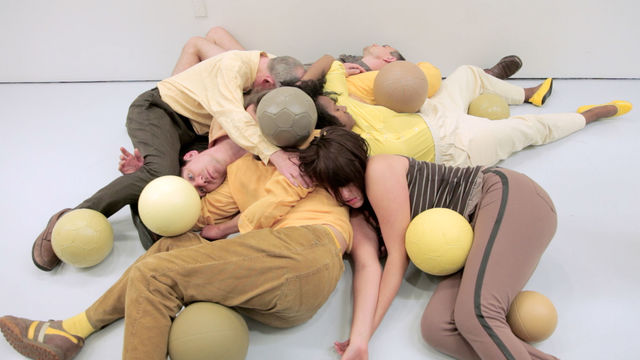 Emily Mast and Mikaal Sulaiman
OCT 11 & NOV 8, 2016, 11:00AM-5:00PM
In Real Life: Studio provides a glimpse into the working processes of artists. Throughout the fall a select group of artists utilizes spaces in the museum to convene and rehearse new material, including theater, dance, music, and performance. While some artists and collectives will simply discuss or workshop material, others will produce a new project from rehearsal to final performance. 
Biographies
Emily Mast received a bachelor of science from Skidmore College, Saratoga Springs, New York and a master of fine arts from University of Southern California, Los Angeles. Her work has been performed internationally in venues such as Roy and Edna Disney/CalArts Theater, Los Angeles (2016, 2012); The Powerplant, Toronto, Canada (2016); Mona Bismarck American Center, Paris (2015); Los Angeles County Museum of Art (2014); Robert Rauschenberg Foundation Project Space, New York (2013); LA>Made in L.A. 2014 at the Hammer Museum.
Mikaal Sulaiman is a Los Angeles-based sound designer and music producer. Recent projects include Destined (2016), The Black that Follows (2016), Seclusion (2015), John David (2015), In a Relationship (2015), and The Wood (2014). Sulaiman has also worked on numerous productions at venues such as La Jolla Playhouse, California; ARS NOVA, New York; California Shakespeare Theatre, Orinda; Machine Project Theatre, Los Angeles; The Theater at Ace Hotel, Los Angeles ;  Arden Theatre, Philadephia; and Pig Iron Theatre, Philadelphia. 
Attending this program?
ALL HAMMER PROGRAMS ARE FREE
Location: Courtyard
Ticketing: This drop-in program is not ticketed.
Parking: Under the museum. Rates are $6 for the first three hours with museum validation, and $3 for each additional 20 minutes, with a $20 daily maximum. Cash only. 
In Real Life: Studio is a Public Engagement project organized by January Parkos Arnall, curatorial associate, Public Engagement.
The Hammer Museum's Public Engagement program is supported, in part, by the Los Angeles County Board of Supervisors through the Los Angeles County Arts Commission.