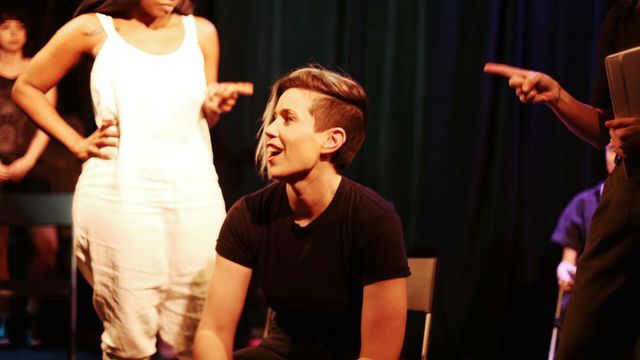 Feminist Acting Class
TUESDAY-FRIDAY, OCT 25-28, 2016, 12:00PM-4:00PM
In Real Life: Studio provides a glimpse into the working processes of artists. Throughout the fall a select group of artists utilizes spaces in the museum to convene and rehearse new material, including theater, dance, music, and performance. While some artists and collectives will simply discuss or workshop material, others will produce a new project from rehearsal to final performance. 
Project statement
Created by theater artist Gina Young, Feminist Acting Class is a series of experiments to determine if the form of an acting class can be made feminist, in addition to the content. Part art project, part intellectual experiment and part dynamic physical practice, Feminist Acting Class hopes to expand the roles for women and nonbinary people in theater and the way that we approach these roles. This one-week intensive is divided into segments focusing on body work, voice work, monologues, scenes and self-generated work. Participants will develop scenes together and explore ways to read against a text, leaving with tools to create change in the industry and better approaches to self-care in a profession full of rejection.
Participation is extremely limited. Those interested in joining the class must be confirmed in advance by the organizer and be willing to commit to the entire week. Please email publicengagement@hammer.ucla.edu to learn more.
Biography
Gina Young is a queer feminist playwright, director and performer whose work has been seen all over the US and Europe. Her most recent play sSISTERSs was developed through the Studio Series at REDCAT and was a finalist for the Beatrice Terry Residency at the Drama League in NYC. Other plays include Femmes: A Tragedy, recipient of the Jane Chambers Award for Playwriting, and Tales of a Fourth Grade Lesbo. Gina studied Drama at NYU's Tisch School of the Arts and the Lee Strasberg Theatre Institute. She got her start a member of the legendary WOW Cafe Theatre collective.
Attending this program?
ALL HAMMER PROGRAMS ARE FREE
Location: Courtyard
Ticketing: This program is not ticketed. Visitors are invited to observe. Participants in the class are confirmed in advance with the organizer. For information, email publicengagement@hammer.ucla.edu.
Parking: Under the museum. Rates are $6 for the first three hours with museum validation, and $3 for each additional 20 minutes, with a $20 daily maximum. Cash only. 
In Real Life: Studio is a Public Engagement project organized by January Parkos Arnall, curatorial associate, Public Engagement.
The Hammer Museum's Public Engagement program is supported, in part, by the Los Angeles County Board of Supervisors through the Los Angeles County Arts Commission.