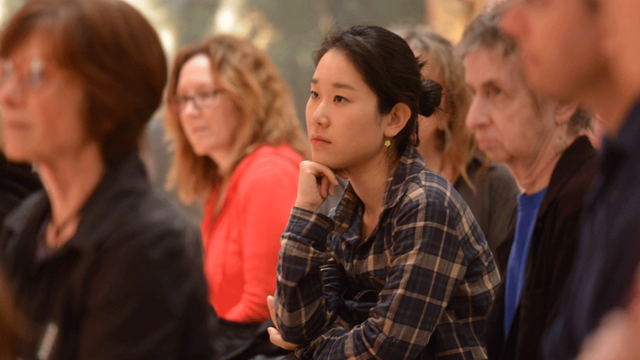 Contemplative Art Viewing: Mindful Seeing/Living Portraits
THURSDAYS, SEP 22, 29 & OCT 13, 2016, 1:30PM-2:30PM
In Real Life: Studio provides a glimpse into the working processes of artists. Throughout the fall a select group of artists utilizes spaces in the museum to convene and rehearse new material, including theater, dance, music, and performance. While some artists and collectives will simply discuss or workshop material, others will produce a new project from rehearsal to final performance. 
Project statement
While the museum's third-floor galleries are under renovation and Contemplative Art Viewing (CAV) is not possible, we explore other forms of mindfully looking at art—and life—in the public space of the Hammer courtyard on Thursdays, September 22, 29, and October 13 from 1:30–2:30 p.m.
Mindful educator & founder of Aram3, Mitra Manesh, will guide participants on a journey of Mindful Seeing in the context of Living Portraits. Instead of viewing works of art, participants will explore what it's like to look at people as if they were works of art. 
Mindful = Mitra guides a short mindfulness practice to set the stage for an experience of being aware (not on autopilot), in the moment (not in the past or future), and curious (non-judgmental). 
Seeing = As the meditation finishes, participants open their eyes and bring the aforementioned qualities of mindfulness to the act of seeing, having a direct experience of whatever is before their eyes, as well as an ongoing experience of what may or may not be coming up internally as we look.
Living portraits = Mitra and a volunteer will practice Contemplative Art Viewing on each other.  They will gaze at each other as living portraits, mindfully, with kind presence & open curiosity. The intention is to see deeply into the portrait, the face into which they are peering, to see the journey, the challenges/the laugher/the love/the sorrow/the joy/the hope…that this person may have experienced and that may be expressed in the master work of their face. 
A rotating series of volunteers will sit with Mitra and practice this Living Portrait spin on CAV. All are welcome to volunteer, the only requirement is a willingness to be transparent, to be seen as well as to see. 
Those who don't wish to volunteer can participate as observers, exploring the possibilities and challenges of shifting mindful viewing to living portraits. The choice is yours. 
Participants are invited to be curious, intrigued, and interested in whichever capacity they chose. Prospective volunteers will have the opportunity to sign up in person to participate in Mindful Seeing with Mitra. A sign-up sheet will be available in the courtyard starting at 1 p.m., and participation will be on a first come first served basis. Or, just show up in the courtyard of the Hammer at 1:30 p.m. to observe what's going on!
Attending this program?
ALL HAMMER PROGRAMS ARE FREE
Location: Courtyard
Ticketing: This drop-in program is not ticketed.
Parking: Under the museum. Rates are $6 for the first three hours with museum validation, and $3 for each additional 20 minutes, with a $20 daily maximum. Cash only. 
In Real Life: Studio is a Public Engagement project organized by January Parkos Arnall, curatorial associate, Public Engagement.
The Hammer Museum's Public Engagement program is supported, in part, by the Los Angeles County Board of Supervisors through the Los Angeles County Arts Commission.