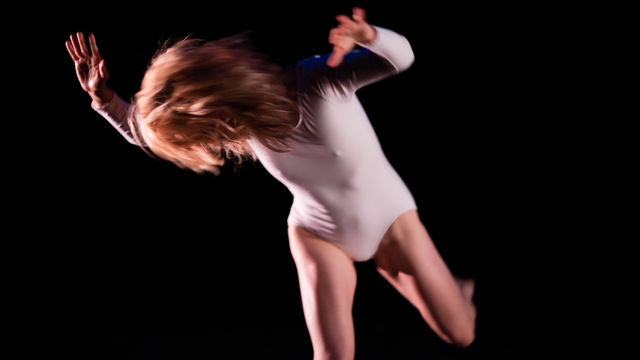 Lisa Wahlander
OCT 12, 13, 14, 20 & 21; NOV 1; DEC 13, 15 & 16
In Real Life: Studio provides a glimpse into the working processes of artists. Throughout the fall a select group of artists utilizes spaces in the museum to convene and rehearse new material, including theater, dance, music, and performance. While some artists and collectives will simply discuss or workshop material, others will produce a new project from rehearsal to final performance. 
Project statement
LADYBEAST AND THE IMPERMANENT SKY explores the multiplicity of form, illusion and the transformation of self. Shape-shifting through iconic representations of the body and drawing imagery from art history, dance history, marine biology and astrophysics, LADYBEAST attempts to blur the line between abstraction and representation. With no special effects or props other than a white leotard and her body, she transforms into creatures and life forms from her past, present and future. To paraphrase Carl Sagan, "[LADYBEAST] is the universe experiencing [her]self."
LADYBEAST AND THE IMPERMANENT SKY is being made in residency at Pieter Performance Space in Lincoln Heights. The piece is accompanied by an original score composed in collaboration with multidisciplinary artist, animator, and musician, Bryan Konietzko. A full length version of LADYBEAST is being developed at Pieter intended to occur in the last 60 minutes of daylight. 
—Lisa Wahlander
LADYBEAST AND THE IMPERMANENT SKY will be performed in its entirety at 12:30 p.m. each day.
Biography
Lisa Wahlander (b. 1981) is a Los Angeles-based artist and choreographer. Her work explores the body's relationship to time, space and form through movement, photography and site-based installations. She has performed at many museums, galleries, theaters, and unconventional performance spaces including The Getty, The Hammer Museum, The Fowler Museum, LACMA, The Joyce Soho, LA>< ART, The ACE Hotel, Hauser Wirth and Schimmel, Pieter Performance Space, and Opening Ceremony LA. In 2016, she presented her new work, "LADYBEAST AND THE IMPERMANENT SKY" at the Berkeley Art Museum and Pacific Film Archive and at the REDCAT in downtown Los Angeles.
Attending this program?
ALL HAMMER PROGRAMS ARE FREE
Location: Courtyard
Ticketing: This drop-in program is not ticketed.
Parking: Under the museum. Rates are $6 for the first three hours with museum validation, and $3 for each additional 20 minutes, with a $20 daily maximum. Cash only. 
In Real Life: Studio is a Public Engagement project organized by January Parkos Arnall, curatorial associate, Public Engagement.
The Hammer Museum's Public Engagement program is supported, in part, by the Los Angeles County Board of Supervisors through the Los Angeles County Arts Commission.