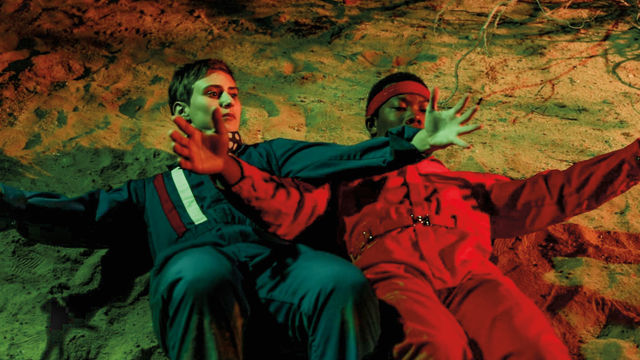 Alexx Shilling: Rage_Walk_Rise
SEP 9, 16, 23 & 30 2016; JAN 10 & 24, 2017, 11:00AM-1:00PM
In Real Life: Studio provides a glimpse into the working processes of artists. Throughout the fall a select group of artists utilizes spaces in the museum to convene and rehearse new material, including theater, dance, music, and performance. While some artists and collectives will simply discuss or workshop material, others will produce a new project from rehearsal to final performance. 
Project statement
Rage_Walk_Rise is an ongoing process / practice that began during my time as CHIME grantee, and has since developed with performers Alison D'Amato and Devika Wickremesinghe. 
Rage_Walk_Rise uses walking and gliding as jumping off points for dancing. 
The practice allows us to be curious about the slippage between everyday movement and something that can be identified as dancing. 
We can linger in the inbetweens. 
We can taste a movement idea for awhile, attentive to the composition of a group but not beholden to it.  
Rage_Walk_Rise lets us question formal structures as well as wild, open scores and the way the two inform and/or bump up against each other. 
We will explore solo and group scores, create and recollect phrase material inspired by our practice, and work towards building long form dance structures that combine both scores and phrases. 
We will explore participation with audiences / museum goers.
In Los Angeles, where walking isn't always a part of our everyday, we will create a safe space to walk to our hearts and bodies' content, remembering the places our legs have taken us and our ancestors.
—Alexx Shilling
Biography
Alexx Shilling is an artistic director, choreographer, and filmmaker, fully committed to the infinite investigation of movement and its potential to uncover alternative narratives and allow us to remember. Her original choreography and experimental films have been presented nationally and internationally, through residencies at the Millay Colony and Ebenbökhaus / Jewish Museum in Munich, and with generous support from institutions including Dance Films Association, CCI, Lower Manhattan Cultural Council and CHIME both as Artistic Director of alexx makes dances and ann and alexx make dances (with Ann Robideaux).
Since relocating to Los Angeles in 2010, she has created projects in museum spaces, warehouse lofts, city parks, alleyways, bathrooms, private houses, artistic and academic institutions, adapting and transposing dances for unique encounters with audiences.
Shilling's interdisciplinary research follows three unique strands: site-located performances that question the potential for transformation, the intersection between the fleeting immediacy of live dance and the preservation of still and moving images on film, and works that steal from artistic heroes as a way of paying tribute while simultaneously constructing new paradigms.
In Los Angeles, she has been collaborating as a performer with Victoria Marks since 2010 and currently practices and performs with Ros Warby, Laurel Jenkins, Sarah Leddy, Alison D'Amato and Rebecca Pappas.
She received her M.F.A. in dance from UCLA's Department of World Arts & Culture/Dance in 2013 and an undergraduate degree in Dance from Skidmore College in 1999. She teaches at Loyola Marymount University, UCLA and The Wooden Floor.
During her 11 years in New York, Shilling created and co-curated the popular BODY BLEND series at Dixon Place with Sara Juli, founded and directed RADIANT PILATES and the RADIANT MOVEMENT Studios in New York City. She continues to work with long-time New York-based collaborators Janusz Jaworski, Ann Robideaux, Richard Rivera (company member, 2002-2010) and Mimi Yin.
Attending this program?
ALL HAMMER PROGRAMS ARE FREE
Location: Courtyard
Ticketing: This drop-in program is not ticketed.
Parking: Under the museum. Rates are $6 for the first three hours with museum validation, and $3 for each additional 20 minutes, with a $20 daily maximum. Cash only. 
In Real Life: Studio is a Public Engagement project organized by January Parkos Arnall, curatorial associate, Public Engagement.
The Hammer Museum's Public Engagement program is supported, in part, by the Los Angeles County Board of Supervisors through the Los Angeles County Arts Commission.