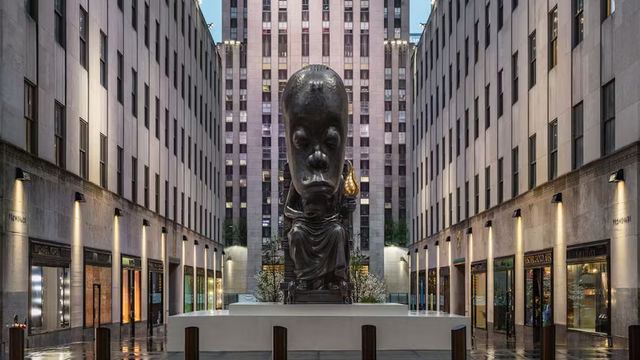 Sanford Biggers: Oracle
MAR 26, 2023 – ONGOING
Presented in partnership with Art Production Fund
The work of New York-based artist Sanford Biggers (b. 1970, Los Angeles) inaugurates the museum's outdoor sculpture pedestal at Wilshire Boulevard and Glendon Avenue. Anchoring this corner is Oracle (2021), a cast bronze figure weighing 7.64 US tons (15,280 pounds) and standing at 25 feet tall. This monumental commission from Biggers continues his "Chimera" series that hybridizes the canonical figures and gestures of Greco-Roman sculpture with an assortment of iconic African objects from the 14th–20th centuries. Unlike Biggers's other "Chimera" sculptures that are made in marble, Oracle is cast in bronze. The seated figure in Oracle is a depiction of the statue of Zeus at Olympia, while the head is a composite of several masks and busts from different African cultures, including the Luba Kingdom and the Maasai.
Biggers sculpturally patchworks historical depictions of the body and their subsequent myths, narratives, perceptions, and power. Biggers is intrigued by the recent scholarship about the academic and historical "white-washing" of classical Greco-Roman sculpture simultaneously intersecting with the early twentieth-century "black-washing" of various African sculptural objects. Oracle challenges the associated cultural and aesthetic assumptions about their source material while acknowledging the often dubious origins of the original objects themselves.
Oracle was commissioned by Art Production Fund for Rockefeller Center and is presented for the first time on the West Coast at the Hammer.
Sanford Biggers: Oracle is organized by Connie Butler, chief curator, with Ikechukwu Onyewuenyi, curatorial assistant.
The presentation at the Hammer is supported by Marianne Boesky Gallery and is co-presented by the Hammer and Art Production Fund. The exhibition is supported by Mike De Paola and Stephanie and Tim Ingrassia.