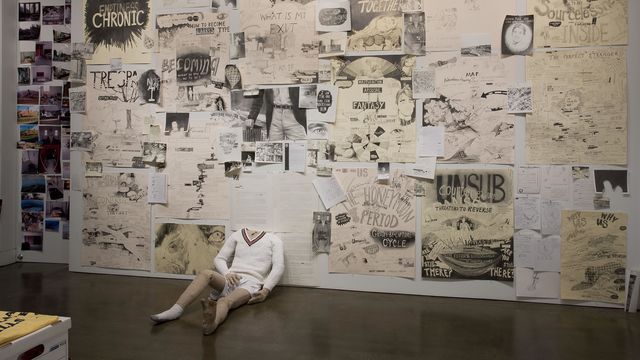 Kaari Upson: Selections from the Hammer Contemporary Collection
–

This is a past exhibition
In her brief yet prolific career, Kaari Upson (1970–2021) developed an elaborate universe woven out of memory, conjecture, fact, and fiction. For Upson the key to accessing the psyche could be found in a person's possessions, especially those contained in the home. On view at the museum are several Hammer Contemporary Collection pieces from The Larry Project (2007–12), a series of drawings, sculptures, videos, and mixed-media paintings initiated after Upson had gained access to the discarded personal effects of a mysterious neighbor of her parents' who was obsessed with the Playboy Mansion and Hugh Hefner.
A work from one of her final series, Portrait (Vain German) (2020–21) demonstrates Upson's continued exploration of identity and personal history, as well as formal concerns such as methods and materials, and her deep fascination with the art-making process. At once familiar and foreign, Upson's works merge personal and collective traumas, desires, fears, and fantasies.
This presentation is organized by Ali Subotnick, adjunct curator, with Vanessa Arizmendi, curatorial associate.