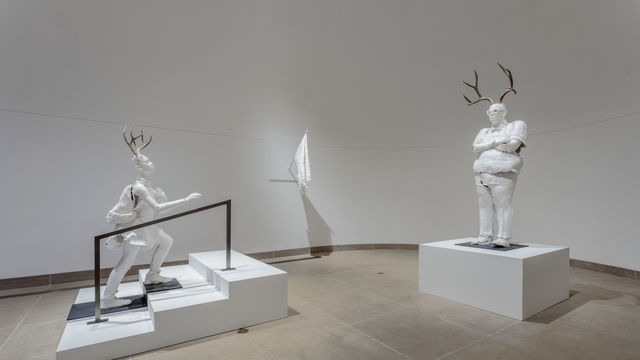 Karon Davis: Selections from the Hammer Contemporary Collection
–

This is a past exhibition
Karon Davis (b. 1977, Reno, Nevada) creates sculptures and multimedia installations that touch on issues of history, race, and violence in the United States, using materials as varied as plaster strips, chicken wire, glass, and readymade objects. Drawing on her background in theater and film, Davis creates haunting tableaux inhabited by protagonists both historical and imagined. The figures are created using the artist's unique plaster method, amalgamations of life-size casts taken from friends and family as well as her own body. The material reflects her longtime interest in ancient Egyptian mummification practices, using wrapping to memorialize different bodies and their complex histories.
Acquired from the artists' 2019 project GAME, an outdoor commission for the back lot at Paramount Studios in Los Angeles, this installation of three figures rendered in Davis's familiar lexicon of plaster and wire remarks on the long and continuing legacies of violence in American schools. As with much of Davis's work, the figures take on an aura of haunting unfinish, the broken quality of their materials relating to an interior brokenness, exposing the frayed and crumbling structures of a delicate democracy.
This presentation is organized by Connie Butler, chief curator, with Vanessa Arizmendi, curatorial associate.
Karon Davis: Selections from the Hammer Contemporary Collection is made possible by the Ariel Emanuel Family.