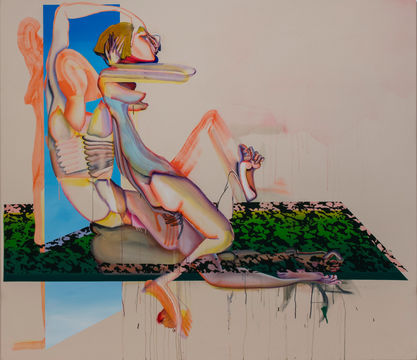 Together in Time: Selections from the Hammer Contemporary Collection
–

This is a past exhibition
Presented in conjunction with the unveiling of the Hammer's building expansion, this exhibition is the largest presentation of the Hammer Contemporary Collection in the museum's history. Occupying nearly all gallery spaces, Together in Time highlights acquisitions since 2005—the year the Hammer began collecting contemporary art. Included in the exhibition are works in a wide range of media by Los Angeles-based and international artists.
Organized around a sequence of discrete installations that highlight varied groupings of artists, the exhibition represents the tendencies and sensibilities at the forefront of contemporary art. Together in Time offers insight into the museum's collection priorities at a moment of renewed vision and focus. The Hammer has deepened its holdings and grown as an institution at the same time that Los Angeles has come into its own as a cultural and artistic center. With the earliest work in the exhibition dating from 1951, this exhibition takes stock of the ideas and artists that have passed through the city and that have contributed to its ever-expanding sphere of influence in the broader network of global art.
Together in Time: Selections from the Hammer Contemporary Collection is organized by Ann Philbin, director, with Connie Butler, chief curator; Aram Moshayedi, Robert Soros Senior Curator; Erin Christovale, curator; Ali Subotnick, adjunct curator; and Vanessa Arizmendi, curatorial associate.
Artists
Njideka Akunyili Crosby
Eleanor Antin
Tauba Auerbach
Mario Ayala
John Baldessari
Willie Birch
Amoako Boafo
Diedrick Brackens
Mark Bradford
Chris Burden
Huguette Caland
Banu Cennetoğlu
Xinyi Cheng
Robert Colescott
Bruce Conner
Kenturah Davis
Noah Davis
Aria Dean
Jimmie Durham
Nicole Eisenman
rafa esparza
Christina Fernandez
Derek Fordjour
Simone Forti
Llyn Foulkes
Owen Fu
Charles Gaines
Roberto Gil de Montes
Robert Gober
Sasha Gordon
Wade Guyton
Chase Hall
Richard Hawkins
Eva Hesse
Reggie Burrows Hodges

Tishan Hsu
Douglas Huebler
Luchita Hurtado
Patrick Jackson
Rachel Jones
Stephen Kaltenbach
Kurt Kauper
Mike Kelley
Mary Kelly
Florian Krewer
Brandon Landers
L. Frank
Rodney McMillian
Lee Mullican
Robert Overby
Laura Owens
Adrian Piper
Noah Purifoy
Christina Quarles
Roland Reiss
Deborah Roberts
Julia Rommel
Allen Ruppersberg
Ben Sakoguchi
Ilana Savdie
Tschabalala Self
Paul Mpagi Sepuya
Barbara T. Smith
Joey Terrill
Kerry Tribe
Patssi Valdez
Gillian Wearing
Ming Wong
Jonas Wood
Media sponsorship is provided by KCRW 89.9.