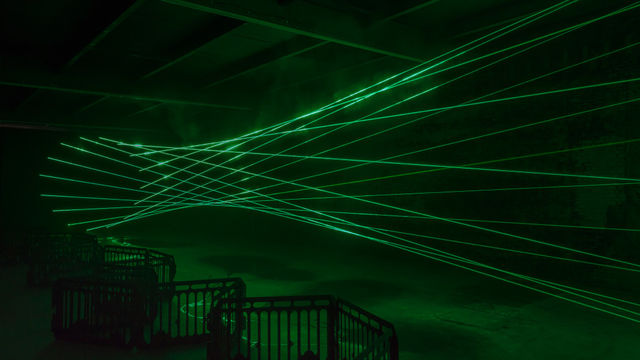 Rita McBride: Particulates
MAR 26–NOV 5, 2023
The Hammer's new bank gallery opens with Particulates (2021), an installation by Rita McBride (b. 1960, Des Moines, Iowa) that is part of the Hammer Contemporary Collection. Inspired by time travel, the principles of light and space, and quantum physics, this monumental yet ethereal sculpture is a conjunction of water molecules, surfactant compounds, and the beams of high intensity lasers that materialize as they interact with particulates of mist emitted into the space. Particulates exchanges gravity, a core element in sculpture, for the potential of infinitely traversable space. The strange beams of light appear as an apparition inside the space, a former bank space and now a partially renovated gallery, haunted by the residue of corporate architecture inside the office tower designed by Edward Larabee Barnes. Visible at night from Wilshire Boulevard, the sculpture can also be experienced by visitors during the museum's regular hours.
McBride lives and works in Dusseldorf, Germany and Los Alamos, California. Since 1987 she has created works that explore architectural and sculptural form in small scale objects and large public commissions. The form of Particulates is a multi-helix, hyperboloid structure that is ephemeral and made visible when ambient dust and water molecules encounter the laser beam. McBride first started exploring this form in the 1990s with such towering public works as Mae West (2011), a 170-foot sculpture in the town of Munich-Bogenhausen.
Rita McBride: Particulates is organized by Connie Butler, chief curator.
Support for Rita McBride: Particulates is generously provided by Brenda Potter.