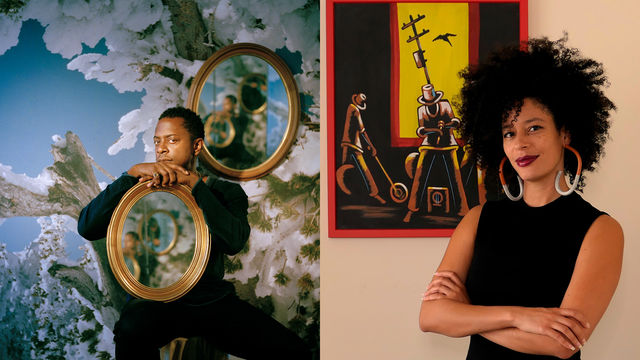 Sanford Biggers & Dr. Tiffany E. Barber
Artist Sanford Biggers, whose sculpture Oracle (2021) inaugurates the Hammer's new sculpture terrace on Wilshire Boulevard, is joined by UCLA assistant professor of African American art Dr. Tiffany E. Barber in conversation.
Bios
Sanford Biggers (b. 1970) was raised in Los Angeles and currently lives and works in New York City. Biggers has been honored for his work with awards and fellowships. In February 2023, he was honored by Morehouse College for the 2023 Bennie Achievement Award. In 2022, he was honored for his achievements by the Art Production Fund, Orange County Museum of Art and Studio Museum in Harlem's Lea K. Green Memorial. In 2021, he was the recipient of 26th Heinz Award for the Arts; Savannah College of Art & Design's deFINE Art Award; and the Dr. Martin Luther King, Jr. Visiting Professor and Scholar in the Department of Architecture at the Massachusetts Institute of Technology, Cambridge, MA. In 2020, he was awarded the Guggenheim Fellowship and appointed Board President at Sculpture Center, Long Island City, NY. Biggers was inducted into the New York Foundation for the Arts Hall of Fame in 2019 and received the American Academy of Arts and Letters Award in 2018. In 2017, he was presented with the Rome Prize in Visual Arts. Biggers was Associate Professor of Visual Arts at Columbia University School of the Arts from 2009-2019.
Dr. Tiffany E. Barber is a prize-winning, internationally-recognized scholar, curator, and critic whose writing and expert commentary appears in top-tier academic journals, popular media outlets, and award-winning documentaries. Her work spans abstraction, dance, fashion, feminism, film, and the ethics of representation, focusing on artists of the Black diaspora working in the United States and the broader Atlantic world. Her latest curatorial project, a virtual, multimedia exhibition for Google Arts and Culture, examines the value of Afrofuturism in times of crisis. She is currently Assistant Professor of African American Art at the University of California-Los Angeles as well as curator-in-residence at the Delaware Contemporary. Dr. Barber is the recipient of the Smithsonian's 2022 National Portrait Gallery Director's Essay Prize.
ATTENDING THIS PROGRAM?
Ticketing: Admission is free. Your seat will be assigned to you when you pick up your ticket at the box office. Seats are assigned on a first come, first served basis. One ticket per guest. Box office opens one hour before the event.
Member Benefit: Subject to availability, Hammer Members can choose their preferred seats. Members receive priority ticketing until 15 minutes before the program. Members can pickup a ticket for themselves and a guest. Learn more about membership.
Parking: Valet parking is available on Lindbrook Drive for $10 cash only. Self-parking is available under the museum. Rates are $8 for the first three hours with museum validation, and $3 for each additional 20 minutes, with a $22 daily maximum. There is an $8 flat rate after 6 p.m. on weekdays, and all day on weekends.
Read our food, bag check, and photo policies.
Read the Hammer's full COVID-19 safety guidelines.
All public programs are free and made possible by a major gift from an anonymous donor.
Generous support is also provided by Susan Bay Nimoy and Leonard Nimoy, the Elizabeth Bixby Janeway Foundation, The Samuel Goldwyn Foundation, the City of Los Angeles Department of Cultural Affairs, an anonymous donor, and all Hammer members.
Digital presentation of Hammer public programs is made possible by The Billy and Audrey L. Wilder Foundation.
Hammer public programs are presented online in partnership with the #KeepThePromise campaign—a movement promoting social justice and human rights through the arts.