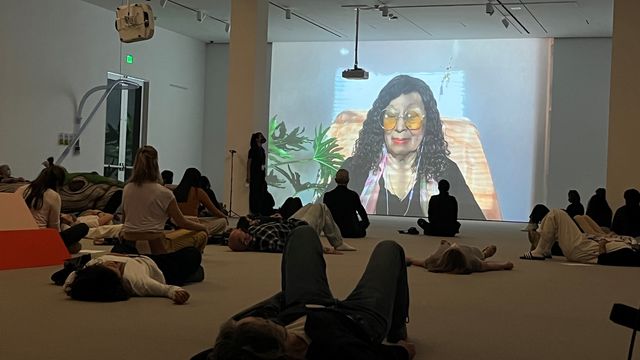 The Tuning Meditation by Pauline Oliveros with IONE
Pauline Oliveros's The Tuning Meditation was first performed by seventy-five singers directed by William Duckworth along the spiral gallery walkway at the Guggenheim Museum for the premiere of Elaine Summers's Crows Nest in 1981. Led by IONE, this iteration of The Tuning Meditation will be performed within the Hammer Museum galleries in conjunction with the exhibition Lifes.
All are welcome to participate in the performance of The Tuning Meditation regardless of training.
Begin by taking a deep breath and letting it all the way out with air sound.
Listen with your mind's ear for a tone.
On the next breath using any vowel sound, sing the tone that you have silently perceived on one comfortable breath.
Listen to the whole field of sound the group is making.
Select a voice distant from you and tune as exactly as possible to the tone you are hearing from that voice.
Listen again to the whole field of sound the group is making.
Contribute by singing a new tone that no one else is singing.
Continue by listening then singing a tone of your own or tuning to the tone of another voice alternately.
Commentary:
Always keep the same tone for any single breath. Change to a new tone on another breath.
Listen for distant partners for tuning.
Sound your new tone so that it may be heard distantly.
Communicate with as many different voices as possible.
End when everyone else does. It happens.
Sing warmly!
© Deep Listening Publications, 2007. Courtesy of the Pauline Oliveros Trust. All Rights Reserved (PopAndMom.Org).
Photo: Deep Minimalist Festival, London, 2016
IONE
IONE (b. 1937, Washington, DC) is an author, director, and improvisational text and sound artist. For over three decades, she taught and performed internationally with her creative partner and spouse Pauline Oliveros. IONE has authored nonfictional books, including Pride of Family: Four Generations of American Women of Color, Nile Night: Remembered Texts from the Deep, Listening in Dreams, and This is a Dream! She also has edited two volumes of personal essays entitled Spell Breaking: Anthologies of Women's Mysteries. She has written and directed several plays and operas that feature music and sound design by Oliveros, including Njinga the Queen King, Io and Her and the Trouble with Him, and The Lunar Opera: Deep Listening For_Tunes, and directed the film Dreams of the Jungfrau. In 2013, IONE and Oliveros presented a scene from The Nubian Word for Flowers, A Phantom Opera at the Hammer Museum in Los Angeles. In April 2020, IONE presented Oliveros's World Wide Tuning Meditation, a virtual event created with MacArthur Fellow Claire Chase and Raquel Klein of Music on the Rebound and the International Contemporary Ensemble.
Pauline Oliveros
The life and work of composer, performer, and humanitarian Pauline Oliveros (b. 1932, Houston, d. 2016, Kingston, NY) was committed to opening her own and others' sensibilities to the many facets of sound. Beginning in the 1960s, she influenced American music through her work with improvisation, meditation, electronics, myth, and ritual. Many credit her as the founder of present-day meditative music. All of Oliveros's work emphasizes musicianship, attention strategies, and improvisational skills. Deep Listening, her lifetime practice, was fundamental to her composing, performing, and teaching. A recipient of the John Cage Award and the William Schuman Award, she received many honors in her lifetime, including four honorary doctorates. She served as Distinguished Research Professor of Music at Rensselaer Polytechnic Institute in Troy, NY, and Darius Milhaud Artist-in-Residence at Mills College, Oakland, CA, among other appointments. She was the founder of Deep Listening®, now housed at the Center for Deep Listening at Rensselaer.