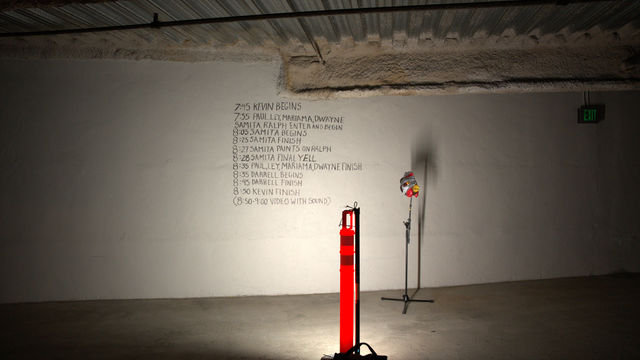 Rant #5 is an event involving the participation of Kevin Beasley, Dwayne Brown, Ley Gambucci, Paul Hamilton, Darrell Jones, Ralph Lemon, Roderick Murray, Mariama Noguera-Devers, Okwui Okpokwasili, Samita Sinha, and Mike Taylor.
In conjunction with the exhibition Lifes.
Kevin Beasley
Kevin Beasley (b. 1985, Lynchburg, VA) lives and works in New York. Beasley's practice spans sculpture, photography, sound, and performance. Recent exhibitions, installations, and performances include Prospect.5, New Orleans (2021); Performa 2021 Biennial, New York; The Dirty South: Contemporary Art, Material Culture, and the Sonic Impulse, Virginia Museum of Fine Arts, Richmond (2021); Grief and Grievance: Art and Mourning in America, New Museum, New York (2021) and A4 Arts Foundation, Cape Town, South Africa (2020); ASSEMBLY, the Kitchen, New York (2019); the Studio Museum in Harlem, New York (2016); the Renaissance Society at the University of Chicago (2016); the Solomon R. Guggenheim Museum, New York (2015); and the Museum of Modern Art, New York (2012). Recent solo exhibitions include A View of a Landscape, Whitney Museum of American Art, New York (2018–19); Kevin Beasley, Institute of Contemporary Art, Boston (2018); and Hammer Projects: Kevin Beasley, Hammer Museum, Los Angeles (2017). He received his BFA from the College for Creative Studies, Detroit, in 2007, and his MFA from Yale University School of Art, New Haven, CT, in 2012.
Dwayne Brown
Dwayne Brown (b. 1985, Bronx, NY) is a dancer and performer currently based in Harlem, New York. In addition to numerous appearances in film, television, and various stage productions, he has worked as a professional modern dancer with Bill T. Jones/Arnie Zane Dance Co., Ralph Lemon, Sean Curran, Reggie Wilson/F&H Performance Group, and most recently Kevin Beasley. Brown is represented by Clear Talent Group.
Ley Gambucci
Ley Gambucci (b. 1995, San Diego) is a caretaker and fugitive in flight and transition.
Paul Hamilton
Paul Hamilton (b. 1967, Kingston, Jamaica) is a Bessie-nominated dancer who trained at the Jamaica School of Dance and SUNY Purchase. In 2000, he began collaborating with Reggie Wilson / Fist and Heel Performance Group, creating five original works from 2003 to 2014. With choreographer Keely Garfield, he created four works from 2005 to 2016. In 2014, he began a collaboration with Ralph Lemon that led to Scaffold Room; he received a Bessie nomination for this and for performances with Garfield and Jane Comfort. In 2018 and 2019, he performed in two Bessie-winning productions by Comfort and David Thomson, as well as Bruce Nauman: Disappearing Acts and Judson Dance Theater: The Work Is Never Done at the Museum of Modern Art, New York. An excerpt of his solo The Sitch was performed at Danspace Project Gala (2019).
Darrell Jones
Darrell Jones (b. 1969, Washington, DC) has performed with a variety of choreographers and dance companies, including Urban Bush Women, Ronald K. Brown, and Min Tanaka, and he has longterm collaborative relationships with Bebe Miller Company and Ralph Lemon. He is a tenured faculty member at the Dance Center of Columbia College, Chicago, where he teaches classes in physical practice, performance, and improvisational techniques.
Ralph Lemon
Ralph Lemon (b. 1952, Cincinnati, OH) is an artist, writer, and choreographer.
Roderick Murray
Roderick Murray (b. 1965, New York) is an award-winning designer, creator, and supporter of live performance, working since 1982. Collaborators include Ralph Lemon, Kimberly Bartosik/daela, and Beth Morrison Projects, where he is the director of production.
Mariama Noguera-Devers
Mariama Noguera-Devers (b. 1994, Los Angeles) has been dancing and performing since the age of five in styles of Trinidad and Tobago folk and the Graham technique. She has also studied ballet, West African, hip–hop, and dancehall. She holds a bachelor of arts in dance from the New School and has taught Soca Fitness to all ages at after–school programs and dance studios throughout New York City.
Okwui Okpokwasili
Okwui Okpokwasili (b. 1972, New York) is a New York-based writer, performer, and choreographer who is constantly collaborating with a constellation of artists invested in somatic transmissions and deep entanglements in live performance.
Samita Sinha
Artist and composer Samita Sinha (b. 1978, Queens, NY) investigates voice, the body, and consciousness through the raw material of vibration.
Mike Taylor
Mike Taylor (b. 1960, Dallas, TX) writes, directs, and produces video, audio, theater, and art installations. Her live work has been presented at the Kitchen, the Ontological, PS122, Dixon Place, La MaMa, TONIC, and various raw spaces throughout New York. Her videos have been shown in the United States and Europe, most recently at the Whitney Museum of American Art, New York, as part of a series by and about DanceNoise.