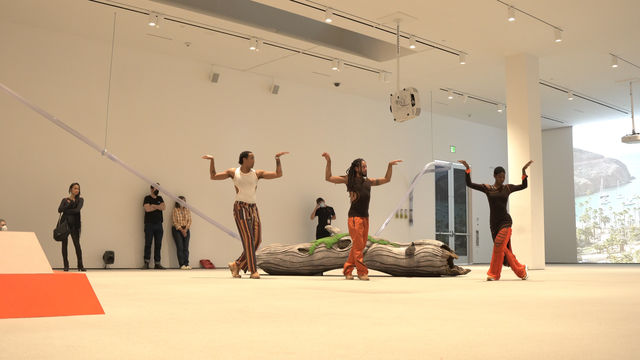 A(un) Necessary World
TUE–SUN, APR 5–10
A(un) Necessary World is a sci-fi opera performance experimenting with methods of cypher and deep observation of trance dance. The work aspires to compose sonic and choreographic landscapes that question what is necessary or unnecessary in the current world of overpopulated and overproduced anxieties.
In-gallery performances will happen in the galleries of the museum from Tuesday, April 5 to Sunday, April 10 as part of the exhibition Lifes.
Conceived by community dance and vocal artist Justin F. Kennedy with Shannon Funchess of Light Asylum, A(un) Necessary World is performed by Khalia J. Frazier, Andre Gurewich, Jasmine Orpilla, and Teake.
Daily Schedule
Tuesday–Sunday, April 5–10
12:21–12:33 p.m. – Line Up / A Crime Cryin' Scene
1:21–1:33 p.m. – MANGO LASSI / ALIEN NATION
2:46–2:53 p.m. – The First Cypher
3:21–3:33 p.m. – 7D:The Second Lament
4:46–5:03 p.m. – A Nod to Black Crystal Dust
5:21–5:33 p.m. – Line Up / A Kemetic Diagonal
(to confuse and soothe)
Credits
Choreography and concept by Justin F. Kennedy
Music by Shannon Funchess and Ethan Braun
Performed by Khalia J. Frazier, Shannon Funchess, Andre Gurewich, Justin F. Kennedy, Jasmine Orpilla, and Teake
Clothing provided by Phlemuns
Styled by Maya Lake
Special thanks to Josh Johnson, Ada Pinkston, and Jeremy Shaw
Justin F. Kennedy
Justin F. Kennedy (b. 1983, Boston) is a Berlin-based dance and vocal artist, teacher, and DJ, raised in St. Croix, US Virgin Islands. Kennedy's research evolves from experiences and analyses of trance dance and its further translatability into workshops, science fiction operas, durational dance installations, and film. Notable projects include Vorglühen, OUT NOW, Uferhallen, Berlin (2021); UNFURL the jukebox musical: a shareable cypher, Montag Modus, Radialsystem, Berlin (2021); UNFURL: a lucid science fiction, 11th Berlin Biennale, Martin Gropius Bau, Berlin (2020); and Some Murder Theatre in Here, Volksbühne Grüner Salon, Berlin (2020). They have performed intimately with and for Emma Howes, Ligia Lewis, Louis Vuitton, Tino Sehgal, Adam Linder, Liz Kinoshita, Jeremy Shaw, Josh Johnson, BODYSNATCH, Faustin Linyekula, Jeremy Wade, Peaches, Wu Tsang, and others.
Shannon Funchess
Shannon Funchess (b. 1971, Okinawa, Japan) is a gender non-conforming world citizen and multidisciplinary performance artist, and the founder, vocalist, producer of the internationally revered dark electronic project Light Asylum. Founded in Brooklyn, New York in 2007, Light Asylum performances have taken place in traditional and non-traditional spaces such as underground raves, art museums, galleries, music festivals, and nightclubs. Funchess's musical journey began in the gospel choir of a local southern Baptist church in Spokane, Washington at the age of nine. With a passion for harmony and collaborative works, Funchess has joined forces with peers and allies around the globe, from recording studio sessions and vocal features, remixes, and production for artists The Knife, Adult., TV on the Radio, Chris Garneau, Bestial Mouths, and SALEM to improvisational performance with Laurie Anderson, touring as a multi-instrumentalist and dancer in The Knife and guest appearances supporting LCD Soundsystem. Light Asylum has toured gothic churches across the UK with CocoRosie and enjoyed an eclectic career in exploits and touring experience. Performing at international festivals like Coachella, Meltdown, and Pukkelpop, Funchess is lauded for cathartic performances as Light Asylum and side project HEALING CRISIS. Funchess has participated as a principal actor/ performer in Michelle Handelman's Hustlers and Empires, commissioned by SFMOMA; HOWDOYOUSAYYAMINAFRICAN? for their contribution to the 2014 Whitney Biennial at the Whitney Museum of American Art; as well as works by Elysia Crampton Chuquimia, A.K. Burns and A.L. Steiner, Gloria and Shawn Maximo, and ANONYMOUS CLUB.