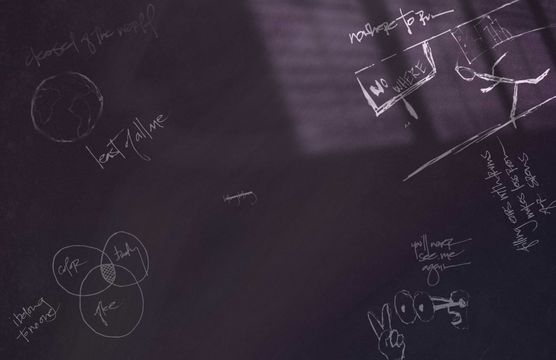 Devised collaboratively by Holland Andrews, Elaine Carberry, Loren Davis Fisher, Jessika Kenney, and Andros Zins-Browne, color a body who flees is a performance for voice and a body in flight, assuming cacophony and untethered to self.
Holland Andrews
Holland Andrews (b. 1988, Orange, CA) is a New York–based vocalist, composer, and performance artist whose work focuses on the abstraction of operatic and extended-technique voice. Frequently highlighting themes of vulnerability and healing, Andrews arranges music for voice, clarinet, and electronics. Andrews also develops and performs soundscapes for dance, theater, and film, and their work has toured internationally with artists such as Bill T. Jones, Dorothee Munyaneza, Will Rawls, and Demian Dineyazhi. Notable musical collaborations include Son Lux, Christina Vantzou, William Brittelle, Peter Broderick, and Methods Body. Andrews's most recent EP, Wordless (2021) was released on the label Leiter, spearheaded by Nils Frahm and Felix Grimm.
Elaine Carberry
Elaine Carberry (b. 1983, Boston) is a Brooklyn-based dramaturg. part of a w/hole. forceps light rinse repeat.
Loren Davis Fisher
Loren Davis Fisher (b.1984 Cambridge, MA) is an artist based in Los Angeles. They work between sculpture, installation, architecture, and performance, addressing the movement, manipulation, and management of materials.
Jessika Kenney
Jessika Kenney (b. 1976, Spokane, WA) is unwinding and nourishing a harbor of voices through performance, recording, writing, and conversation. Her recent work includes Anchor Zero, a voice- and video-based installation, presented at the Frye Art Museum in Seattle (2015), and ATRIA (2015), an LP inspired by the poetry of Attar of Neyshabur and the mantras attributed to Sunan Kalijaga, released by SIGE Records. Her acclaimed collaboration with Eyvind Kang includes works for orchestra and voice, including performances by the BBC Scottish Symphony Orchestra and the Greek Radio Symphony Orchestra, as well as many records, including Reverse Tree (Black Truffle, 2016), The face of the earth (Ideologic Organ, 2012), and Aestuarium (Ideologic Organ, 2005). She was awarded the inaugural James W. Ray Distinguished Artist Award in 2014 and the Lionel Hampton Vocal Jazz Award in 1992.
Andros Zins-Browne
Andros Zins-Browne (b. 1981, New York) is an artist working at the intersection of performance and dance. Central to these pursuits is the exploration of the body as material and immaterial, a site of exchange between embodied images and somatic experience. His recent choreographic work extends into interactions with singers, considering the voice as a body. Zins-Browne has presented solo performances at Institute of Contemporary Arts, London (2019); Fondation Galeries Lafayette, Paris (2018); Whitney Museum of American Art, New York (2017); Rockbund Art Museum, Shanghai (2017); and other institutions. Additionally, he has presented several remixes of existing works, including those by Jerome Bel, Simone Forti, and Tony Cokes. He is the recipient of grants and awards from the Goethe Institute, the Flemish Cultural Ministry, New York State Council on the Arts, and the Graham Foundation for Advanced Studies in the Fine Arts. He lives and works in New York.