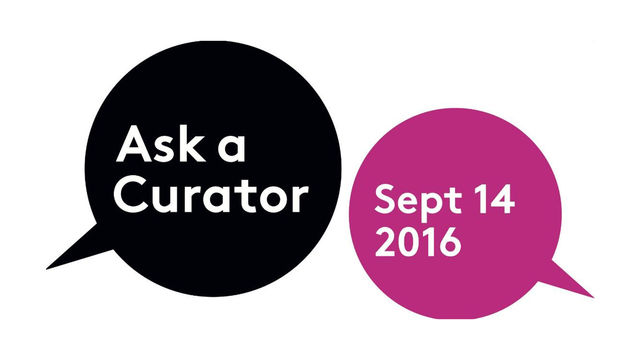 What's it like to be a curator? How do you decide what to display? What are the challenges of curatorial programming when your main galleries are under renovation?
Have you had a burning question for one of our curators? Now is your chance to ask! The Hammer is excited to once again be among more than 1,200 museums from 52 countries participating in #AskACurator Day on Wednesday, September 14, 2016.
Hammer curatorial staff will be available to answer your questions from 10 a.m.–2 p.m. PST. Tweet your questions to @hammer_museum and make sure to use the #AskACurator hashtag. We can't wait to hear from you.
10–11 a.m. PST: Marcela Guerrero, curatorial fellow
Marcela is a curatorial fellow at the Hammer Museum working on the exhibition Radical Women: Latin American Art, 1960-1985. Prior to joining the Hammer, she was Research Coordinator at the International Center for the Arts of the Americas, Museum of Fine Arts, Houston. Her writing has appeared in exhibition catalogues and art journals such as ArtNexus, Caribbean Intransit: The Arts Journal, Gulf Coast: A Journal of Literature and Fine Arts, Interventions: International Journal of Postcolonial Studies. Born and raised in Puerto Rico, Guerrero holds a Ph.D. in Art History from the University of Wisconsin, Madison. ¡Hispanohablantes, sus tweets en español son bienvenidos!
11 a.m.–12 p.m. PST: January Parkos Arnall, curatorial associate, Public Engagement
January oversees the museum's Public Engagement department as well as the Artist Council. Part of the curatorial department, the Public Engagement program collaborates with artists to develop and present works that create an exchange between the institution and visitors, enacted both inside and outside the galleries. She is currently working on In Real Life: 100 Days of Film and Performance and recently completed work on Made in L.A. 2016 as well as an artist residency with language justice collectives Antena and Antena Los Ángeles. January is eager to discuss questions around Public Engagement, socially-engaged art practice, artist residencies, and has a special interest in photography.
12–1 p.m. PST: Emily Gonzalez-Jarrett, curatorial associate
Emily is a curatorial associate at the Hammer Museum. She has held a few different positions at the museum since starting in 2005 as a student worker. Most recently, she has worked on UH-OH: Frances Stark 1991-2015 and Still Life with Fish: Photography from the Collection. She is currently working on selections from Artists' Film International, a performance by Jennifer Moon and laub, and a performance by Dan Levenson, all a part of In Real Life: 100 Days of Film and Performance at the Hammer.
1–2 p.m. PST: MacKenzie Stevens, curatorial assisant
MacKenzie is a curatorial assistant at the Hammer Museum. At the Hammer, she has assisted on Hammer Projects with Mario Garcia-Torres, Francis Upritchard, Pedro Reyes, and others. She is currently working on the Jimmie Durham retrospective, Jimmie Durham: At the Center of the World, slated to open at the Hammer in January 2017, as well as Hammer Projects with Marwa Arsanios, Simon Denny, and Kevin Beasley, and dance performances with Ei Arakawa and the Venice-based dance collective Lightning Shadow for In Real Life: 100 Days of Film and Performance. Prior to her tenure at the Hammer, she worked at The Museum of Modern Art and The Pace Gallery—both in New York City.