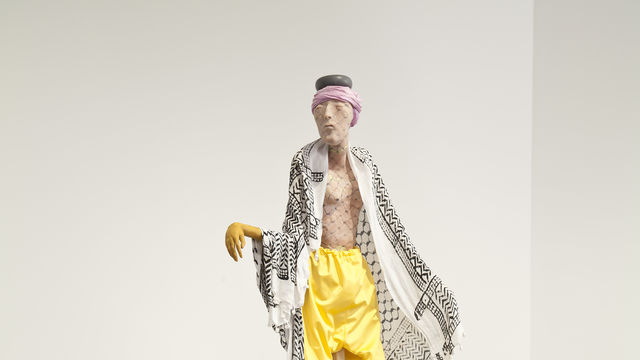 Hammer Projects: Francis Upritchard
–

This is a past exhibition
Born in New Plymouth, New Zealand and based in London, Francis Upritchard creates sculptural installations featuring archetypal figures—the psychic, the African, the nincompoop—hovering in a state of uncertainty. Modeled in polymer clay, the curious figures are rendered in a slightly unnerving scale, not quite human but large enough to look you in the eye with their only partially opened eyes and blank stares. The skin is painted monochromatically or with distinct gridded patterns, the tones ranging from sickly yellow to mossy green to calming blue, as if from an otherworldly tribe. Yet their handmade and hand-dyed garb suggest they might be characters from a range of past eras, from medieval knights and jesters to meditating hippies in the 1960s. For a recent exhibition at Whitechapel Gallery in London, Upritchard experimented with both form and material, creating a group of dinosaurs out of papier-mâché or an earthy matter drawn from rubber trees in Brazil called balata and displaying them on simple yet elegant fold-out tables produced by the Italian company Olivetti on customized steel bases. For her Hammer Project, Upritchard will bring together the figures and the dinosaurs for the first time. Inhabiting the space like strange bedfellows from different times and places, the characters are not so much actors in a legible narrative or drama as they are complexly enigmatic, strangely absorbed in their own thoughts. Equally drawn to the history of figurative sculpture as to a wide range of craft and artisan traditions around the world—from ceramic techniques to glass blowing, enameling to welding—Upritchard pushes these practices in new directions, bringing them together to create a striking and original visual language of her own. This will be Upritchard's first solo exhibition on the west coast. 
The exhibition is organized by Hammer senior curator Anne Ellegood with MacKenzie Stevens, curatorial assistant.
Biography
Born in 1976 in New Plymouth, New Zealand, Francis Upritchard graduated from Canterbury University of Fine Arts in New Zealand in 1998. She has recently had solo exhibitions at The Whitechapel and Kate McGarry, London (2014), The Douglas Hyde Gallery in Dublin (2013), Anton Kern Gallery in New York (2013), Nottingham Contemporary (2012), and MIMOCA in Kagawa, Japan (2013) and Secession, Vienna (2011). Her only other solo museum exhibition in the United States, A Long Wait, took place in 2012 at the Contemporary Arts Center in Cincinnati. In 2009, she represented New Zealand at the 53rd Venice Bienniale with her exhibition Save Yourself. Her work has been included in numerous group exhibitions, including Freedom Farmers at the Auckland City Gallery in New Zealand (2013), Lilliput at the New York High Line (2012), Contact at Frankfurter Kunstverein, Germany (2012) Bush of Ghosts: Nathan Mabry, Djordie Ozbolt and Francis Upritchard at Cherry and Martin in Los Angeles (2012), and many others. Upritchard currently lives and works in London.
Essay
Ideally, the present will always contribute to the building of the future. 
And this future is not the future of the cosmos but rather the future of my century, my country, my existence. 
—Frantz Fanon, Black Skin, White Masks 
In the work of Francis Upritchard, time is an anomaly. The past, present, and future are all inscribed in her strange and idiosyncratically alluring figures but not in a neatly linear way so that the references to the past naturally portend the future portrayed. Indeed, there is no sense of a harmonious coexistence of temporalities here. Rather, her cast of characters are from different moments in time—some recognizable archetypes or ethnically specific, others far more ambiguous and amalgamated—and appear gathered together as if by some inexplicable episode. Collectively they form a peculiar band of misfits, as compelling as they are off-putting, as familiar as they are irresistibly eccentric. Despite Upritchard's deliberately anachronistic combinations of referents, she understands that the present plays a crucial role in the unfolding of the future, just as Fanon asserts in the epigraph to this essay. 
 
Fanon proclaims that the future of which he speaks is not a distant place blissfully floating out of reach but rather is always situated in our immediate surroundings and, perhaps most importantly, is imminent. This sense of the future—one that is at once unknowable and surprising and yet so entwined with the past and present as to be remarkably foreseeable, predictably and perpetually pending—is at the core of Upritchard's endeavor. Whatever patina of otherworldliness her figures have acquired, they are distinctly grounded in our daily experiences, in our "existences," to borrow Fanon's term. In other words, Upritchard's figures are mirrors held up, at times more opaque than reflective but nonetheless capable of revealing much about our past, our present, and even our future. 
Upritchard has been making figurative sculptures—primarily using wire frames covered with a polymer modeling material that is then baked and painted—since 2006. Some hail from long-ago eras—protagonists of medieval mythology like the knight, the harlequin, the jester—while others are from the more recent past—beatniks, hippies, and other nonconformists. Various figures are identified by their vocation—music teacher, potato seller, psychic—or distilled to a primary, and often less than laudatory, characteristic, such as "liar," "misanthrope," "ninny," or "nincompoop." Upritchard is drawn to a variety of arts, crafts, and design from around the world produced over the past several centuries, and an array of objects and techniques have informed her work: the fifteenth-century German sculptor Erasmus Grasser's wooden figures; the Bayeux Tapestry, made in the eleventh century, with its scenes of the Norman conquest of England; the use of canopic jars in Egyptian mummification; the bronze figures of the Chola dynasty in India; and the blank expressions of the masks used in Japanese Noh theater. And while visual nods to these precedents serve to root the work in the past, the figures are decidedly contemporary. Part of this stems from Upritchard's flair for saturated colors and embrace of pattern for her figures' attire—which is often made from unique hand-dyed silks, monochromatic cottons, or vibrant plaid wools—along with the custom steel bases on which her figures are positioned (created in collaboration with her husband, the designer Martino Gamper), which feature bold geometric shapes and clean lines. 
Upritchard's proclivity for painting her characters' skin in tones such as jaundiced yellow, mossy green, or calming lavender— sometimes in two tones or even a rainbow of hues—or having the patterns of their clothing continue onto their faces and hands, as if they have evolved to be able to camouflage themselves within their immediate surroundings, suggests that these creatures may signify a future race. But the combination of recognizable referents that appear to leave her figures nearly paralyzed—their partially opened eyes in a continuous state of rueful pondering— is what the viewer will recognize as disconcertingly familiar, a state of mind that syncs up perfectly with the contemporary moment. In their attempts to both honor and critique the past while searching for a path forward, these figures seem to have given up on the promises of collective action and chosen to go it alone. Even when grouped together in a tableau—as in the tabletop configurations in her poignantly titled exhibition Save Yourself at the 2009 Venice Biennale or in the field of figures titled War Dance, included in her recent exhibitions at Anton Kern Gallery and Nottingham Contemporary—Upritchard's characters are remarkably, almost pathologically absorbed in their own thoughts. Disillusioned by the failures of the past and the overwhelming complexities of the present, they possess an interiority that reflects a desperate search for meaning. 
Over time, the scale of Upritchard's figures has gradually grown, shifting from the domain of decorative figurines, collectibles, and dolls to larger bodies that are more imposing and uncanny. Modeled to be approximately two-thirds life-size and then placed on individual pedestals, the figures confront the viewer at eye level. Each of the four figures included in her exhibition at the Hammer Museum—Nincompoop, Whizz, Half Half, and Step Off (the first from 2011 and the other three dated 2014 and made specifically for the show)—has distinctive characteristics. Whereas in her previous works the racial or ethnic identities of the characters remained largely ambiguous, these figures are more clearly associated with specific groups. Whizz wears a fez and caftan like the men of North Africa, and Nincompoop sports a traditional Middle Eastern keffiyeh draped across her shoulders. Both figures might represent what Upritchard has described as "poor yogis, half-baked lefties," but the other two figures in the gallery embody not so much a failure of self-actualization as the vulnerabilities of those marginalized by the inequality and oppression still so prevalent in our societies. Wrapped in a blanket and with long dark hair held in place by a woven headband, Half Half is a Native American whose two-toned face suggests someone being pulled in opposite directions, struggling to bring different worlds into harmony. The first African figure in Upritchard's growing ensemble, Step Off is a woman apparently ravaged and disfigured by circumstance, her expression both stoic and remorseful. Perhaps more than any of her sculptures to date, these figures urge us to ponder the precise aspects of their backgrounds and life experiences. Yet, as with all Upritchard's work, despite the failures and hardships that have taken a toll on her characters, a shared humanity shines through, a hopefulness rooted in the possibility that self-reflection might result in the desire for connection. 
Upritchard recently began making a group of dinosaur sculptures—using either papier-mâché or balata, a brown rubber drawn from trees in Brazil. For her Hammer Project, the artist has placed her figures alongside the dinosaurs for the first time. On the surface, these bodies of work seem to have little in common. There is a playfulness embedded in the dinosaurs that at first feels distinct from the gravity of the figures, as the toy-size scale and papier-mâché are reminiscent of children's arts and crafts classes and the balata requires the artist to work quickly and intuitively to create the forms, which results in a raw, handmade quality. Yet the longer one looks, affinities between the dinosaurs and the figures begin to reveal themselves. Some of Upritchard's characters seem as extinct as the dinosaurs, frozen in time like the fossils of these other relics. But it is her choice of the balata in particular that creates a link between the human figures and the dinosaurs. The economic boom resulting from the extraction of rubber by European colonizers in the Amazon basin—primarily in Brazil, Colombia, Ecuador, and Peru—was a catalyst for horrific and appalling abuses of indigenous peoples, many of whom became slaves to the rubber barons. The commodification of natural resources is at the center of oppressive working conditions around the world, situations in which human life is deemed less valuable than currency. Alongside the dinosaurs, creatures whose extinction is their most notorious characteristic, figures like Step Off—whose seemingly decorative bands at the neck, knee, and ankle take on the suggestion of shackles—can be understood both as contemporary and as incarnations of centuries of human rights abuses. We are reminded that the extinction of the dinosaurs was caused by a major atmospheric event—Upritchard's enameled Meteorite Hanging (2014) is a direct reference to this—while human life is often destroyed at the hands of those who should protect it.  
Upritchard has a distinctive knack for combining disparate referents and practices, underscoring how the often overwhelming sense of the vastness of time and space can be tempered by returning to the specificity of objects. Remarkably she manages to take us from the Jurassic period (more than two hundred million years ago) to the future tense, from outer space with Meteorite Hanging to the rootedness of the earth's plant life with her brass and glass lichen wall reliefs (2012), accomplishing this with levity and a profound sense of awe. Upritchard's lively curiosity and willingness to experiment with techniques and materials permeate her work, and a contagious energy pulls us into her idiosyncratic worlds filled with figures at once alluring and discomfiting, where we are likely to become as rapt as her characters appear to be.  
Anne Ellegood 
Hammer Projects is a series of exhibitions focusing primarily on the work of emerging artists.
Hammer Projects is made possible thanks to the generous support of the Horace W. Goldsmith Foundation, Susan Bay Nimoy and Leonard Nimoy, Hope Warschaw and John Law, and Maurice Marciano.
Additional support is provided by Good Works Foundation and Laura Donnelley, the Decade Fund, and the David Teiger Curatorial Travel Fund.