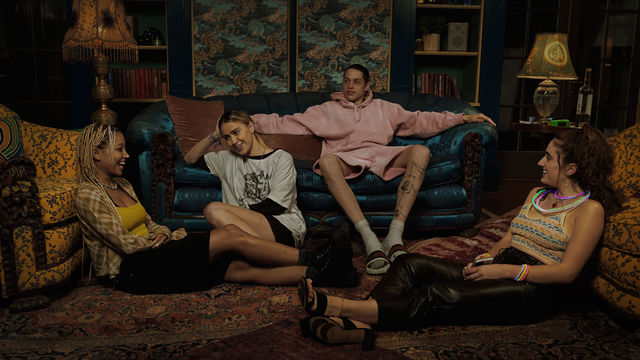 Summer Night Cinema: "Bodies Bodies Bodies"
TUE JUL 26, 7:30 PM
The Hammer, KCRW, and the UCLA Film & Television Archive present Summer Night Cinema. 
Tuesdays this summer, make a night of it at the Hammer with after hours gallery access, drinks and bar bites at Lulu, and free film screenings. Galleries will be open until the films begin at 7:30 p.m.
Summer Night Cinema is presented by Carla Emil and Rich Silverstein.
Hammer Channel includes 1,000+ talks, performances, artist profiles, and more. Search, clip, and share topics ranging from politics and activism to art, film, and literature.
Captions and full transcripts are available on Hammer Channel.
Screening: "Bodies Bodies Bodies"
Post-screening Q&A with DJ Tyler Boudreaux, director Halina Reijn, and actors Myha'la Herrold, Maria Bakalova, Chase Sui Wonders, and Rachel Sennott.
When a group of rich 20-somethings plan a hurricane party at a remote family mansion, a party game goes awry in this fresh and funny look at backstabbing, fake friends, and one party gone very, very wrong.
From A24 and director Halina Reijn (Instinct) comes the razor-sharp comedy and slasher-freakout Bodies Bodies Bodies. With a hurricane bearing down, a group of rich 20-somethings hole up in a remote family mansion stocked with food, flashlights, and drugs, ready to party their way through the storm. Sophie (Amandla Stenberg) has brought her new girlfriend Bee (Maria Bakalova) to meet her childhood friend, David (Pete Davidson), his girlfriend, Emma (Chase Sui Wonders), and their friends Jordan (Myha'la Herrold) and Alice (Rachel Sennott), who's brought her older (as in 40-year-old) boyfriend, Greg (Lee Pace).
As night falls, lines are railed, and simmering grudges resurface, and the group decides to play one of their favorite games: Bodies Bodies Bodies. One player is designated the murderer, the lights go out, a victim gets tapped on the shoulder, and everyone tries to guess who the killer was. But when the house's power is cut, and people start getting killed for real, the old friends must survive the night and find the murderer in their midst—if they can just get over themselves first.
The second feature and English language debut by Dutch director Halina Reijn, Bodies Bodies Bodies introduces a fresh and indelible filmmaking voice. Reijn expertly combines a propulsive and fiercely funny mystery with an incisive portrait of fake friends, backstabbing, and privilege—a story of paranoia and not-so-secret insecurities that mines every bit of humor from a tightly-wound Gen Z meltdown.
(2022, dir. Halina Reijn, DCP, color, 95 min.)