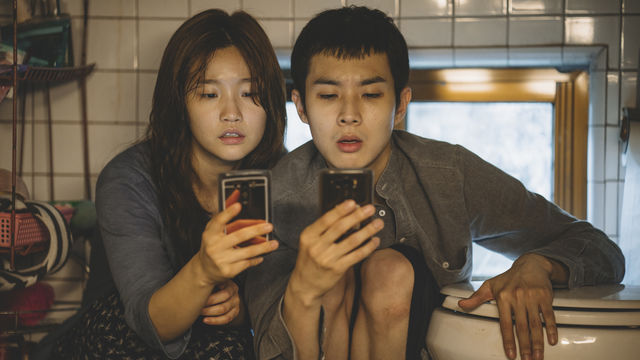 Parasite, with director Bong Joon-ho, actor Song Kang-ho, and translator Sharon Choi
Parasite, with director Bong Joon-ho, actor Song Kang-ho, and translator Sharon Choi
Named by many as the film of the year, created by the possible "director of the century" (A.O. Scott), Bong Joon-ho's Palme d'Or winner has already smashed box office records around the world. More importantly, it has laid bare in an utterly compelling (and often hilarious) manner the corrupt reality of late-stage capitalism. Focusing on the divisions and connections between two Korean families on opposite sides of the rich/poor social divide, Parasite attempts and lands more tone shifts than should be artistically possible in one film. The results are breathtaking, as are the modernist production designs that set the stage for the definitive cinematic parable of our time.
Parasite. 2019. South Korea. Directed by Bong Joon-ho. Written by Bong and Jon Won-han. With Song Kang-ho, Choi Woo-sik, Park So-dam. 132 min.
A Q&A with director Bong Joon-ho, actor Song Kang-ho, and translator Sharon Choi, moderated by La Frances Hui to follow.
Tickets
$20 General admission
$10 Hammer Members with valid discount code
Online ticket reservations have closed.
Limited tickets may be available at the museum the night of the screening on a first come, first served basis—any unclaimed tickets will be released at 7:20. Admission is not guaranteed.
Refunds cannot be provided.