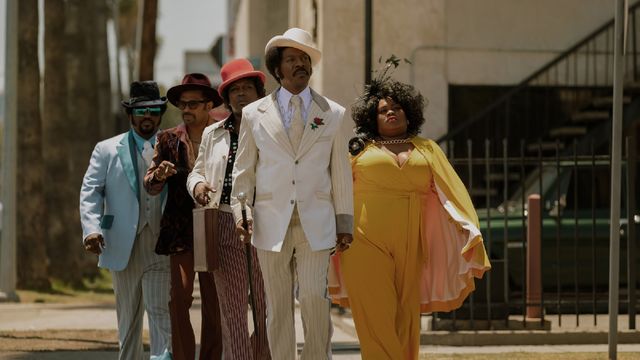 Dolemite Is My Name, with Eddie Murphy & Wesley Snipes
Dolemite Is My Name, with Eddie Murphy & Wesley Snipes
The genesis of cinematic genius has been the subject of many movies, but none of them has delved into a character as charismatic and suave as Rudy Ray Moore (with the possible exception of Ed Wood). As portrayed by a never-better Eddie Murphy, Moore is the most endearing real-life character you're likely to see on screen this year. Written by Scott Alexander and Larry Karaszewski (who, as it happens, also wrote Tim Burton's Ed Wood), the film follows the infamous and hilarious production of Moore's landmark blacksploitation classic Dolemite. Bathed in costume designer Ruth E Carter's 1970s-era glam, and featuring fall-on-the-floor-great supporting performances by Da'Vine Joy Randolph and Wesley Snipes, this film is already legendary.
Dolemite is My Name. 2019. USA. Directed by Craig Brewer. Written by Scott Alexander, Larry Karaszewski. With Eddie Murphy, Wesley Snipes, Keegan Michael-Key. 117 min.
Q&A with actors Eddie Murphy & Wesley Snipes, costume designer Ruth Carter, and writers Scott Alexander & Larry Karaszewski, moderated by Kenya Barris to follow.
Tickets
$20 General admission
$10 Hammer Members with a valid discount code
Refunds cannot be provided.