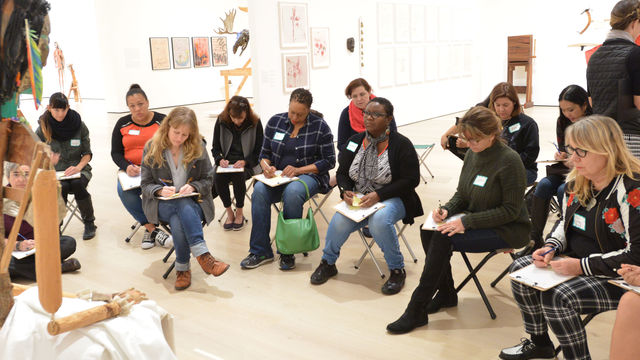 PROFESSIONAL DEVELOPMENT FOR K–12 TEACHERS
ONLINE: Teaching for Social Change through Art: Strategies for Enhancing Media Literacy in 2020
How can teachers respond to months of civil unrest, continuous coverage of systemic racism in the media, and youth-led actions to effect social change? At a time when students are burdened with both the emotional toll of a global pandemic and the persistent impacts of racism in our society, the arts can help to process challenges, foster social awareness and productive dialogue, and increase competence in social and emotional learning.
In this three-part online series, teachers will explore strategies for using art to address this current moment in the classroom—whether the classroom is in a physical or virtual space. This program is designed sequentially; however, teachers may sign up for individual sessions.
This is a past program. Visit the program webpage to see recordings of Session 1 and Session 2.
Session 1—Monday, July 27, 2020. Strategies for Integrating Media Literacy and the Arts
Session 2—Wednesday, July 29, 2020. Responding to Current Events through Theatre and Literary Arts
Session 3—Monday, August 3, 2020. Responding to Media through Visual Arts
*Please note: Strengthening 21st Century Skills through Art: A Teacher Institute, has been cancelled due to COVID-19 restrictions. Learn more about the 2019 summer teacher institute and view photos on Flickr.
Guides for Engaging with Art
The Hammer Museum offers resources to help facilitate discussions around artwork before, during, or after your visit to the museum. 
Guide to Thomas Heatherwick's Spun Chair (PDF, 1 p., 40KB)
For families and K–12 students and teachers
This one-page guide lists fun facts and activities to inform your experience of Thomas Heatherwick's Spun Chair. Several chairs are usually placed throughout the Hammer courtyard.
Art Cards (PDF, 2 pp., 36KB)
For K–12 students and teachers
Art Cards is a resource for teachers visiting the museum with their students. These cards will help you facilitate discussions around the artwork in any gallery and foster conversations among classmates.
Discovery Guide (PDF, 9 pp., 289KB)
For families and K–12 students and teachers
This guide is designed to help you make meaningful connections to artworks of your own choosing. We encourage you to pick a place in the museum that interests you, and use the prompts provided to discover more about art.
Getting Started with Contemporary Art
For high school teachers
Download Conceptual Art (PDF, 1 p., 40KB)
Download Installation Art (PDF, 1 p., 40KB)
Download Performance Art (PDF, 1 p., 34KB)
Download Video Art (PDF, 1 p., 34KB)
These one-page guides are designed to be used in conjunction with a visit to the Hammer Museum, where students might encounter a range of contemporary art forms. Each guide focuses on a different art form, but they are not mutually exclusive; for example, conceptual art can be performance-based. All guides contain information and discussion prompts that can be used to engage with art during your visit, or in preparation for your visit with images available on our website; and an activity to extend student learning in the classroom after your visit.
Guides to Past Exhibitions
These guides can be adapted to explore artists and ideas during your visit to the Hammer or in the classroom using digital images available on the Hammer website.
Make in L.A. (PDF, 10 pp., 2MB)
For grades 6 and up
Take inspiration from Los Angeles artists and foster reflection, discussion, experimentation, and creativity. Learn more about the related exhibition, Made in L.A. 2020.
Now Dig This! Teacher Guide (PDF, 79 pp., 26MB)
For grades 4 and up
Explore key figures and artistic movements of African American art in Los Angeles from 1960–1980, such as assemblage, post-minimalism, and performance art. Learn more about the related exhibition in our digital archive.
Take It or Leave It: Institution, Image, Ideology Exhibition Guide (PDF, 6 pp., 2MB)
For grades 6 and up 
Discover American artists whose work focuses on appropriation and institutional critique between the late 1970s and early 1990s. Learn more about the related exhibition in our digital archive.
Academic Programs at the Hammer Museum are supported by The Hearst Foundations and The Rosalinde and Arthur Gilbert Foundation.