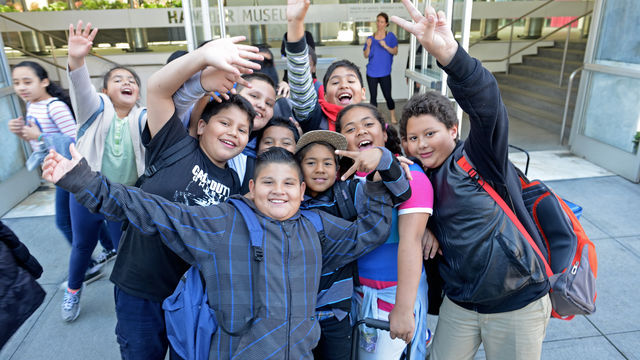 Classroom-in-Residence
Classroom-in-Residence at the Hammer (CRH) is a free, innovative program designed to strengthen student and teacher learning about art through a weeklong, immersive experience at the Hammer Museum at UCLA. Two teachers of 4th, 5th, or 6th grade are given the unique opportunity to take their students out of the traditional classroom setting and teach with original works of art. Surrounded by the processes and products of artistic innovation, students are inspired to reflect deeply on art's multiple meanings and make inferences using visual evidence.
Over the course of five days at the Hammer Museum and Franklin D. Murphy Sculpture Garden on the UCLA campus, students build museum literacy while supporting selected Common Core standards and strengthening essential 21st century skills—creativity, critical thinking, and communication.
CRH is a unique collaboration between the Hammer Museum, the Visual and Performing Arts Education Program (VAPAE) in the UCLA School of the Arts & Architecture, and selected Title I public school teachers. This partnership gives students unprecedented access to art education experts while rooting the experience in the individual who knows the students best—their classroom teacher.
Application Process
Applications for the 2022-23 school year have closed. 
Hammer Kids is made possible through the generosity of the Anthony and Jeanne Pritzker Family Foundation. Hammer Kids also receives support from friends of the Hammer Museum's Kids Art Museum Project (K.A.M.P.), an annual family fundraiser. Additional funding is provided by The Rosalinde and Arthur Gilbert Foundation, GRoW @ Annenberg, and The Winnick Family Foundation.
Classroom-in-Residence at the Hammer (CRH) is made possible through funding from the Rosalinde and Arthur Gilbert Foundation, and the UCLA School of the Arts and Architecture.