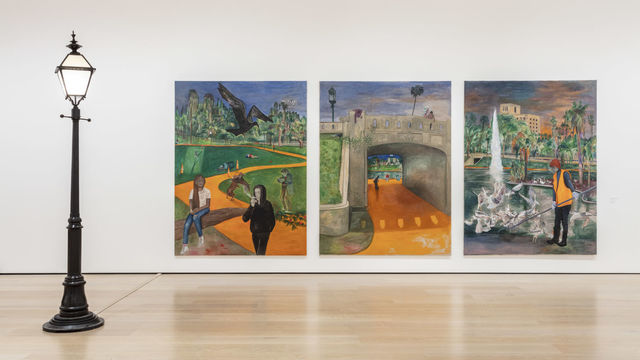 Art and Storytelling with the Emerging Museum Education Fellowship
Every academic year the Hammer Museum offers one individual the opportunity to join the Academic Programs Department as the Emerging Museum Education Fellow. The fellowship program aims to enrich the professional skill-sets of emerging museum educators through on-the-job training, mentorship, and professional development. One of its main components includes developing and implementing an educational program for intergenerational audiences.
Julianna Swilley, the 2020-2021 Emerging Museum Education Fellow, designed and taught a 5-week storytelling series for a group of 4th-grade students at West Athens Elementary School. Featuring three works from Made in L.A. 2020, Julianna facilitated discussions around each piece, explaining how artists use visual storytelling to document personal histories.
For their final assignment, the students wrote short stories based on their interpretations of three works: Temptation by Katja Seib, Someone left the cake out in the rain (triptych) by Jill Mulleady, and The Battle of Malibu by Umar Rashid.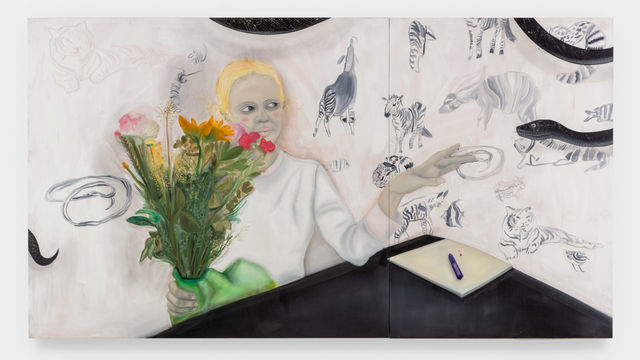 Katja Seib, Temptation, 2020. Oil on two different canvas types. Overall: 63 × 115 in. (160 × 292.1 cm), left: 63 × 71 in. (160 × 180.3 cm), right: 63 × 44 in. (160 × 111.8 cm). Courtesy of the artist and Sadie Coles HQ, London.
Short story by Jacob Torres
"The boy's name is Jack and the snake's name is Sophia. They went to the park for a date and the boy got flowers for Sophia the snake. Then they got married and Jack got fat and Sophia was like, 'That's going to be food for me and my kids.' The next day, Jack was sleeping and Sophia bit him. Light was coming out of Jack and Jack was okay. Sophia was like, 'Wow!' because Jack was a snake. The End."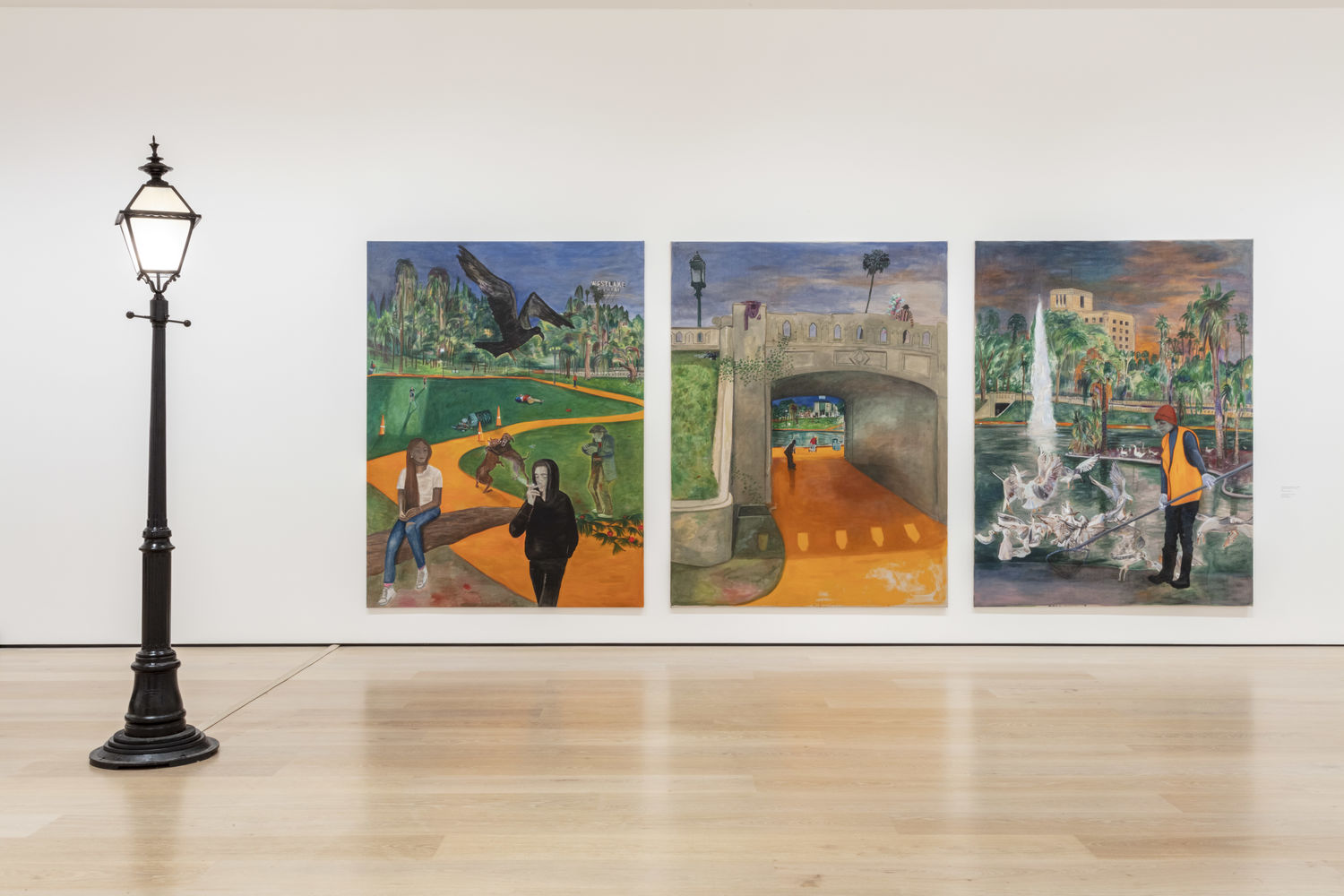 Jill Mulleady, Streetlamp, MacArthur Park (right), n.d.; Someone left the cake out in the rain (triptych) (left), 2020. Installation view, Hammer Museum.
Short story by Megan Reyes
"One day Addison was sitting, looking at the clouds and John came to the River Park to smoke. Steve is an old man who comes to the park because his wife passed away and the River Park was her favorite park. After an hour, John was caught smoking while Addison was about to leave, but she hit her leg on the branch. John made the water go everywhere and Steve, don't worry he is fine… or is he? Addison and John were struggling but Steve helped Addison walk home. One the other hand, John was still fixing the water and all of a sudden a bird or an eagle dropped something, a tool that John needed to fix the water."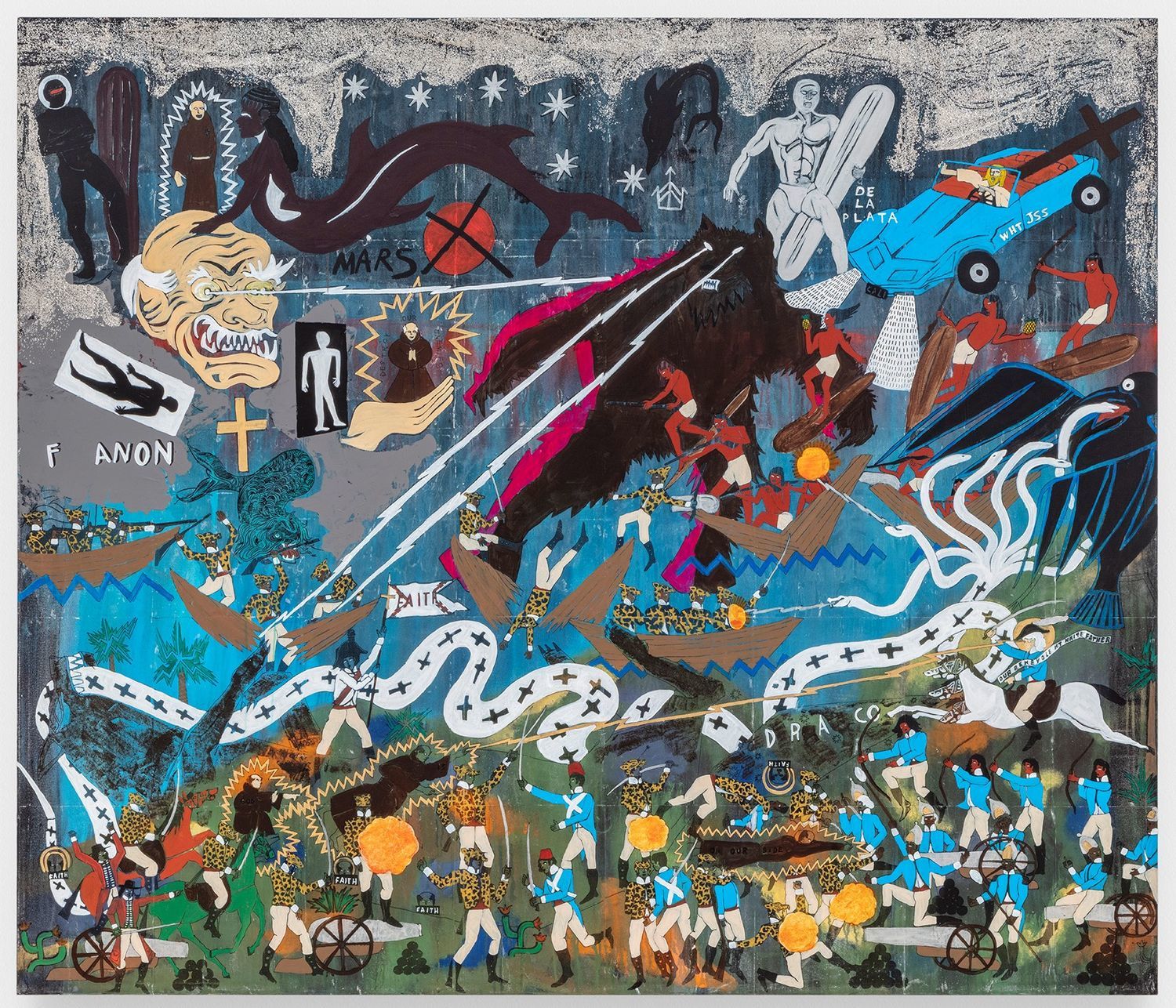 Umar Rashid, The Battle of Malibu (In Three Parts) 1795: Part One, See battle. Little red corvette; Part Two, The death of Father Wiyot. If we can do this to a god, imagine what we'll do to you; Part three, Surfriders vs the Jaguars from Mars (triptych), (detail), 2020. Acrylic on canvas. 72 × 84 in. (182.9 × 213.4 cm). Courtesy of the artist.
Short story by Jazmine Cordero
"There's a weird mermaid touching on a head. And it looks like the guy that's by the wooden door. He gets shocked and his head falls off. It says Mars but Mars is crossed out. I see a dolphin and those wrestling guys. There's one driving a car. There's red people, grey people, and there's a weird sea creature. It's like a leopard and an eel. When I look at the old men, it looks like they got knocked out unconscious. There is a werewolf shooting laser eyes and there's a big snake. One of them is shooting lasers from their eyes and mouths. I see the old guy shooting laser at the werewolf because they probably don't work together. I see that there's boats and crashed boats with red people on them. One guy likes surfing around. The dolphin is probably traveling with the mermaid together. I just noticed something, there's a 't' for God."