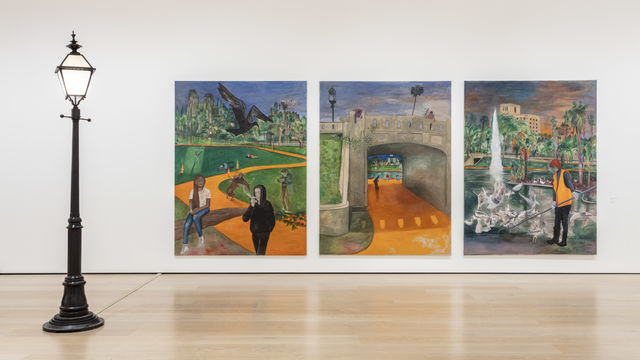 Jill Mulleady's paintings present unsettling scenes that oscillate between beautiful and horrifying, quiet and violent. Her compositions are rich with allegorical symbols and art historical references that conflate eras. Even when depicting a particular location, they feel liminal and otherworldly. She populates these ghostly worlds with recognizable figures: poets, writers, and artists, rendered with their bodies contorted and their flesh a sickly hue. Mulleady often intervenes in the spaces in which her paintings are installed, staging them alongside readymades and architectural interventions. This strategy turns the gallery space into a kind of proscenium, heightening the theatricality of viewing. Her approach is inspired in part by the experimental theater director Antonin Artaud, who strived for a "communion between actor and audience in a magic exorcism."
Mulleady's triptych is a depiction of present-day MacArthur Park, a neighborhood with a rich and varied history. Once a high-end destination, it gradually became a run-down neighborhood. Although Mulleady started painting the artwork in her downtown studio, she moved to a space facing the park when the COVID-19 pandemic forced the closure of her studio building. She found herself surrounded by her subjects: the teenage lovers, sanitation workers, and wandering animals that populate her filmic, wide-screen scene. In addition, Mulleady has installed a park lamp within the exhibition space, which alludes to the staged nature of the viewing experience.
In Made in L.A. 2020: a version, the artist's work is present in two institutions, across Los Angeles. See Jill Mulleady's work on view at The Huntington.
BIOGRAPHY
Jill Mulleady was born in 1980 in Montevideo, Uruguay. She studied theater at the École Internationale de Théâtre Jacques Lecoq, Paris, and received an MFA from Chelsea College of Arts, London. Mulleady's paintings are representations of unsettling scenes and contorted bodies, oscillating between the beautiful and the horrifying, the quiet and the violent. Recognizable poets, writers, and artists are often featured in her work, among them the French playwright Antonin Artaud. Artaud, briefly a member of the surrealists and an important figure of twentieth-century theater, is best known for his writing associated with the Theater of Cruelty, an avant-garde form of theater that holistically assaults the audience's senses. Artaud's aim was to jar his public into a better understanding of their own repressed feelings, describing the experience as a "communion between actor and audience in a magic exorcism." Mulleady's exhibitions are similarly infused with a consideration of the gallery as a proscenium; she often intervenes in the spaces in which her paintings are installed, staging them with readymades and architectural interventions. She has had solo exhibitions at Swiss Institute, New York (2019); Galerie Neu, Berlin (2018); Schloss, Oslo (2018); Kunsthalle Bern (2017); Freedman Fitzpatrick, Los Angeles (2017); and Museo Archeologico Nazionale, Naples (2015). In 2019 Mulleady's work was included in May You Live in Interesting Times at the 58th Venice Biennale.