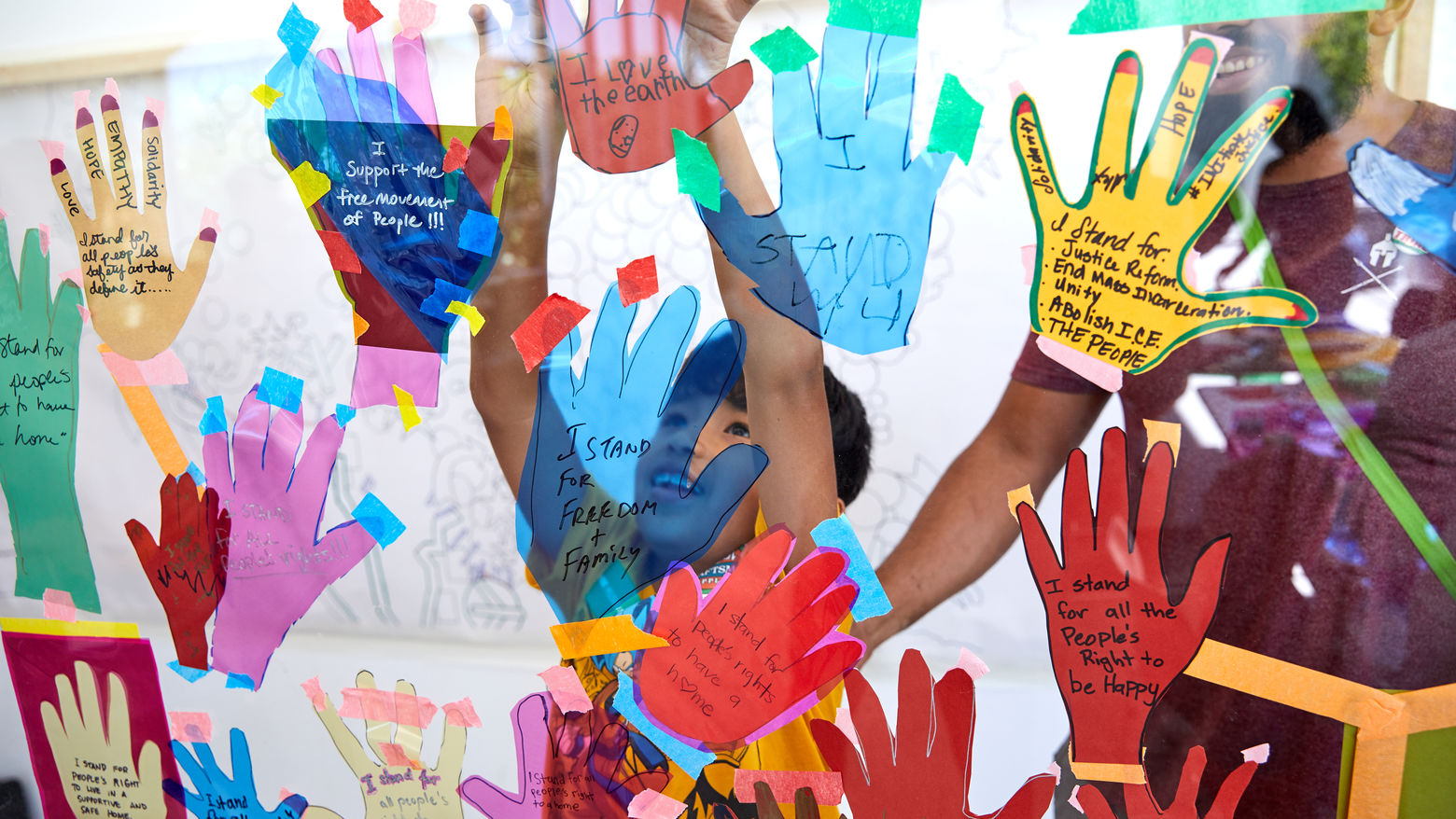 Ten Ways that Academic Programs Made a Difference in 2019
The constant barrage of disappointing, if not tragic, news cast a cloud over 2019. I'd listen to the latest news on my commute to work, and the grim stories kept coming: families separated at the border, homes destroyed by wildfires, corrupt and immoral government officials, and endless examples of senseless gun violence. Once I parked my car, I'd often have to sit in silence for a few minutes before feeling ready to jump into the workday.
But once I opened the door to the office I share with my team of educators in Academic Programs, my mood would shift. Inevitably, someone on my team would be talking about an art-making workshop that encouraged kids to welcome any newcomer, a student who made an epiphany about inequality while discussing a painting, a doctor who was reminded to take more time to diagnose patients after spending time interpreting art, or a training about using more inclusive language in museums. The inspiring stories kept coming throughout 2019, too—thanks to my team. In Academic Programs, we think deeply about how to foster social awareness and create inclusive spaces through museum education programming. Here are ten examples.
Kids raised their hands in solidarity with families separated at the border
We believe that you're never too young to engage with pressing social and political issues of our time. At this year's Family Day: Art Beyond Borders, over 1,300 family members participated in socially-engaged art workshops and performances that explore how art can foster unity. In one workshop, CalArts professor Ashley Hunt and his students invited families to raise hands of solidarity to counter a map documenting family separation and deportation. The colorful hands sent powerful messages of kindness, resilience, and unity against the backdrop of a stark map that documented the effect of U.S. immigration policy on families.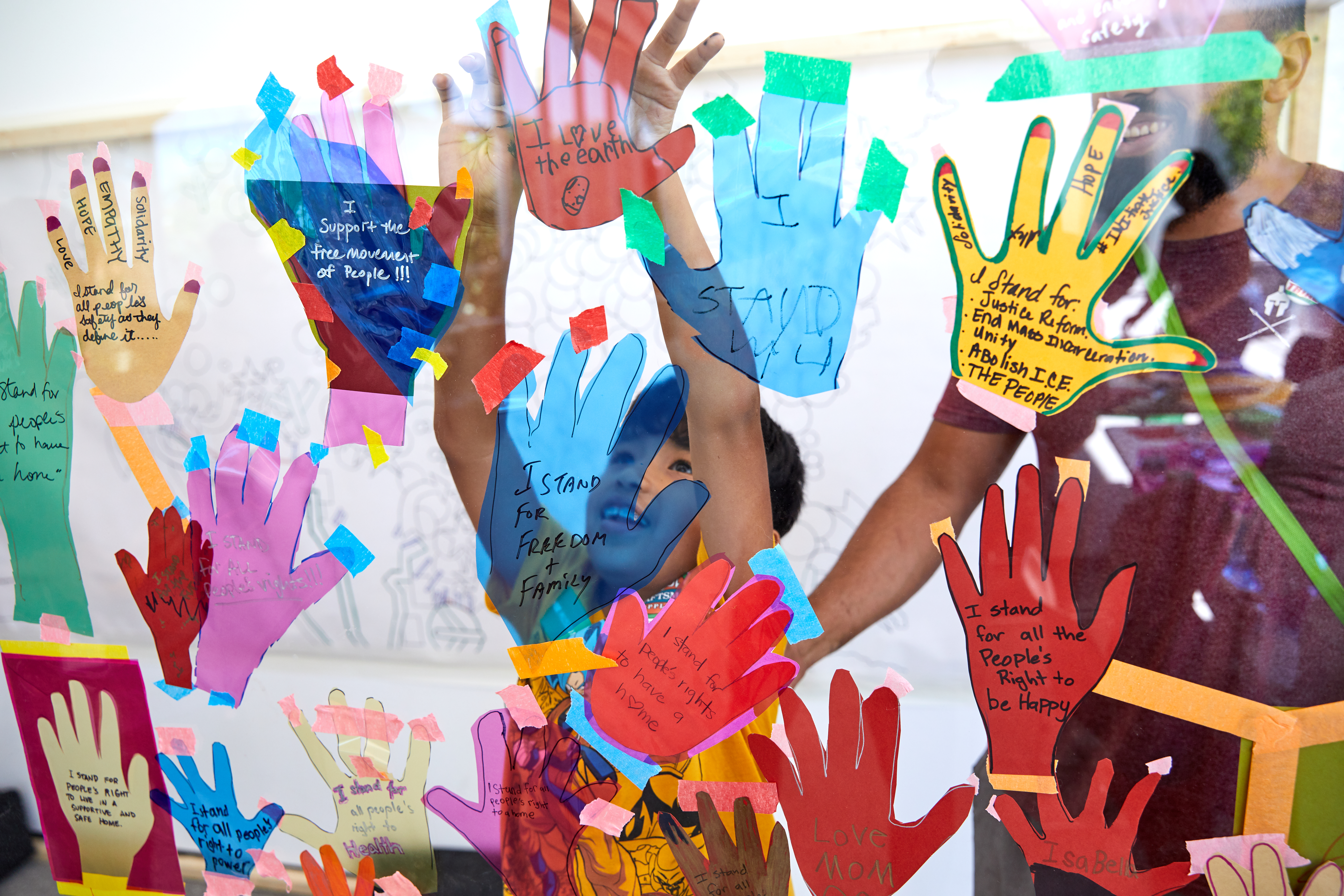 Family Day participants share messages of love and support with families who are separated due to U.S. immigration policy
Teachers amplified voices ignored in history textbooks
K-12th grade teachers who attended a three-day summer institute walked away with tools to incorporate different perspectives of historical narratives into their classroom curricula and a renewed sense of the power of art in telling untold stories. Our 2019 institute, Strengthening 21st Century Skills through Art, focused on an arts-integrated unit that foregrounded historical narratives that are typically excluded from history textbooks, which was inspired by narratives about South Africa depicted in Meleko Mokgosi's paintings.
K-12 teachers participate in movement and art activities that represent histories typically excluded from textbooks
Lari Pittman's Spanish-language tour created space for multilingual perspectives
We offer public tours in Spanish for every exhibition so that the significant Spanish-speaking population of Los Angeles County (over 3 million people) can learn about art in the language in which they are most comfortable communicating. In November we had a special opportunity to hear directly from the artist featured in the exhibition—Lari Pittman, who is bilingual in Spanish and English. After the tour, several people shared that they learned how Pittman's bilingualism impacts his work in a way that wouldn't have been possible in a tour in English. Keep an eye out for a video documenting the tour in the new year!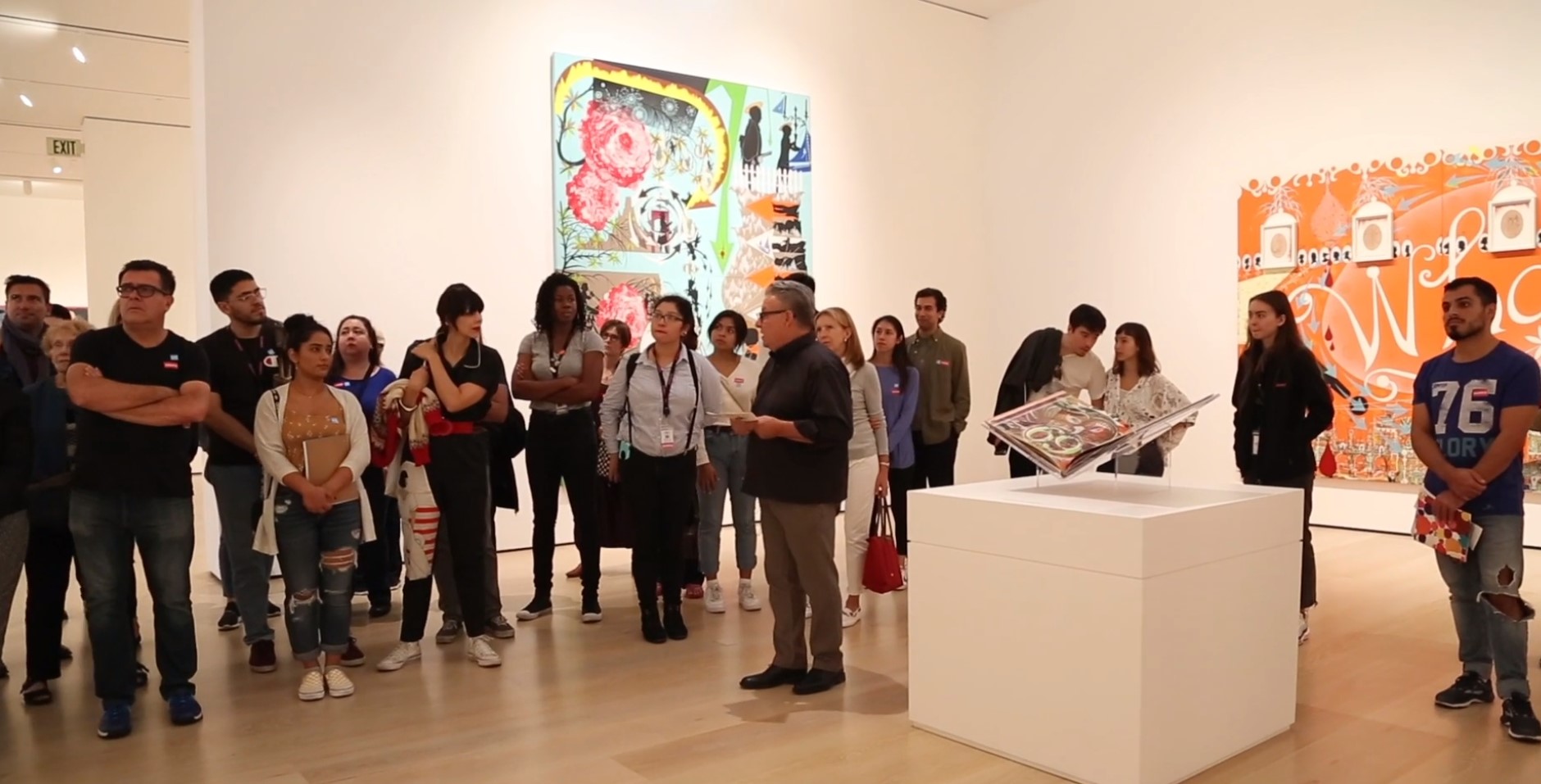 Lari Pittman leads a tour of his retrospective for a tour that quickly reached capacity
Emerging museum educator learned how to empower other learners in new program designed to diversity the museum field
Educator Russel Altamirano, the first to participate in the Hammer's inaugural ten-month Emerging Museum Education Fellowship program, gained personal and professional skills that will help launch her museum career. The fellowship is designed to help diversify a notoriously white museum field by offering ten months of professional development to a recent college graduate from a historically underrepresented group. Upon completion of the program, Russel wrote in a Hammer blog post: "The more I taught in the galleries, the more I realized that we were not simply growing as tour guides, but as facilitators who can use art to foster inquisitive, reflective, and empowered learners."
Russel Altamirano strengthened her teaching practice over the course of the inaugural Emerging Museum Education Fellowship
Future psychiatrists reflected on how to better serve their patients by analyzing art
This year we launched a new partnership with UCLA Community and Global Psychiatry, in which we facilitate discussions about works of art with current and future psychiatrists, followed by a debrief connecting the experience to psychiatric care. This fall, we discussed paintings that convey power or depict trauma as a result of someone else's power. After deep analyses of the works, participants critically reflected on parallels between interpreting art and their medical practice, noting the importance of taking time to diagnose patients after careful observation and analysis. One participant said that the experience "made me reflect on the human body as a work of art, scars telling a story, and all the layers."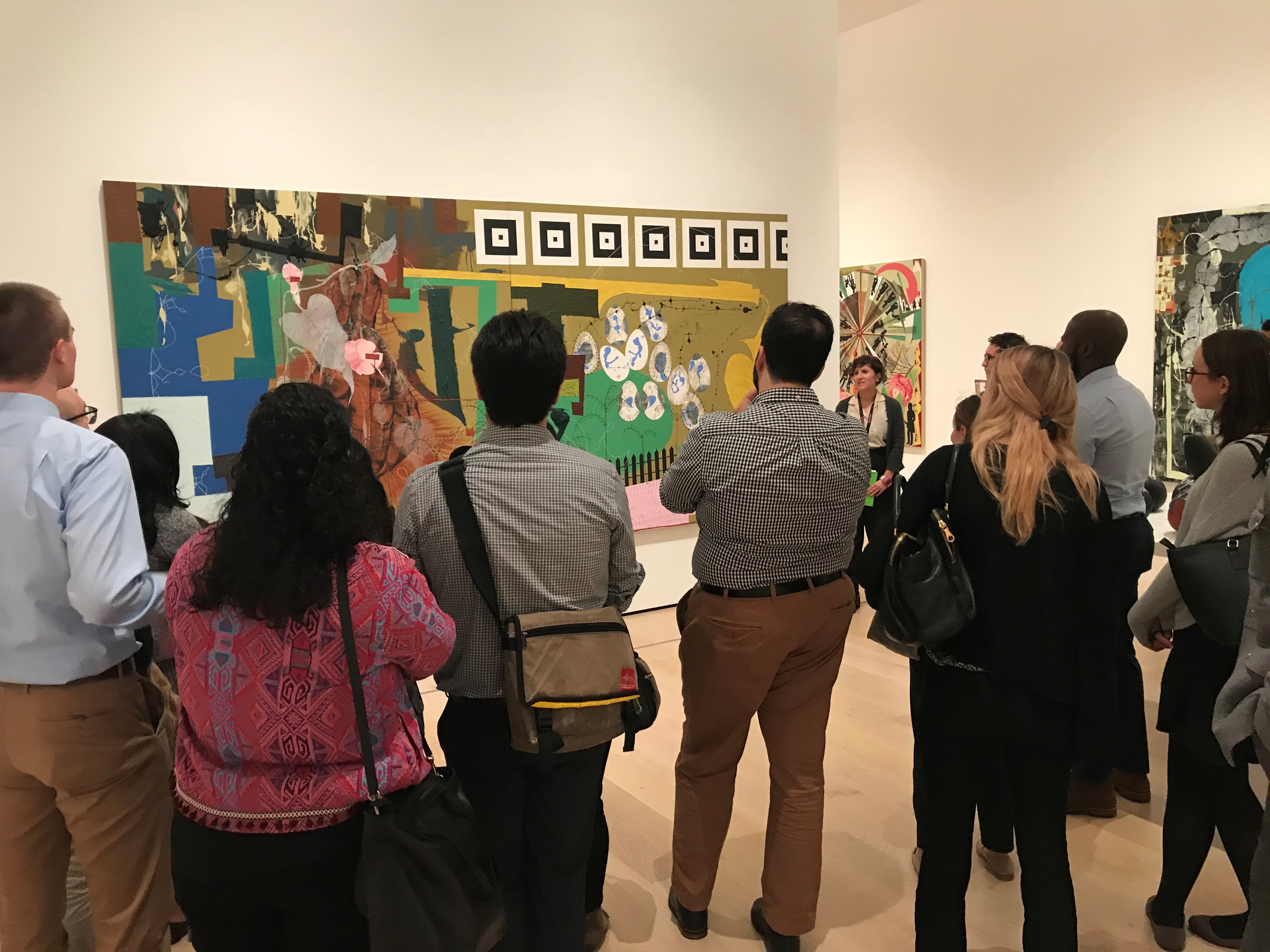 Educator Hallie Scott leads future psychiatrists in a rich discussion about trauma reflected in Lari Pittman's painting
Individuals with Alzheimer's and their caregivers found new ways to bond
Tours at the Hammer often connect visitors to one another through facilitated discussions about art. Due to a new collaboration with the Alzheimer's Association, we offered a special program that was particularly meaningful for participants. UCLA students Weiwen Balter and Jarrett Lampley designed and led a series of three tours to encourage conservation among individuals with early stage Alzheimer's and their caregivers. The tour organizer shared: "[T]his was the most either of the loved ones had spoken in a while and [I] even saw an initial level of bonding between the caregivers themselves."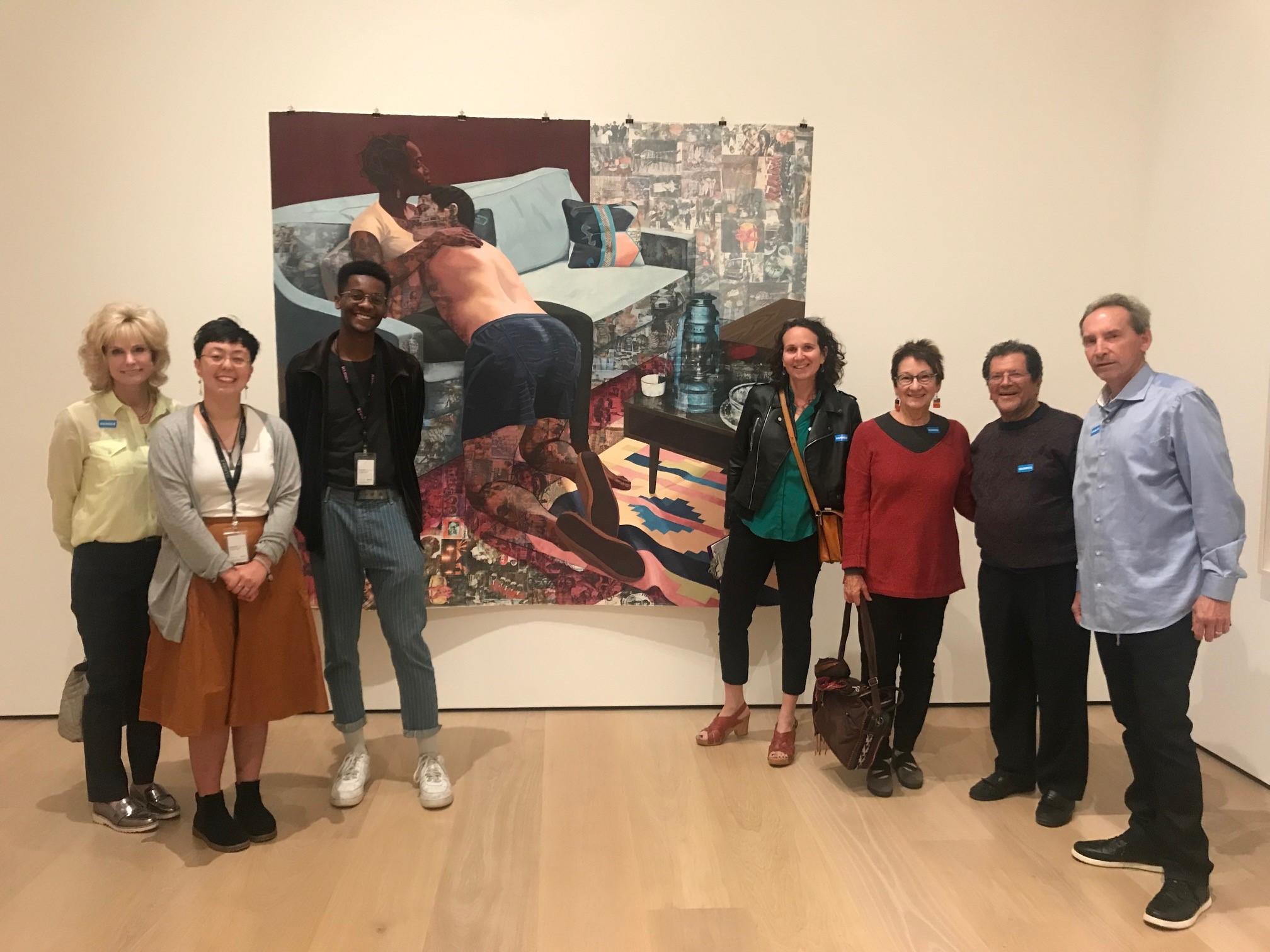 UCLA students Weiwen Balter and Jarrett Lampley tour individuals with Alzheimer's and their caregivers
High school students were inspired to step out of their comfort zones and stretch their creativity
Through an ongoing partnership with Mann UCLA Community School in South Central LA, forty high school students visit the Hammer each year to learn about the role of art in building social awareness. This year students engaged with the themes of home, nationhood, and identity politics across two exhibitions: belonging and Lari Pittman: Declaration of Independence. Then they worked with artist noé olivas to stretch their creativity by incorporating found objects into artworks that express what home means to them. Although many students were initially stumped by how to create art from everyday objects, their culminating projects revealed that they not only tapped into their creativity, they also put a lot of time and care into expressing personally meaningful stories, ranging from celebrations of culture, community, and sports to meditations on grief, social ills, and calls for social justice.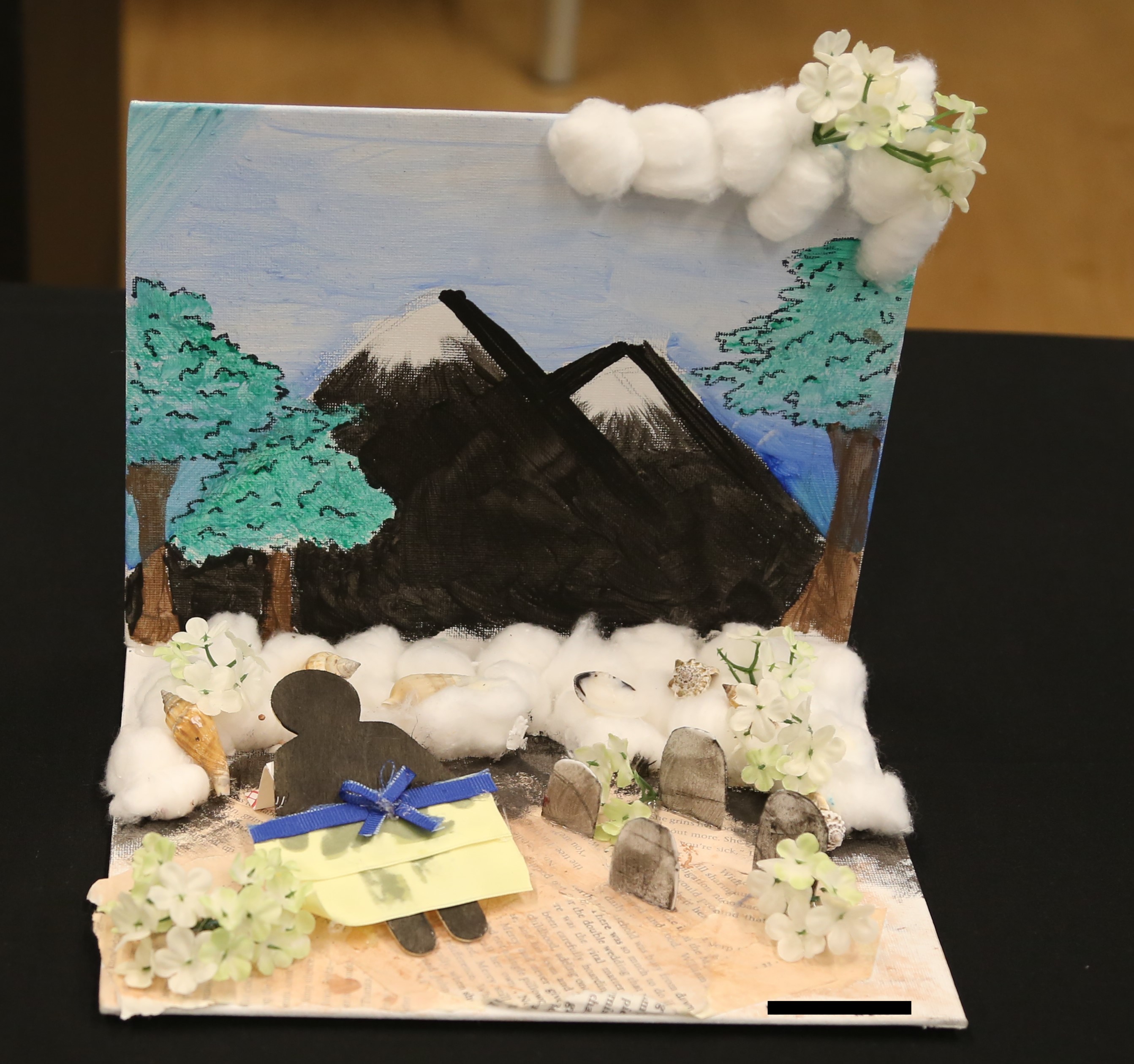 A high school student poignantly captures the loss she's experienced in her life due to the deaths of loved ones while being grounded by the books she's enjoyed and looking ahead to a brighter future
UCLA Students celebrated environmental awareness in annual college night
A group of university students in our Hammer Student Association organized Arts Party: Wasteland, an evening of art, music, and after-hours access to the galleries for a record-breaking 2,579 college students. Inspired to go beyond a typical college party, the student planning committee selected Wasteland as this year's theme to evoke climate change, environmentalism, and the landscape of Los Angeles. In one workshop, artist and herbalist Saewon Oh created a calming space where students could learn about native plants from Southern California through guided meditation and drawing while drinking tea made from the plants. Not your typical college party indeed.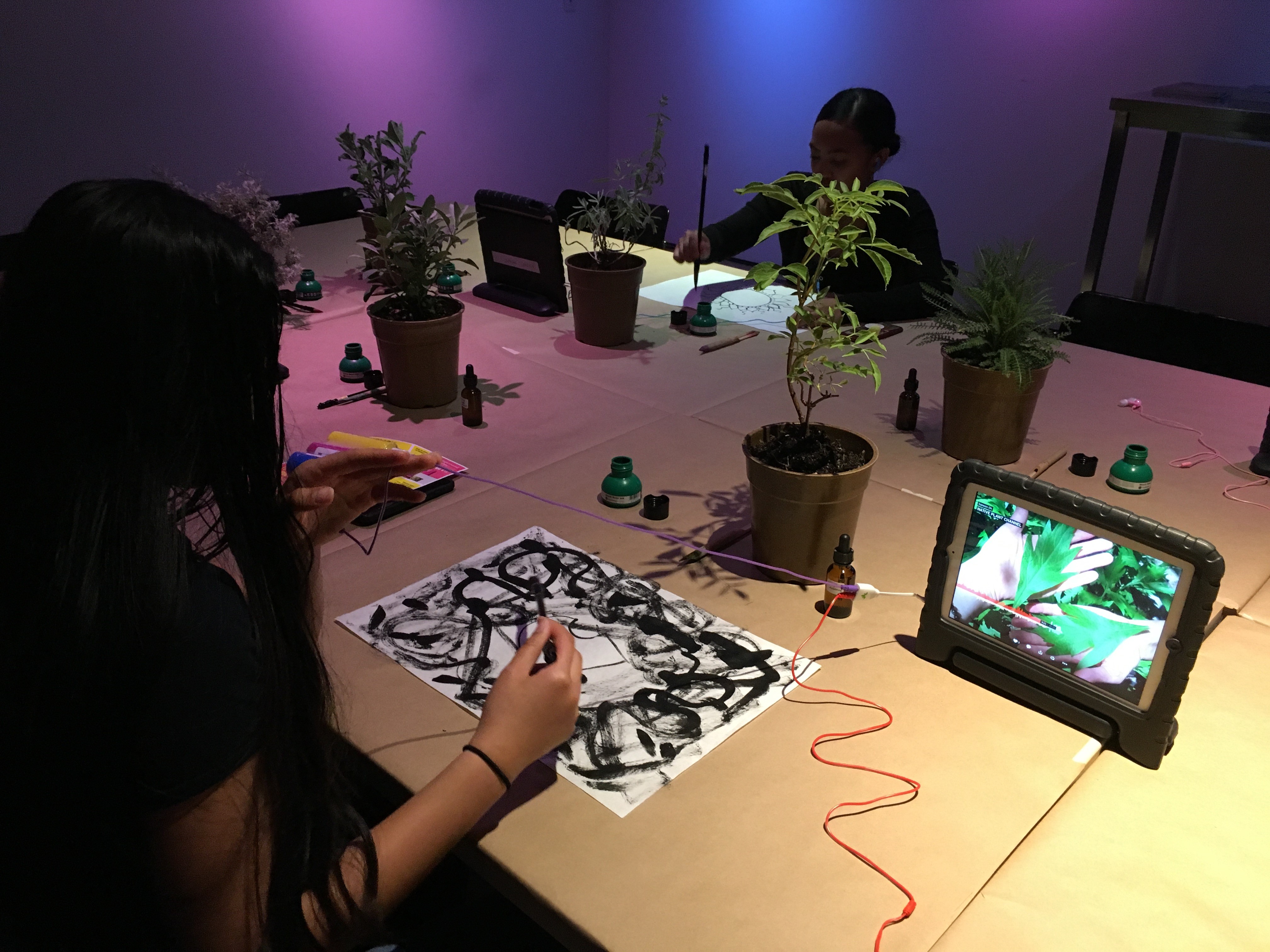 Students engage with native plants through guided meditation and drawing at our annual Arts Party
Veterans honored at beginning of intensive treatment program
Our continued collaboration with UCLA Operation Mend reminds us of the incredible sacrifices that veterans and active-duty service members have made to serve our country. Several times a year we honor wounded warriors who are embarking on a three-week clinical program at UCLA designed to treat traumatic brain injury and post-traumatic stress disorder. Before patients begin this intensive treatment program, they are guests of honor at a welcome dinner at the Hammer, where they also participate in a facilitated discussion about art designed to set the tone for open dialogue and discovery.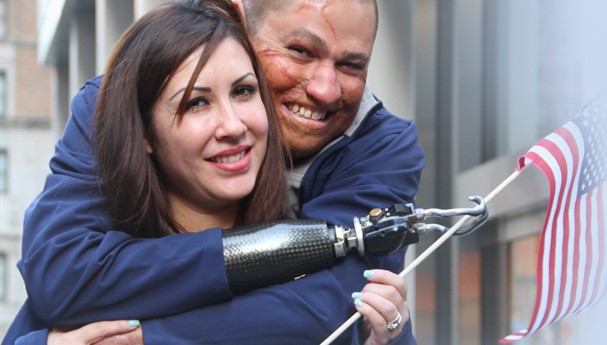 UCLA Operation Mend partners with the Hammer to welcome wounded warriors participating in an intensive clinical treatment program
A fifth grader discovered how to channel his grief into art
Every year two classes of 4th, 5th, or 6th grade students "go to school" at the Hammer for five full consecutive days. In this award-winning program, students participate in arts-integrated lessons and discuss works of art, all the while growing comfortable in the museum space. This year one fifth grader seemed particularly disengaged when he first walked into the museum. On the final day, he divulged that his brother recently passed away to a CRH staff member, who then encouraged the student to channel his grief into his art project. The assignment was to design a plate to represent their lives, which was inspired by artist Allen Ruppersberg's Al's Café. While the rest of the class designed colorful images of hobbies, sports, and family, the grieving student created stark images representing his loss. Once he expressed his feelings in his artwork, the student was able to actively participate in other group activities. It's a poignant reminder that art can empower individuals to overcome challenges.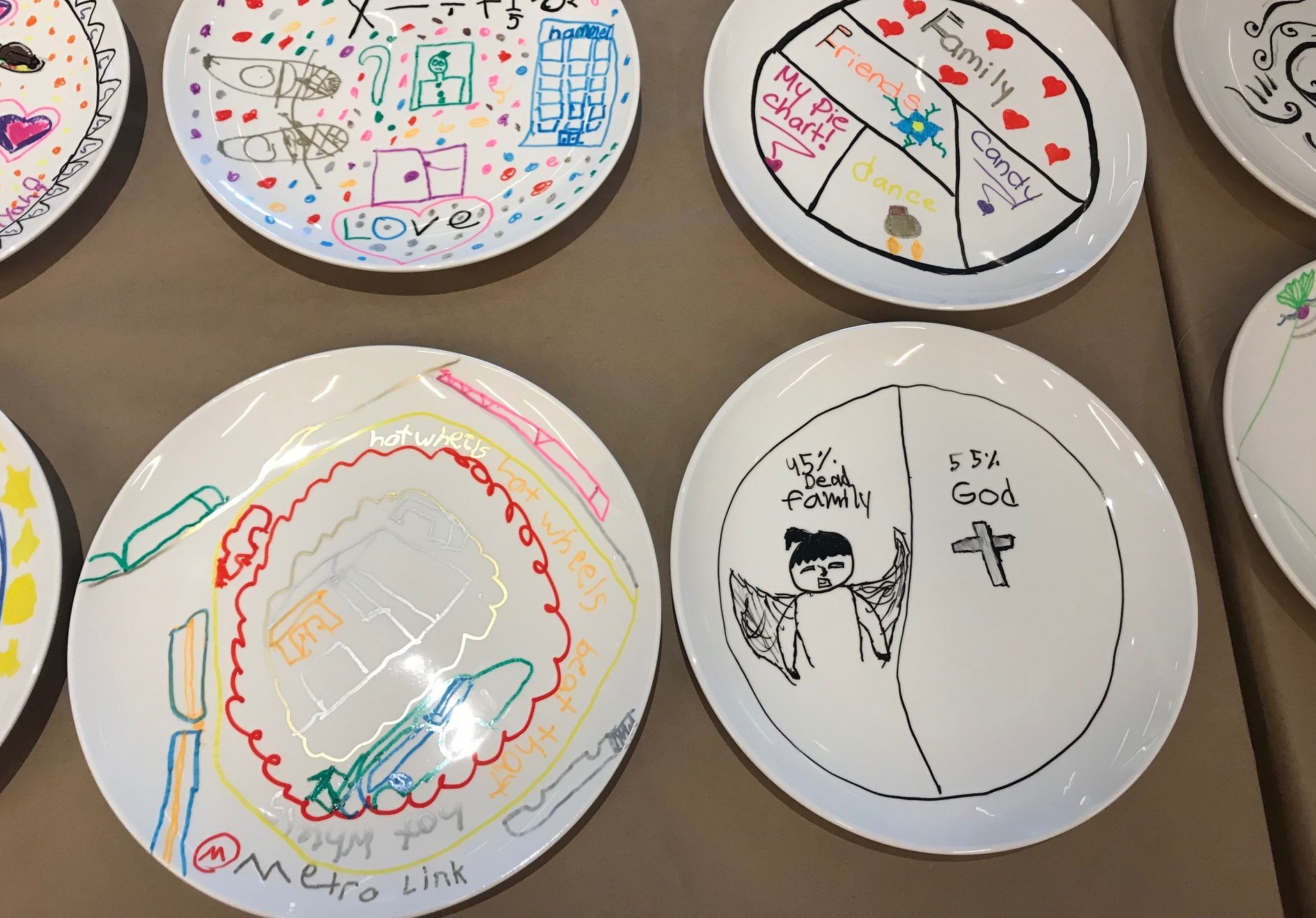 Fifth graders design plates that reflect their lives and interests, inspired by Allen Ruppersberg's Al's Café