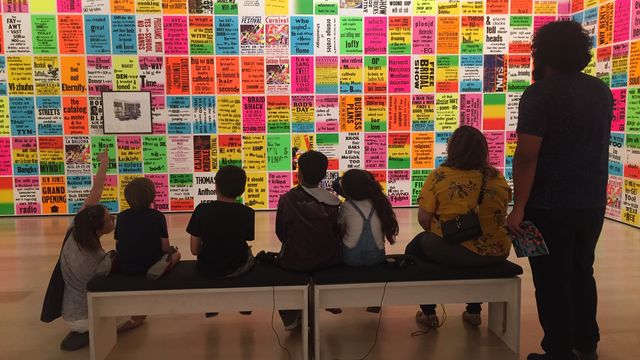 The Academic Programs department at the Hammer Museum encourages educators to make space for challenging conversations. As the first Emerging Museum Education Fellow, I joined the extensive trainings for the Hammer's student educators, and was able to strengthen my gallery-teaching practice. The more I taught in the galleries, the more I realized that we were not simply growing as tour guides, but as facilitators who can use art to foster inquisitive, reflective, and empowered learners.
Last fall I led a small group of young adults through the exhibition Adrian Piper: Concepts and Intuitions, 1965-2016 and faced one of the most vulnerable yet empowering moments in my teaching experience. We discussed the frankness of Adrian Piper's "calling cards," performance pieces made between 1986 and 1990, in which the artist addresses assumptions about her identity and intentions.
Adrian Piper, My Calling Card #1, 1986–1990
After sharing our initial reactions to Piper's work and discussing how the prejudices and assumptions interrogated by Piper still exist today, I invited the group to write their own "calling cards." The activity prompted the group to share personal experiences of when they faced stereotypes and discrimination.
One participant shared her writing:
Dear Friend, / I am homeless. I am not a drug addict, criminal, nor mentally ill. I do not appreciate those stereotypes or prejudices coming from strangers.
When I was young, I would never have felt brave enough to open up about such personal experiences, yet we all gained a greater sense of solidarity and empathy because of this participant shared her experience.
In May, I was given the opportunity to lead my own training for student educators. It was rewarding to be in the position of inspiring the tour planning for others. I invited the students to share strategies and thoughtful reflections, and ensured there was also space for another important aspect of gallery teaching—having fun!