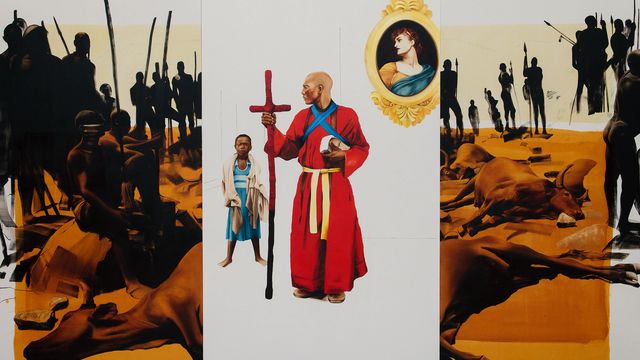 Selections from the Hammer Contemporary Collection: Meleko Mokgosi
–

This is a past exhibition
This installation explores ideas of colonialism and globalization through the experience of the Xhosa people of South Africa.
Meleko Mokgosi's Pax Kaffraria (2010–2014), an ambitious body of work comprised of eight chapters, engages the traditions of history painting and cinema to mine issues around colonialism, postcolonial aesthetics, globalization, and transnationality through the case studies of four African countries. Pax Kaffraria: Sikhuselo Sembumbulu (2011–2012), the fourth chapter in this series, takes as its inspiration the Xhosa people of South Africa and their fight for liberation starting in the 1850s. Originally displayed as part of the Hammer Museum's critically acclaimed Made in L.A. 2012 biennial exhibition, this exhibition will mark only the second time this work has been shown in Los Angeles.
Selections from the Hammer Contemporary Collection: Meleko Mokgosi is organized by Erin Christovale, associate curator.