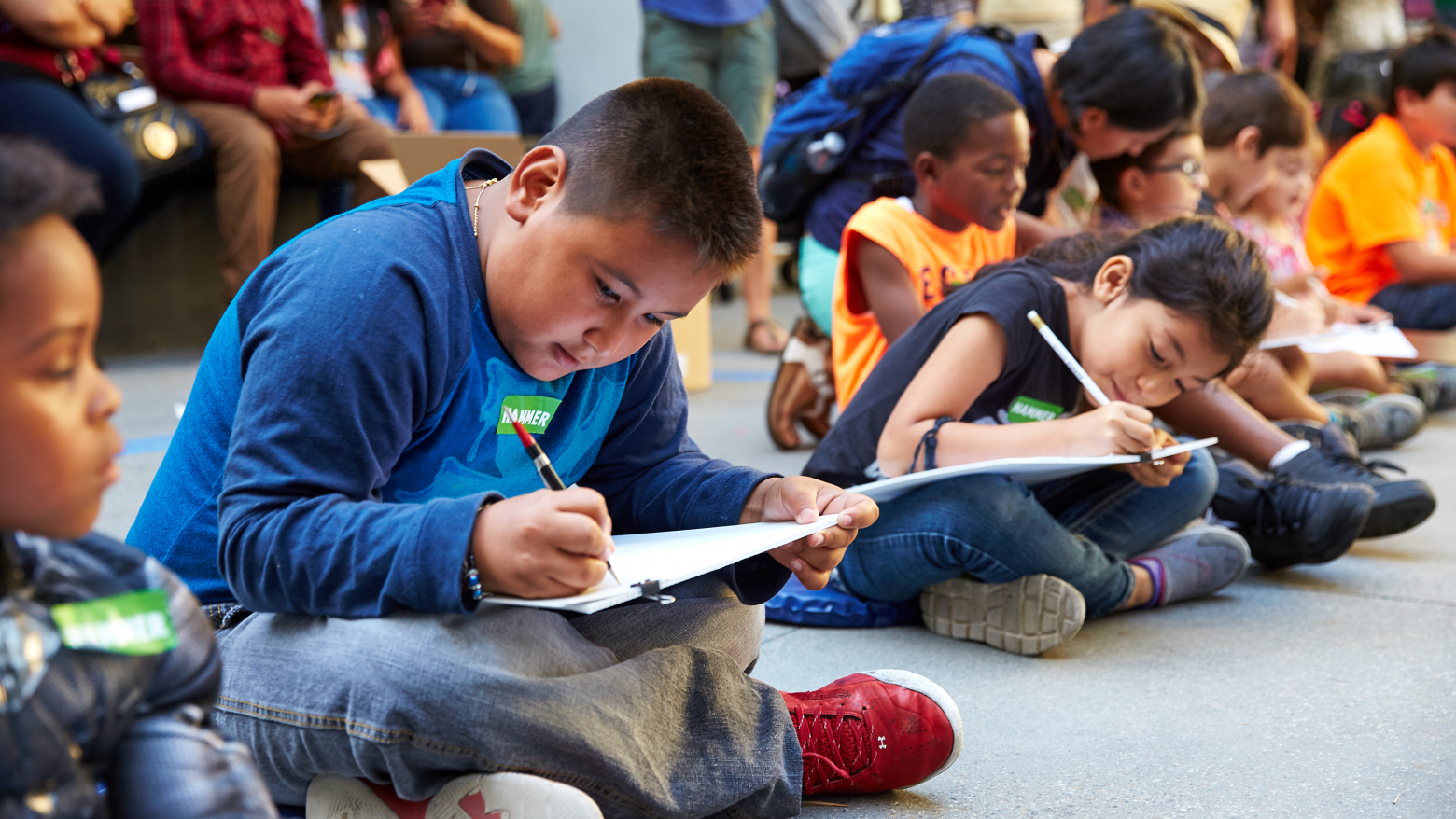 Hammer Highlights 2016: Academic Programs
When a year is marked and scarred by divisiveness and loss, it can be difficult to carry on with business as usual. Fortunately for me, as assistant director of academic programs at the Hammer Museum, business as usual involves combating divisiveness by promoting tolerance, encouraging access for all, and fostering understanding despite any perceived or tangible barriers. My department's work lifts me up.
When I reflect on our work over the past year, I think of the thousands of individuals—K-12 students and teachers, university audiences, and families—whose lives we impacted in some way. Perhaps the impact was merely gaining a new understanding of a different perspective explored in a provocative work of art. Or perhaps an individual life's path was redirected due to rigorous professional development or an eye-opening internship opportunity. Either way, we are chipping away at barriers.

Tours
Unpacking the nuances of a work of art amongst a group of strangers may sound like a rarefied activity, but ultimately I see this as a political act. Student educators facilitate conversations about works of art in our galleries, providing a safe space for people of all ages and backgrounds to reflect, connect, critique, and respectfully disagree. These are all central components of a healthy society. For our youngest visitors, discussing art like Rafa Esparza's installation for Made in L.A. 2016, gives them an opportunity to formulate and voice their own opinions about what they see—important skills that cannot be tested on ubiquitous multiple choice tests. Even with our main galleries closed for renovations for nearly four months, we served thousands of people this year through free tours for the general public, school groups, and nonprofit organizations.
 
"Many of my students had never even been to a museum, nor seen a gallery.  I think this was a life path changing experience for many."  –Teacher, Palms Middle School
"From this field trip I…learned that art is not only done with things such as a canvas and a paintbrush, but it is also the way you see things." –Student, James Madison Middle School

Families
My department takes to heart the Hammer Museum's mission. This year's Family Day: Reimagine Your World provided the platform for our mission to be carried out with Play-doh, foam blocks, and chocolate. Highlights include chocolate paintings that could be traded for fair trade chocolate, a city comprising foam buildings that morphed due to climate change, and an opportunity to take time to slow down with your family along a lazy river. We believe you're never too young to start thinking about how to build a better world. View photos from Family Day on Flickr.
 
"Family Day was sooooo much fun. [My daughter] had a blast….One of my big desires is that more kids (especially the younger ones) are exposed to more contemporary art practices, which you all did a great job of.  There were so many choices and they appealed to a broad age range." –Yolanda H.

K-12 Students and Teachers
For the fourth consecutive year, two classes from Title I public schools in the Los Angeles Unified School District each spent five days in residence at the Hammer through the Classroom-in-Residence at the Hammer (CRH) program. The Academic Programs department works really hard with our partners in the Visual and Performing Arts Education Program (VAPAE) in the UCLA School of the Arts and Architecture to ensure that both teachers and students have an enriching and meaningful experience at the museum. We brainstorm curricula in many two-hour meetings throughout the year, coach classroom teachers in arts integration strategies, review and revise (and revise again) lesson plans, and read students' journals and write handwritten responses every day of the residency. The reward for this work is visible in the students' faces when they take ownership over the museum; however, we were the recipients of an award from peers this year, and that feels pretty good, too!
"I was able to put my students in a position to receive an educational experience of a lifetime.  Overall, I am immensely proud of this experience and it is one of the highlights of my career." –4th grade CRH teacher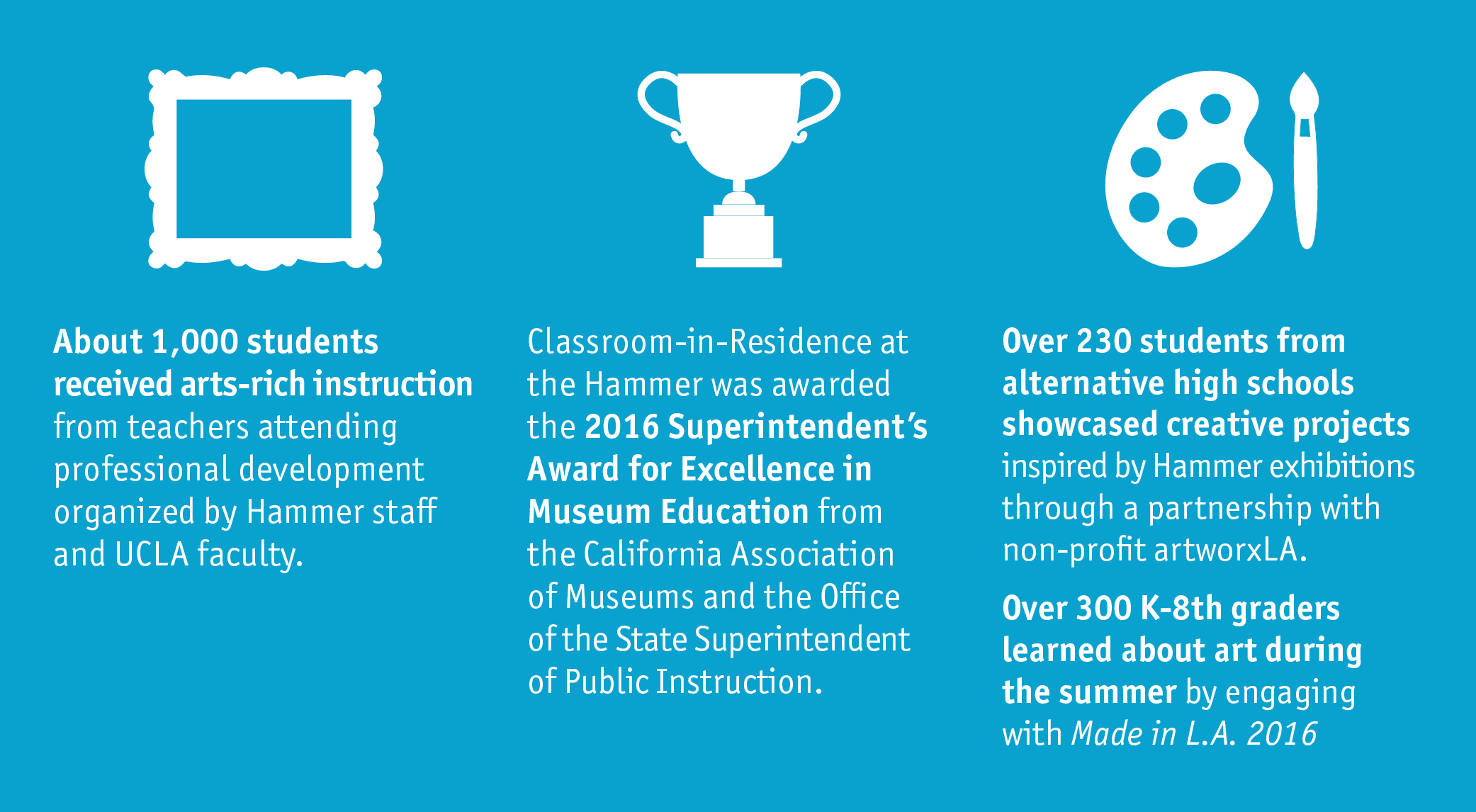 "I just felt empowered and engaged throughout this whole process—perceptively, I think differently when it comes to art…" –Participant of Teacher Institute

"You have helped focus my vision and passion for teaching." –Participant of Teacher Institute
University Audiences
As one of three public arts units at UCLA, the Hammer Museum is committed to fostering connections with and across the campus community. As a result of a continued partnership with the UCLA Art History Department, the Hammer became home base for emerging scholars from across the country through the 51st annual Art History Graduate Student Association Symposium, the longest-running symposium of its kind. Through collaborations with the Office of Residential Life, we developed tours that connected this year's Common Book—Ta-Nehisi Coates's Between the World and Me—with themes of race and representation in the museum. With our Hammer Student Association, we published the seventh issue of the annual interdisciplinary arts journal, Graphite, and organized dynamic events for students by students, such as our annual Arts Party.
Some of my favorite stories are passed on by our student educators, UCLA students from diverse disciplines who lead all tours and support family programs at the museum. Through our rigorous year-long training, they are able to tackle weighty themes like black female subjectivity, materialism, and art and activism with elementary-age students and seniors alike.
"I'm currently a private guide at the new SFMOMA and loving it. … [I] appreciate how wonderfully you all trained, educated, and managed us as student educators. I've had some really positive feedback from guests and I feel that every positive comment I get is a reflection on how amazing all of [my Hammer mentors] are at [their] jobs." –Former student educator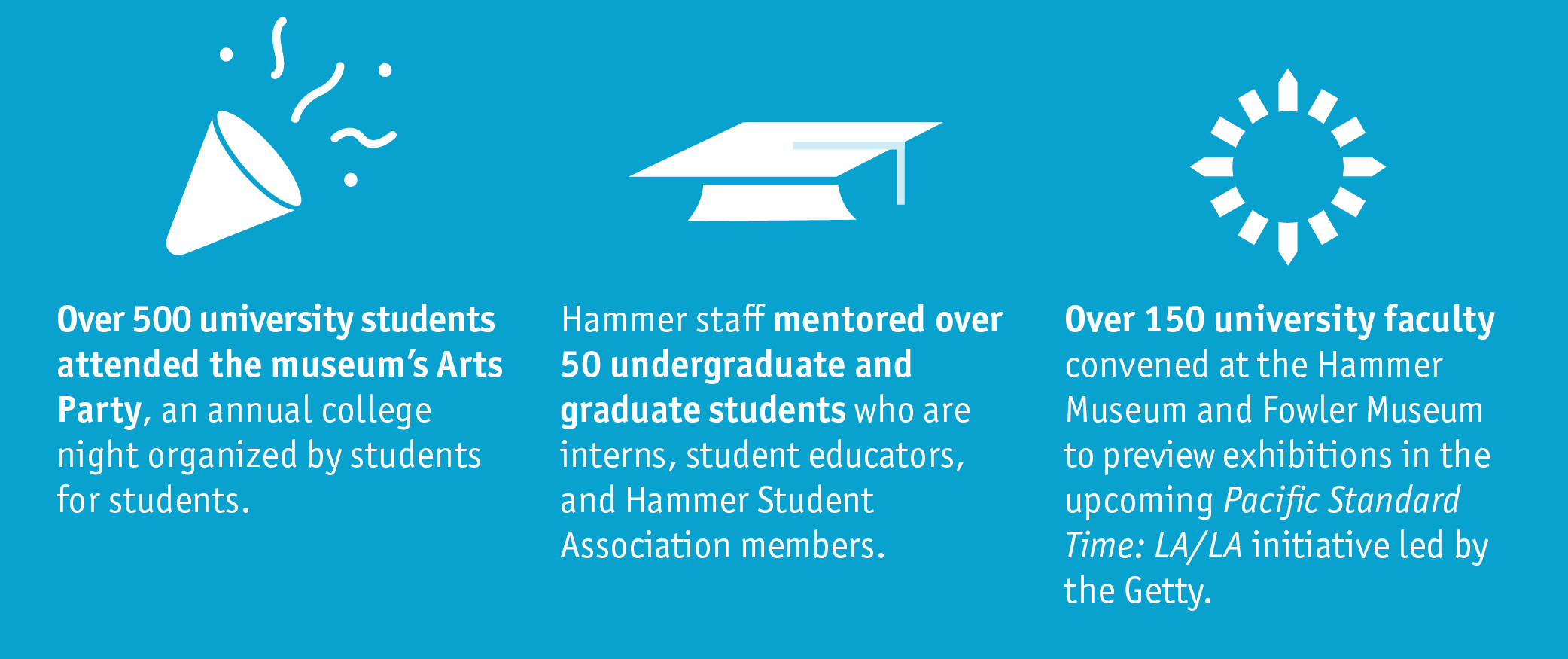 For the Hammer Museum's Academic Programs department and the individuals we serve, 2016 was a pretty incredible year. We leave 2016 even more galvanized to combat divisiveness with aggressive tolerance in 2017. Keep an eye out for our new Art Without Walls program, co-presented with the Los Angeles Public Library, a Hammer Kids program in which we explore how art can transcend barriers of all kinds.